With songs like "Hello" and "Someone Like You," Adele may be considered the queen of the breakup ballad. But in real life, the singer-songwriter is openly in love: She's been happily inked to Rich Paul, one of the biggest sports agents in the NBA, since 2021.
"I'm just in loooove!" Adele told Elle in August 2022 of her relationship. "I'm happy as I'll ever be. I might as well be married."
Paul and Adele first starting stepping out publicly in 2021, just after Adele returned to the spotlight with new music. "30" was her first album in six years. The album's lyrics were thought to reference her 2019 divorce from Simon Konecki, with whom she shares a son, Angelo.
Since then, the couple have been in the public eye, attending basketball games together and even making appearances at Adele's residency in Las Vegas.
Curious to learn more about Paul? Keep reading to find out about his work in the sports world and relationship with Adele.
He is one of the biggest sports agents in the NBA
Forbes named Paul one of the most powerful sports agents in the industry. His agency, Klutch Sports Group, represents LeBron James and Anthony Davis from the Los Angeles Lakers and Lonzo Ball and Zach LaVine from the Chicago Bulls, among others.
The bedrock of Paul's career came through a chance encounter with the legendary LeBron James outside the Akron, Ohio airport in 2002, recounted in a New Yorker profile.
Paul is working a memoir about his childhood
In addition to being a pioneering agent, Paul is working on a memoir called "Lucky Me," set to be published in 2023. The memoir will recount his childhood in Cleveland, and will be published through Jay Z's Penguin Random House imprint, Roc Lit 101.
The official description, written in Paul's voice, sets up the memoir: "I spent the early years of my life sleeping on floors and couches, running the streets as my mother dealt with the challenges of a drug addiction. Now I own what some say is the most influential and culturally relevant sports agency in America and do business with some of the biggest companies and most prominent people in the world. Back on my block, nobody could have predicted this. My trajectory is only supposed to happen to Ivy League types, or gifted athletes or entertainers — not someone who's five-foot-eight and grew up with a pair of dice in one hand and a pistol in the other.'"
Paul told GQ he "always wanted" to write a memoir. "I think the true give-back is education and knowledge and sharing life experiences. "In the world we live in today, people only see the highlights. And the highlights aren't what necessarily makes someone. It's their resilience, it's their perseverance, it's their continuous ability to get up when falling," he said.
Adele and Paul met at a party years before they dated
Adele told Vogue that she met Paul at a party before they began dating. "I was a bit drunk," said of their first interaction. "I said: 'Do you want to sign me? I'm an athlete now.'"
Adele told Oprah Winfrey in November 2021 that they reconnected over dinner, which Paul framed as a "business meeting."
"I'm like a business meeting about what?" she joked. "And then it was the first time we ever hung out only on our own, and not go out with friends and stuff like that. So that was a very natural way, I think that's how people would normally meet each other in real life."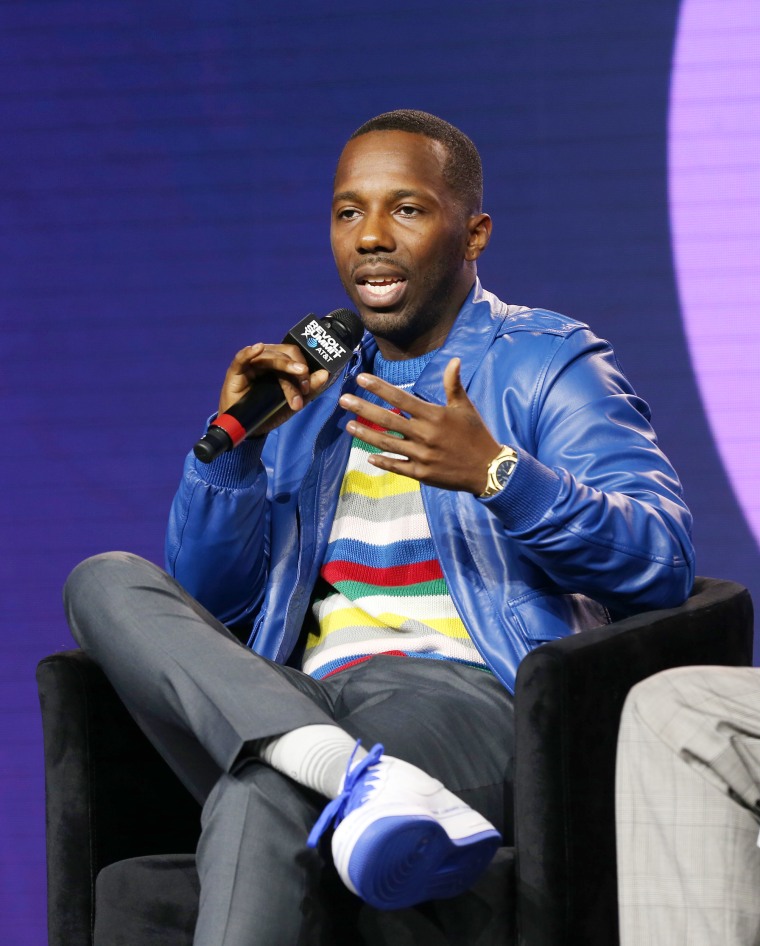 They went Instagram official in 2021
Their public debut came when they sat court side during an NBA finals game in July 2021.
Three months later, Adele took their relationship to the next level, 21st century style, by including him in a photo slideshow she posted to Instagram. The black-and-white picture shows Adele and Paul smiling at NBA star Anthony Davis' wedding.
Adele called Paul 'hilarious' and 'smart'
Speaking to Oprah Winfrey, Adele described her boyfriend and the joy of watching him at work. "He's just hilarious. Oh, he's so funny, he's hilarious, yeah. And very smart. You know, he's very, very smart. It's quite incredible watching him do what he does," she said.
Adele called their relationship "easy" and "smooth."
She continues to give hints of their lives together
Adele continues to show glimpses of their relationship online. In May 2022, she posted a slideshow of photos to Instagram with snippets of their pricate lives.
Another public display of affection? For Paul's birthday on Dec. 16, Adele paused a concert during her Las Vegas residency to sing for Paul, telling the crowd she "loves him more than life itself."
Are they engaged? No, but Adele says she 'loves jewelry'
Engagement rumors swirled after Adele wore a diamond ring to the Brit Awards in February 2022 on her ring finger.
When British TV presenter Graham Norton asked her about the sparkly jewel, Adele played coy. "As if I would ever tell anyone if I was or wasn't," Adele said. "It's lovely though, isn't it?"
Speaking to Elle in September 2022, Adele said she was "not engaged," explaining she "just (loves) high-end jewelry."
Paul has kids from previous relationships but hinted he wants to have more.
Paul has three children from a previous relationship; Adele has one.
Speaking to E! News in 2022, Paul opened up about the challenges of raising children at a young age while starting a business.  "As a young dad, growing a business, it was pretty tough," he said.
He's open to having more children. "If I was to have more kids, I'm looking forward to being a different dad," he said.