Laura Jarrett, the new co-anchor of Saturday TODAY, was working as an attorney when she had a life-changing epiphany. 
"I was a six-year law associate at my law firm, and starting to think about whether I wanted to try and make partner," Laura tells TODAY.com. "And I realized there was no path for me that I was going to enjoy long term."
Laura, who was 30 at the time, knew that if she was going to change careers — it had to happen quickly.
"I felt like if I didn't jump before I had kids, I wasn't going to have the courage to do it — and I didn't want to get stuck," she explains.
Laura decided she would pursue her dream of becoming a TV news legal analyst.
"I've always loved putting the puzzle pieces together and figuring out how to tell a complicated story in the most straightforward and compelling way as possible," Laura says.  
With no TV experience, Laura says she began "knocking on doors of local news stations." She was willing to start at the bottom. 
"They were like, 'Get out of here. No thanks,'" Laura recalls with a laugh. "But I just kept hustling"
CNN was the first network to bite.
"They put me on at 4 in the morning," Laura says. "Even though I knew no one was watching at that hour, I was so nervous. I'd be horrified if someone dug up the clip, but it would also make me smile because it would remind me how far I've come."
"I worked hard to get to where I am," she adds.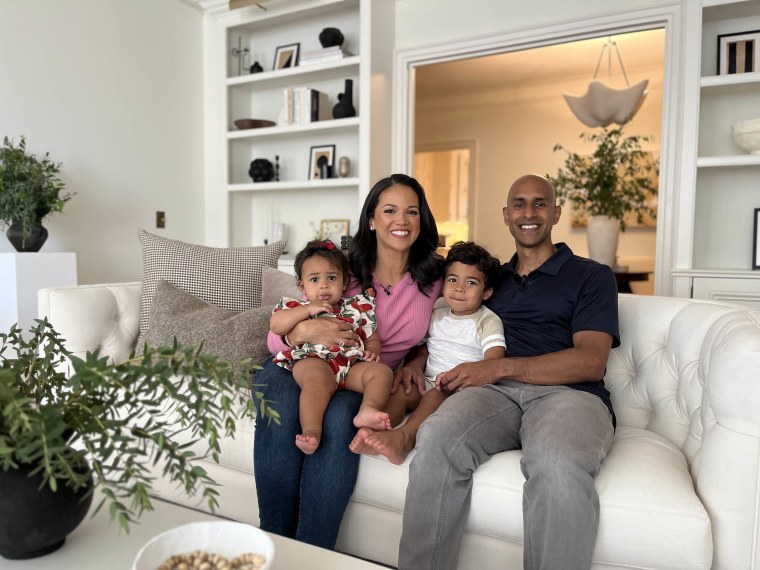 After six years with CNN, Laura joined NBC News as a senior legal correspondent in January 2023. Seven months later, Laura was announced as co-host of Saturday TODAY, replacing Kristen Welker who was named moderator of NBC's Meet the Press. Laura began her new role on Sept. 9, alongside Peter Alexander.
Laura says she hit her stride at CNN, right after Donald Trump was elected President of the United States in 2016. She remembers "basically living" at the United States Department of Justice. While Laura was the new kid in town, everyone was familiar with her mother, Valerie Jarrett, who served as senior advisor to President Barack Obama during his eight years in office.
"My mom worked in the Obama White House and I was being asked to cover the Trump justice department," Laura shares. "I had to work really hard to earn those people's trust."
Laura, who was working around the clock, was happier than she'd ever been, and it wasn't lost on her husband, Tony Balkissoon. 
"Tony would say, 'You're so happy. You're so excited about your work — and it makes you a better partner,'" Laura says. 
Laura and Tony met as second-year law students at Harvard University in 2008, and tied the knot in 2012. The couple share 4-year-old son, James, and 13-month-old daughter, June. 
"Tony and I waited a while before we had children, which I think was super valuable because we just got to have fun. Kids are wonderful, but they can be extremely taxing on marriages," Laura says. "We had a ball just the two of us for a long time and I think that really set us up for success." 
Laura is excited about sharing the anchor desk with Peter Alexander, who is dad of daughters Ava, 10, and Emma, 8.
"He's so decent and smart and he's a good listener," she says. "His girls are a little bit older — so he can give me tips for what's coming down the pike!" 
On her first day behind the anchor desk Sept. 9, Laura shared that she got about 2 hours of sleep the night before due to nerves and partly for a reason many parents can relate to: potty training.
"The sleep is not happening in the house, but that is OK," she said.
After her TV appearances each morning, Laura will "rush home" to make breakfast for her kids before continuing the work day, she said.
Read on to learn more about Laura's two children:
James Anthony Balkissoon, 4
James is a "ham and a half," according to his mother.
"That boy takes over a room. He just has a presence," Laura says. "He talks nonstop and has 1001 questions about everything."
The preschooler also has a wide variety of interests, including Sudoko puzzles. 
"I was trying to help him the other day and I was getting the answers wrong! He's already smarter than me," Laura jokes.
"We'll be at the park on the swing, and he'll ask me to give him math problems," she continues. "It's fun for him — he's super brainy — but I'm worried people are going to be judging me, like, 'Why is this mom putting her son through math drills?"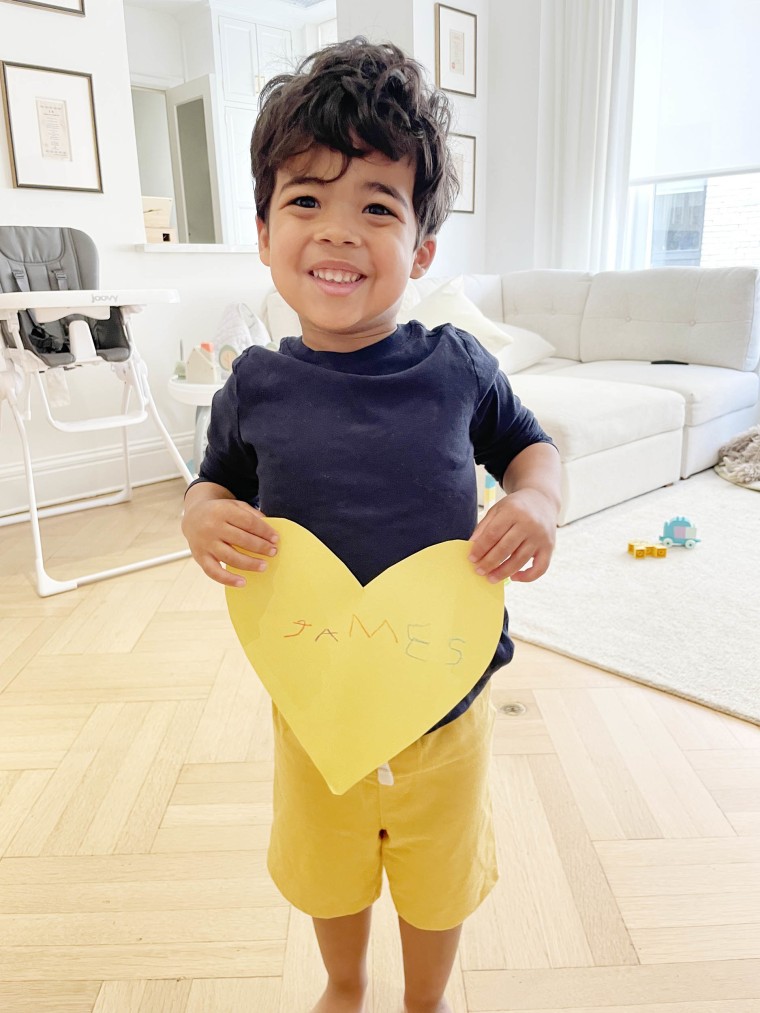 As a baby, James was "so hard," Laura says. 
"He cried constantly. I'd take him on walks and he would cry. I would take him in the car and he would cry. He was exhausting," she recalls. "I couldn't wait for maternity leave to end. I was like, 'Get me back to work!'"
Thankfully, James is much easier these days. Laura says life got easier when he started talking and could express what he was feeling. Lately, James has been vocal about his baby sister, June, stealing his toys. 
"At first, he was very gentle and doting and also immediately interested in making her bottles," Laura says. "But now that she's starting to crawl and walk — she's in his stuff and he's not happy!"
On TODAY, Laura's husband Tony shared that James is "very proud" to see his mom on TV and how hard she works.
"I just watch her tell the news to everybody," James said, when asked about Laura's job.
June Tahay Balkissoon, 13 months
June, who was born on July 17, 2022, is named after Laura's mother, Valerie June Jarrett, and Tony's mother, Tahay.
"If I could have drawn up James's polar opposite, it would be June," Laura says. "There could be chaos and utter destruction going on around her and she''d be quietly playing and laughing."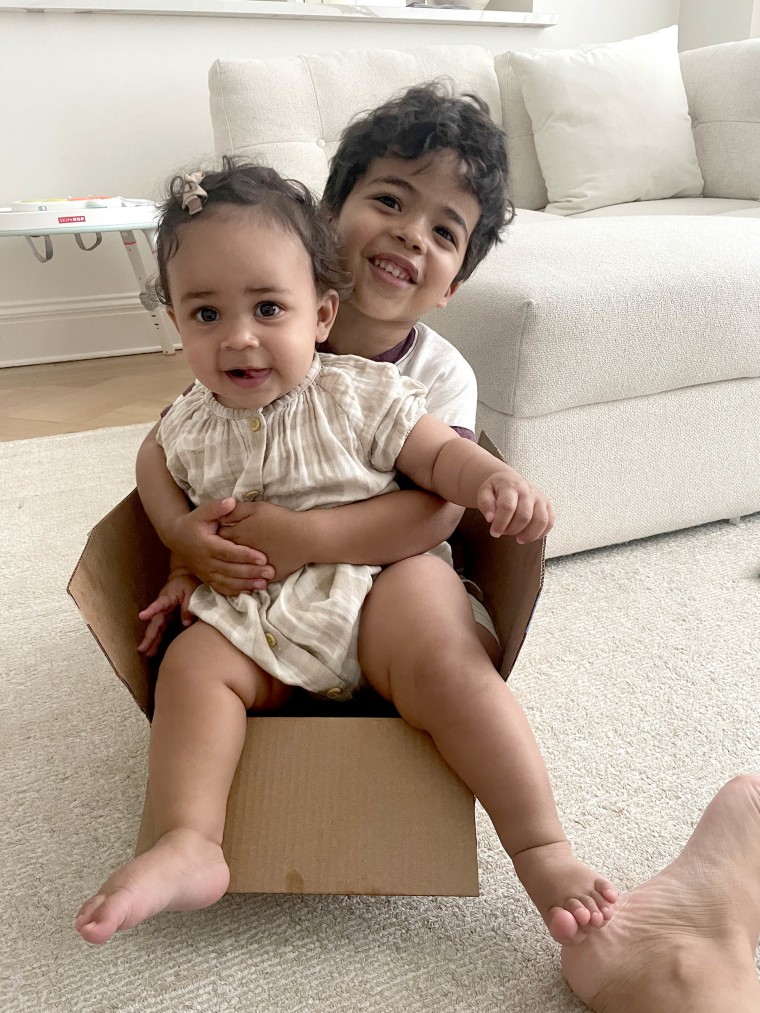 The toddler is "completely enthralled and entertained" by her big brother.
"I sit them next to each other while they're eating dinner — James in his big chair, and June in her highchair —and she's just petting his head," Laura says. "She adores him."
June also loves food. 
"She will literally eat anything and be happy about it. If she gets cranky, it's because you have food and you're not sharing with her," Laura says. "You can hand her a Sichuan green bean and she's down."