Kristen Welker is preparing for her first day as moderator of "Meet the Press."
After more than three years of spending her Saturday mornings manning the Saturday TODAY anchor desk alongside pal Peter Alexander, Welker will succeed Chuck Todd as moderator of NBC's flagship Sunday morning public affairs talk show for the first time Sept. 17.
Welker tells TODAY.com that she grew up watching "Meet the Press" but says she never imagined stepping the moderator role.
"When I became a journalist, I told anyone who would listen that I wanted to be a political journalist and I wanted to cover the White House one day," she says.
While getting her start as a local reporter in Philadelphia one of her goals was to work with Todd. "I was in awe," she says.
"So when I got sent to Washington to cover the White House with him, I felt like that was the pinnacle of my career," she says.
Now, she's succeeding him, becoming the second woman and the first Black journalist to moderate "Meet the Press."
"This has exceeded my expectations and dreams, but it is truly the greatest honor, the greatest responsibility," she says. "I am approaching this with the utmost seriousness."
Welker officially said goodbye to Saturday TODAY Aug. 26.
"It is a bittersweet morning," Welker said at the start of her final show, which included flashback segments of the journalist throughout the years.
At the end of the show, the TODAY family surprised Welker by having her husband, John Hughes, and daughter, Margot, walk out on set.
"You've left me completely speechless," she said, tearing up with emotion. Welker then pivoted, sharing a special message with the TODAY Show viewers.
"Thank you all for joining us every Saturday for this show that we're all so proud of," she said.
"To the entire Weekend TODAY team, which is the A team - the most amazing team in the world," she continued, "I'm so grateful for all of you for making this a family."
Here's everything to know about Welker's career at NBC News, including a look back at her time with Saturday TODAY.
Kristen Welker first interned at TODAY
Welker's journey to the Weekend TODAY anchor desk started in 1997, when she was a student at Harvard University studying American history. At age 21 she interned for TODAY — and we have the archival footage to prove it.
For her first Saturday anchoring Weekend TODAY back in 2020, Alexander played a reel with the highlights from Welker's career, including video of her 21-year-old self reading the news for her demo reel.
"To have come here as an intern for the TODAY show, to shoot that reel — I looked so serious," Welker said at the time. "To be terrified like that and then to come and sit at this desk, to sit next to my friend Peter Alexander every Saturday, it is the honor of a lifetime."
That internship helped launch her career in journalism, starting with a position as a researcher for Weekend TODAY. She landed her first job on air with an ABC affiliate before working at WCAU, an NBC affiliate in her hometown of Philadelphia.
Kristen Welker has worked for NBC News for more than a decade
Welker first joined NBC News in 2010 working at the West Coast headquarters in California as a network correspondent.
By December 2011, she was named an NBC News White House correspondent where she extensively covered the Obama administration and the 2012 election. Alexander joined her in that role in December 2012.
Nine years later, in 2021, Welker and Alexander were named co-chief White House correspondents for NBC News.
She made her debut as Weekend TODAY co-anchor in 2020
Welker first joined Alexander at the Saturday TODAY anchor desk on Jan. 11, 2020.
The Friday before, Savannah Guthrie helped welcome Welker to the job and revealed her nickname for her — "Welk-nado," due to the journalist's work ethic comparable to a "force of nature," Savannah said.
"It feels amazing," Welker said on her first day. "If it felt any better, I think I'd be floating around. This is the biggest honor."
Kristen Welker and Peter Alexander are friendship goals
When Welker was first introduced as an anchor of Weekend TODAY, Peter Alexander called her his "big little sister" — after all, they've spent more than a decade working together.
"I really do consider her part of my family, as I consider myself a part of hers," he said on air during her introduction Jan. 10, 2020.
"We cover such a serious beat, but we spend so much time laughing, too," Welker added.
One hilarious example: Their 2022 Halloween costumes.
As part of TODAY's Las Vegas-themed Halloween extravaganza, Welker and Alexander showed up and showed out, dressing up as Jennifer Lopez and Ben Affleck getting married at a Sin City chapel, a reference to the iconic July 2022 pop culture moment.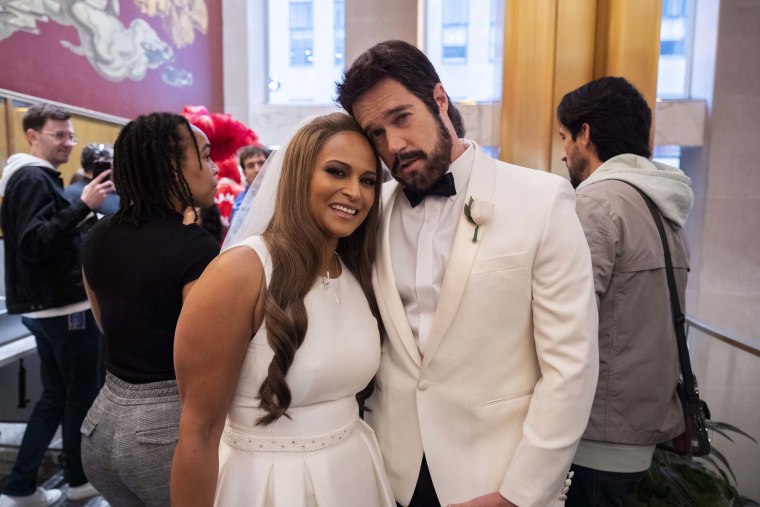 At the costume reveal on the TODAY plaza, Kristen and Peter embraced their characters by taking a selfie before walking down the aisle. Kristen belted the lyrics to Lopez's song "Let's Get Loud," while Peter shouted, "I love you, Mrs. Affleck," before dipping her.
She's an accomplished moderator
In 2020, Welker accomplished a significant career achievement, she moderated a presidential debate — and crushed it.
On Oct. 22 of that year, she moderated the final presidential debate before the election on Nov. 3. Her questions to the two candidates touched on how they would handle the ongoing COVID-19 pandemic, the state of the economy and each of their personal finances.
According to CNBC, in her role as moderator, Welker "kept a tight lid" on the two nominees, who had often interrupted each other and hurled insults at prior debates. The Washington Post reported that Welker "took charge" of the two candidates, "managing to keep order."
Then-presidential candidate Donald Trump told her at one point during the debate, "By the way, so far, I respect very much the way you're handling this."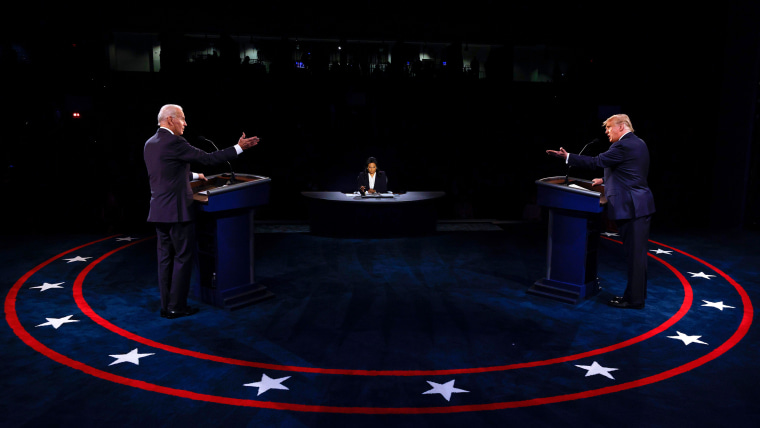 After her successful moderating stint, Alexander and Dylan Dreyer, then one of Saturday TODAY's co-hosts, congratulated Welker on air Oct. 24, 2020.
"I always knew you were good at what you do, but you took it to a whole new level," Dylan said. "Congratulations, my friend."
Before leading the final presidential debate, Welker was tapped to participate in an all-female panel of moderators for a 2019 Democratic primary debate hosted by MSNBC. She joined Rachel Maddow, Andrea Mitchell and Ashley Parker, who were also listed a panelists.
She welcomed her first child, daughter Margot, in 2021
Welker has been open about her personal life with the TODAY family. She married John Hughes in 2017, about three years after mutual friends set them up on a date.
In June 2021, Welker and her husband welcomed a daughter, Margot Lane, via a surrogate. When she returned from maternity leave that October, Margot made her TV debut, fittingly wearing a TODAY onesie, and Welker shared that motherhood was proving to be everything she had dreamed of.
"She is the love of our lives and every day is a new adventure and just watching the world through her eyes is the greatest gift and joy and blessing. So we're just doing so great," Welker said at the time.
Margot is now 2 years old.
The Saturday TODAY anchor has also been open about her experience using a surrogate to welcome her daughter. Prior to Margot's birth, she penned a heartfelt open letter to her future child about infertility and surrogacy.
Her openness has inspired others, including sportscaster Erin Andrews, who welcomed her first child with the help of a surrogate in June, after 10 years of IVF.
Andrews told TODAY.com in July that she "bawled" when Welker announced her pregnancy on air in 2021.
"There are so many things about Kristen's story that really resonated with me," Andrews said.
Welker will be the first Black journalist to host "Meet the Press"
While "Meet the Press" is the longest-running show on television, having premiered in 1947, only one woman has ever served as its host — the show's creator and first moderator Martha Rountree.
When Saturday TODAY anchor takes over, she will be the second, and the first Black journalist to helm the iconic news program.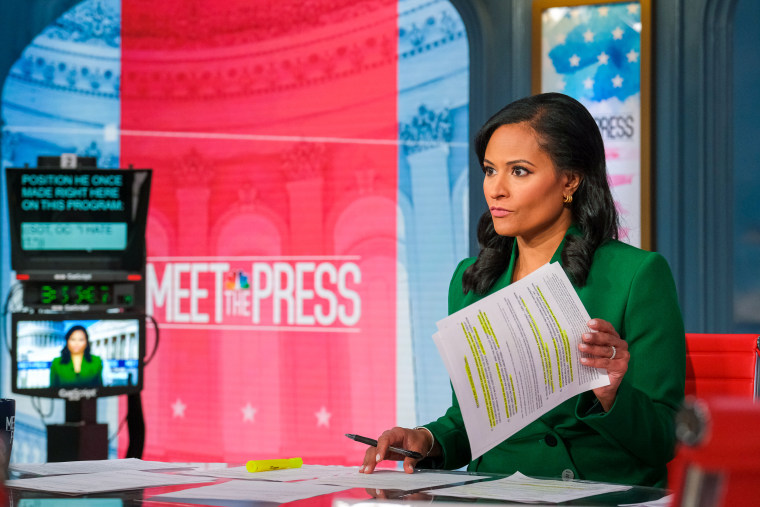 "I've had the privilege of working with her from essentially her first day, and let me just say she's the right person in the right moment," host Chuck Todd shared about Welker.
Her appointment was announced earlier this summer, and the TODAY family expressed their congratulations to her on air June 5.
"Come on, girl," Hoda Kotb said as she clapped. "Way to go. Way to go!"
In a sweet full circle moment to the start of her gig at Weekend TODAY, Welker called her upcoming role, "the honor of my life."
"I'm just so fortunate, proud and I just feel so truly humbled that after nearly a decade of serving as moderator an extraordinary body of work that Chuck is the one passing the baton on to me," she said.
She also understands that stakes of taking over the role as the 2024 election cycle looms.
"There's a lot at stake, and so it's important that we are hearing from a diverse set of voices every Sunday, that I am out listening to voters," she says. "I'm honored, deeply humbled and ready to get to work."