We all know the face kids make when they try something for the first time and are totally grossed out.
Dylan Dreyer showed that moms can make that face, too.
The TODAY meteorologist tried oysters for the first time in her life over the holiday weekend, and her "ewwww" face looked awfully familiar.
Dylan's revulsion channeled the face her baby son Calvin made when trying oatmeal for the first time.
"Who knew it was genetic?" Dylan said on TODAY Monday.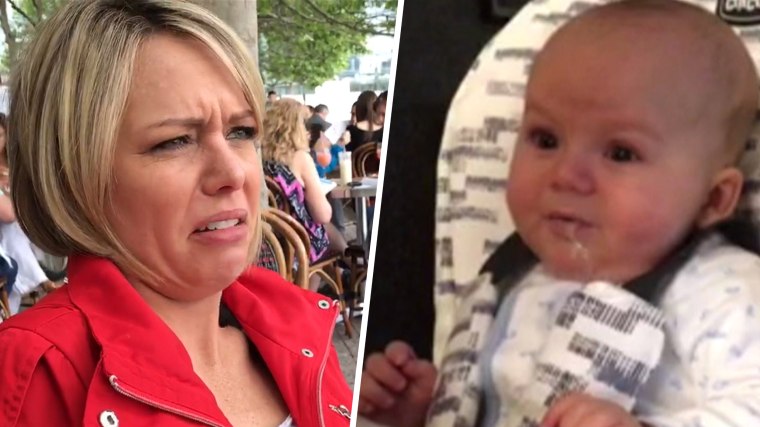 Calvin would much rather be having fun in the sun at Universal's Volcano Bay theme park in Orlando than eating oatmeal.
Dylan's father-in-law got her to try oysters, which she somehow never tried, despite a stint working at an NBC affiliate in seafood-mad Boston before joining TODAY.
"Oysters kind of skeeve me out,'' she said. "There's a texture issue, and then I feel like no matter how well you clean them there's always some shells in there."
Despite her initial reaction, she came around. At least a little bit.
"But then I decided it's not that bad,'' Dylan said. "But it's like all I really tasted was the cocktail sauce and horseradish and all that. I was like, 'What's the point?' So slimy."
It's looking like a one-and-done experience for Dylan.
"I like other things,'' she said. "I'd go for a burger."
RELATED
Dylan Dreyer talks motherhood and baby Calvin on TODAY: It's the 'ultimate joy'
Surprise! Dylan Dreyer appears with baby Calvin at Super Bowl rally in Boston
Dylan Dreyer's baby boy Calvin wakes up with a big smile in adorable video
Follow TODAY.com writer Scott Stump on Twitter.