Serena Williams' latest win is also one for the ladies!
In a July 31 post to her YouTube page, the tennis champ revealed that for her second pregnancy, she is having a girl. The six-minute video documented Williams' preparation for her gender reveal party and the gender of her family's new addition appeared among the stars.
Williams' husband, Alexis Ohanian, her 5-year-old daughter, Alexis Olympia Ohanian Jr., and her sister Venus Williams were all in attendance.
At the top of the video, Williams can be seen adding that she's "Team Pink" as she prepares for the party by getting dressed in her closet.
"I'm nervous because I don't have any contingency plan if it turns out to be a boy," she says in the video before adding, "I'm very excited. I'm a little nervous."
Williams then shares that her daughter has been excited about the party all day long and had been attempting to wrangle her mother into the car in the hour leading up.
Later, Williams, Ohanian and Alexis arrive at the party, where friends and family have gathered around and soon enough we learn that the gender will be unveiled with a cake, which Ohanian arranged. In an aside, the Reddit co-founder playfully reveals that he's planned an even sneakier reveal: a prank.
"This cake is as basic of a gender reveal idea I could come up with inside. It's yellow," he explains. "I'm doing this because I want to troll her and Olympia into thinking that this is the reveal... She will cut into this cake and probably be disappointed and hopefully, hopefully, appreciate the troll, but we'll see."
Soon after cutting the cake, Williams realizes what her husband has done and playfully attempts to smash the slice she cut into his face.
In the end, a mass of drones revealed the sex of their baby with a light show in the night sky, reading "GIRL!"
Glamorous reveals appear to be part of Williams's approach to this pregnancy which is her second.
In May, the tennis pro showed off her bump for the first while on the red carpet of the Met Gala.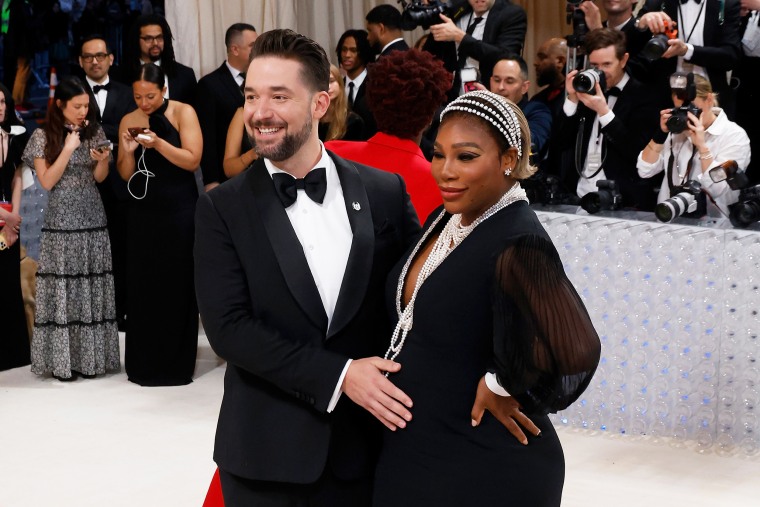 She later confirmed the news in a post shared to her Instagram, writing, "Was so excited when Anna Wintour invited the 3 of us to the Met Gala."