Like father, like daughter. In Ice-T's house, it's no secret that the rapper and actor's daughter with wife Coco Austin shares many similarities with her dad — down to their resemblance.
Fans have pointed out many times over the years how much the couple's 7-year-old little girl, Chanel, looks like her father.
In a Sept. 13 interview with TODAY.com, Ice-T talks about their resemblance and when wife Coco decided she wanted to have a child.
Before meeting Coco on the set of a music video in 2001, Ice-T welcomed his two other children earlier in life: He had daughter LeTesha Marrow while in high school and Ice Tracy Marrow Jr. ("Lil Ice") about 15 years later. He welcomed Chanel when he was in his late 50s.
As for what's different now for him as a dad compared to when he had his first child, Ice-T says he feels "more present now."
"With my first daughter, I was actually still in the street," he says. "It was more like presents over presence. So she had all the new sneakers, she had all the good stuff because her daddy was making sure she had that — but I wasn't there."
Ice-T adds he was still "hustling" and doing what he needed to provide for his family.
"My second kid, Lil Ice, happened right at the brink of me becoming Ice-T," the 65-year-old explains. "Even though I was there, I wasn't there again because I'm out on the road, I'm trying to become a star. ... You have to be very driven at the beginning of your career."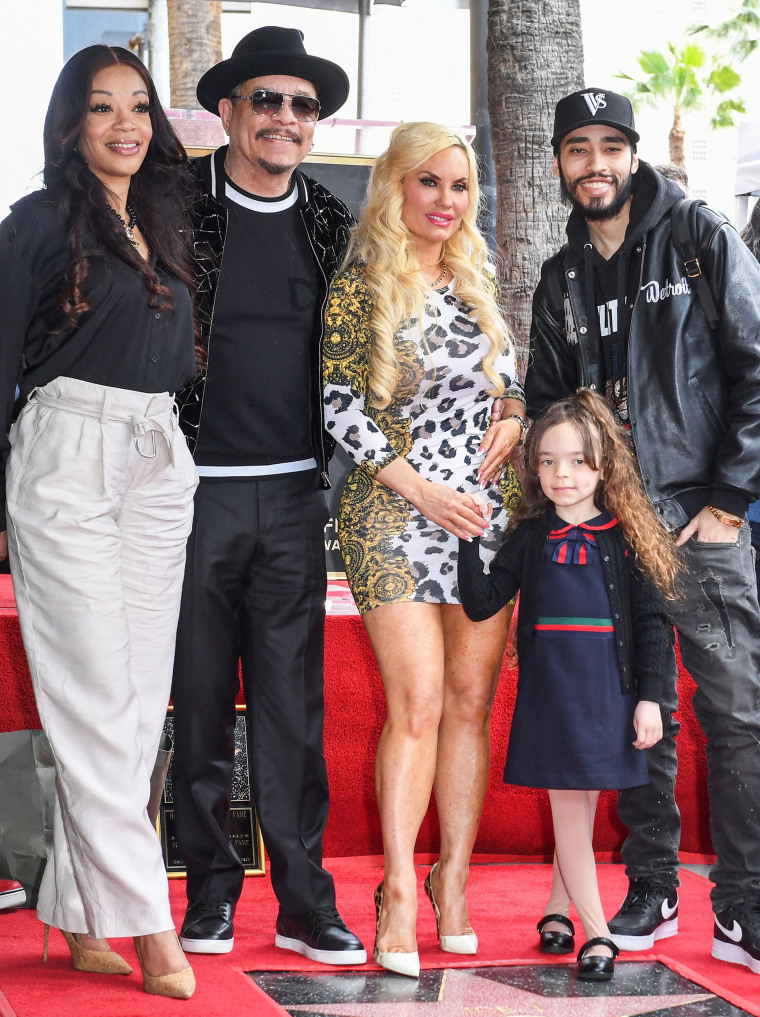 He adds with Chanel, it's "different" because Coco initially didn't want to have a child.
Ice-T says Coco was around 34 when she changed her mind.
"I said, 'You tell me what you want. I can make it. I can make a baby through a brick wall,'" he recalls.
He says Coco thought it would take them two years to have a child, but it took just two months.
"I was there for the nine months of the pregnancy," Ice-T explains. "I took her to the hospital. I saw the baby being born, and she still sleeps in the bed with us."
He says daughter Chanel just started second grade, which is a "totally different experience" for him this time as he's now "financially straight."
"When I first had my first kid, I didn't know how I was going to even buy Pampers," he says. "I kind of suffered and struggled through that one. ... I'm just totally aware and alert on this one."
Chanel has attended some big events in her father's life, including his Hollywood Walk of Fame ceremony in February. The photos of Chanel posing with her parents on the special day reminded many fans of how much she looks like her dad.
"It's cool," Ice-T says of the resemblance. "I think she kind of gets irritated with people telling her she looks like her dad instead of her mom. But if you look at any old pictures of Coco, there's similarities there."
"I wouldn't want her to keep looking like her dad. She's finding herself," he continues, adding Chanel just walked in her first fashion show.
"She killed it, I was pretty excited," Ice-T says, adding Chanel asked him how to practice for it.
"I said, 'You just walk. Just be you,'" he explains. "I said if you over-practice it, it'll look corny."
Ice-T says Chanel doesn't get away with more than his other kids did at her age, but he can see how she is already "manipulating" him.
"I understand the female way," Ice-T explains. "A player told me a long time ago — he says, 'A woman cannot defeat you physically, but they will mentally and diabolically destroy you.' I see her working it because she knows I don't want her to be mad at me.
"So she knows how to work it and get what she wants, but I love it and I enjoy watching it. I don't know if she gets away with more, but she's definitely learning how to work her dad early."
As for some of the hate Ice-T and wife Coco have received online for some of their parenting choices — like pushing Chanel in a stroller when she was 6 — the rapper says, "I don't respond. F--- 'em. Go raise your kids your way, we'll raise our kids our way. I only pay attention to people that I know and love."
Staying healthy for the people he knows and loves is also important to Ice-T, who has partnered with global health care company Sanofi on a new campaign to raise awareness for dangers associated with the flu.
Ice-T says he has been getting his flu shot for years and never once had a sick day since he joined the cast of "Law & Order: SVU" in 2000.
"When I found out there was a special flu shot for people over 65, which I am 65, I'm like, well, I'm interested," Ice-T says. "I think men need to be more concerned with their health."
Ice-T worked with Sanofi on their campaign "The Season," which looks like the trailer for a horror movie but intends to inform viewers on the dangers of the flu.
Someone else who's familiar with content creation is Chanel, who writes and directs her own videos for TikTok. Ice-T thinks his daughter's tech abilities and creativity are "cool."
"I think they are being brought up in a tech era where they need to understand tech," Ice-T says, adding Chanel "could take an iPad and make it do flips."
"I'm asking her how to do stuff, and she's only 7 years old," he continues.
Ice-T says Chanel has to run her videos by Coco for approval, and social media "hasn't become a problem yet" in their household.
"I think it's the new form of child creativity," he explains. "That's the new thing. They learn how to dance, and I don't see anything wrong with it."