Sophia Grace Brownlee is sharing intimate details about her son's birth story.
The 19-year-old, who rose to fame when she appeared on "The Ellen DeGeneres Show" with her cousin Rosie in 2011, recently welcomed her first child on Feb. 26, which she announced on Instagram last month.
Now, the new mom is taking fans into her labor journey in a new YouTube video.
"I'm going to be telling you what happened when I went into labor and the whole experience because it didn't go as planned as I thought it would but you know some things never go to plan," she shared at the beginning of the 22-minute vlog.
Brownlee gave viewers a glimpse at her newborn but revealed that she's not ready to show his face just yet.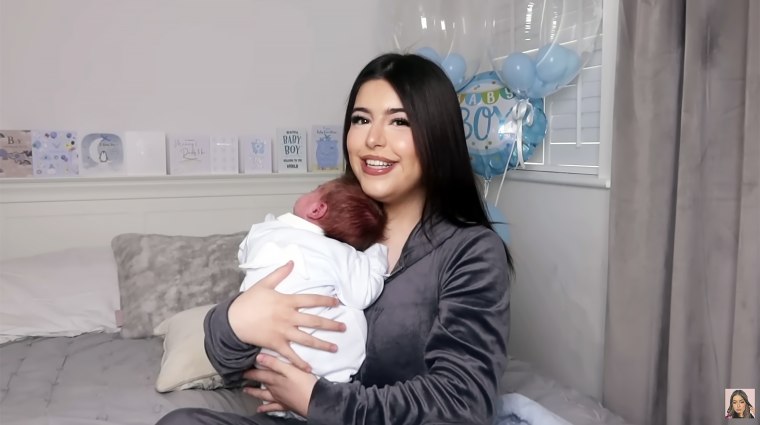 The YouTuber then explained that her son arrived five or six days early and recalled the birth story. The first-time mother said she didn't initially realize that she was in labor and simply thought she was having bad stomach cramps when she woke up at 3 a.m. one morning.
"It was definitely different to anything I had before ... I sort of ignored it because I thought you know, 'I'm just hoping something's happening because I want it to happen,'" she said.
Brownlee's mother was also quite certain that the cramps weren't anything abnormal, but the YouTuber eventually called a midwife service when the pain progressed. They also seemed unconcerned at first, but Brownlee's contractions soon started to come more frequently.
"I hadn't felt anything like it to be honest. I knew I was in labor at that point and I was like, 'Wow this is quite scary because it is not like the pain that I imagined it to be,'" she explained.
After a few hours, Brownlee went to the hospital and discovered that she was already dilated 3 centimeters.
"I was so excited," she said.
However, that emotion shifted as the contractions got worse.
"Honestly, it was so scary, every time I was about to get a contraction, I would cry and be like, 'I can't do this,'" she recalled.
Brownlee said she tried several medications to manage the contractions, which she described as "the worst pain I've ever felt." She also decided to get an epidural early on in the process.
"It was the best thing I've ever done," she said of the epidural.
Soon, Brownlee was able to start pushing, but after two hours she was exhausted. Her son was located in a difficult position so the doctors suggested that they could try one of two methods to move things along, including the use of forceps or a cesarean section.
When they realized the baby had shifted up too high, a C-section was the only option, and Brownlee was OK with that. However, she was insistent that she didn't want to be put to sleep.
"One of my biggest fears is being put to sleep with general anesthetic ... I really don't like the feeling of being out of control," she explained.
The anesthetist told her she didn't have to be put to sleep, so Brownlee was awake during her C-section and her boyfriend was also on hand for the experience.
"After about 5-10 minutes, I heard (my baby) cry and then I cried because I couldn't believe that I had my own baby. It was just so surreal," she recalled.
The new mom said meeting her son was the "best thing ever," but explained that his arrival didn't come without its own set of complications.
After the C-section, Brownlee's son was taken away to receive treatment for meconium, or the baby's first bowel movement, that had happened while he was still inside her uterus, and his dad went with him. Soon enough, he returned but was then brought to the NICU to check his breathing. Afterwards, the new mom spent the night with her son alone once visiting hours were over.
Despite any complications that were associated with her labor, Brownlee said the whole experience was "amazing."
"I got to meet my baby that I'd carried for a very, very long time and it was just like I imagined. I knew I was going to cry," she said.