Ashton Kutcher and Mila Kunis were on to something when they decided to drastically cut back on holiday gifts this year. Christmas 2016 was "too much," Mila revealed recently, as a result of well-meaning grandparents going overboard when it came to gift-giving. It's a story that has parents everywhere nodding in unison.
Of course, grandparents are known for spoiling their grandkids — and what can be the harm in that, right? Actually, according to parents that we've polled, over-gifting has created a myriad of issues, from kids not appreciating what they have to spoiled behavior to stress between parenting partners.
Related: Should grandparents spoil their grandkids?
Parents who want to impose limits for well-meaning grandparents are often left wondering how. And if you've allowed a gift-giving extravaganza in previous years, can you avoid being haunted by the ghost of indulgent Christmas past?
Thanks to our Positive Parenting Solutions members, who weighed in on their own experiences and shared fabulous ideas for grandparents, here are nine ways you can keep the peace, foster joy, and make gift-giving even more meaningful this season:
1. The gift of CONNECTED EXPERIENCES. Instead of the latest, greatest monstrosity of a toy, ask grandparents to consider gifts that can be enjoyed as experiences together. Consider a local pottery or painting class. An outing to the zoo or theme park. A fun bowling night or movie "date." Or plan a yearly trip so grandparents and grandchildren can enjoy quality time together.
2. The gift of ANNUAL PASSES. Many grandparents have thoughtfully opted for gifts of annual passes that kids and families can enjoy year-round such as to local museums, zoos, theme parks, aquariums, sports centers, or theaters. Gifting an annual membership allows for fun, spontaneous trips to these terrific places throughout the year and it creates a bonding experience for the whole family.
3. The gift of SUPPORT. Whether your kids are involved in sports, theater, dance, cheer, music — or some sort of extracurricular activity, if not multiple. you know the cost can add up. We've loved seeing grandparents step into the role of "booster" for their grandchildren's passions. In supporting these activities for the kids, they are helping create paths for them to explore their talents and build experiences.
4. The gift of CREATIVITY. An awesome idea is a gift of a craft basket or bin filled with creative supplies kids can pull from. Think scissors, glue, glitter, construction paper, crayons, googly eyes, foam sheets, etc. These treasure troves will not only make for fun crafting experiences, but the supplies will also come in handy for school projects throughout the year.
5. The gift of SAVINGS. Another idea we love is grandparents who use the holiday giving opportunity to open savings accounts for their grandchildren. The amount isn't important, but it's an opportunity for them to start a nest egg that kids can either use to save for something important or use with their parents' discretion throughout the year. It's a generous gift that also provides a chance to teach money and savings skills.
6. The gift of SCIENCE. We love the new services that send monthly kid-friendly, age-appropriate science kits. How cool is it that a grandparent can sign up for one of these services and know that every month their grandchildren will get a fun activity that will challenge their minds and teach them at the same time? Here are a few to get you started:
· www.stevespanglerscience.com/club
· www.theyoungscientistsclub.com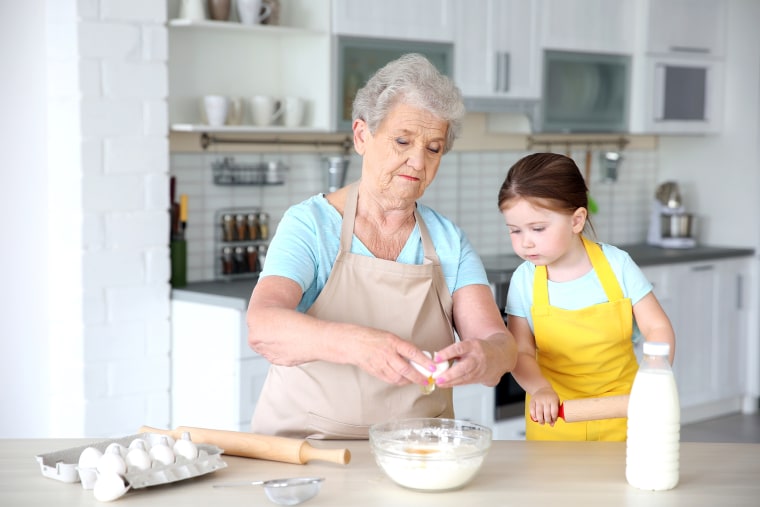 7. The gift of NEW SKILLS. What about teaching valuable life skills — gardening, cooking, weaving, cleaning, woodworking, music, and more — in a fun and engaging way? One of our favorite sites, For Small Hands, offers kid-size versions of the same tools adults use at home. You'll foster capability and teach essential life skills.
8. The gift of READING. Kids love getting mail, and magazines are a fun way to get kids reading more. Ask relatives to consider age-appropriate magazine subscriptions for your child. Try National Geographic Kids, American Girl Magazine, Sports Illustrated for Kids, Highlights for Children and Cricket Magazine.
9. The gift of LIMITS. Some grandparents simply love giving tangible presents, and that's all right as well. Set a limit for the number of gifts and ask that grandparents honor your wishes. And, they can certainly participate in some of the other meaningful gifts suggested above if they like. For them, and your children, that may really be the best of both worlds!
It's a wonderful thing when grandparents want to shower their love on grandchildren. Their hearts are in the right place, and their generosity is genuinely appreciated.
It's also fun to use the ideas above to springboard a conversation with grandparents that might spark more creative ideas not just for Christmas, but for birthdays and special occasions all year, too. Together, you can have fun coming up with new ways to add powerful experiences to your children's lives without adding to the clutter or waste.
Parenting expert Amy McCready is the Founder of Positive Parenting Solutions and the author of The "Me, Me, Me" Epidemic - A Step-by-Step Guide to Raising Capable, Grateful Kids in an Over-Entitled World and If I Have to Tell You One More Time…The Revolutionary Program That Gets Your Kids to Listen Without Nagging, Reminding or Yelling. Learn more about free online training classes with Amy McCready.