From one cousin to another, congratulations were in order from LSU's Angel Reese to UConn's Jordan Hawkins.
The college basketball stars won their respective championship games, with LSU defeating the University of Iowa 102-85 on April 2 and the University of Connecticut topping San Diego State University 76-59 the next day.
Hawkins shared on TODAY what his cousin texted him after Monday's win, and how they planned to celebrate as a family.
"(She) said she was proud of me," he told Hoda, Craig and Savannah on Tuesday. "We both said we need to go home right away for the cookout. I know it's going to be crazy. The whole family is going to be there."
Both Hawkins and Reese are from Maryland. Hawkins grew up in Gaithersburg, outside Washington, D.C., and attended DeMatha Catholic High School, while Reese grew up outside Baltimore and attended St. Frances Academy.
"Man, it's truly amazing because I just remember just being in D.C. where her," Hawkins said. "We (were) just kids, just dreaming about this moment and look at us now — two national championships, one family. That's pretty cool."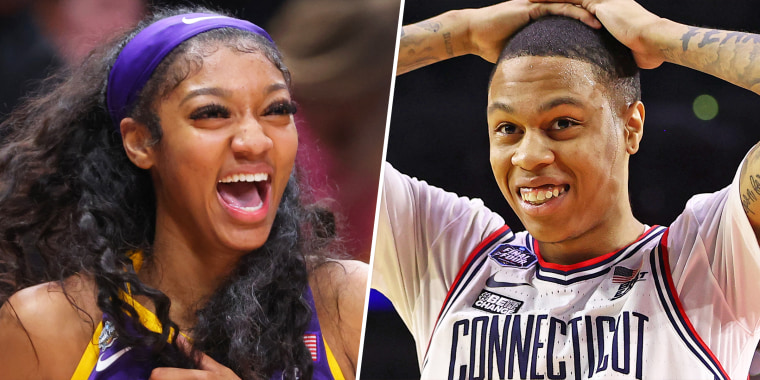 The wins marked LSU's first title in history for its men's or women's basketball programs and UConn's first in almost 10 years, but the Huskies' fifth overall.
The UConn starter said ending the drought for his program was always the goal head coach Dan Hurley had the team work toward.
"I remember when me and coach Hurley (sat) on a Zoom during Covid," Hawkins recalled. "He said how we can turn this program around (and) win the national championship. And now to be doing it is amazing. I love this team. I love coach Hurley to death. It was truly an amazing moment to do this with him."
Hawkins also said he was still wrapping his head around actually winning a championship.
"Man, it was a feeling I couldn't explain," he said. "Growing up, you always think about playing in the championship game, but winning it is a whole different thing. It still hasn't hit me yet. It's coming to me though."