LSU's women's basketball head coach is the latest to weigh in on the burgeoning social media debate regarding what is deemed unsportsmanlike conduct and for whom.
During the women's college basketball national championship game between LSU and the University of Iowa on April 2, LSU's Angel Reese did the "you can't see me" gesture in front of Iowa's Caitlin Clark, who went viral earlier in the NCAA Tournament for making the same gesture. Reese did it multiple times in the game as LSU won its first basketball championship.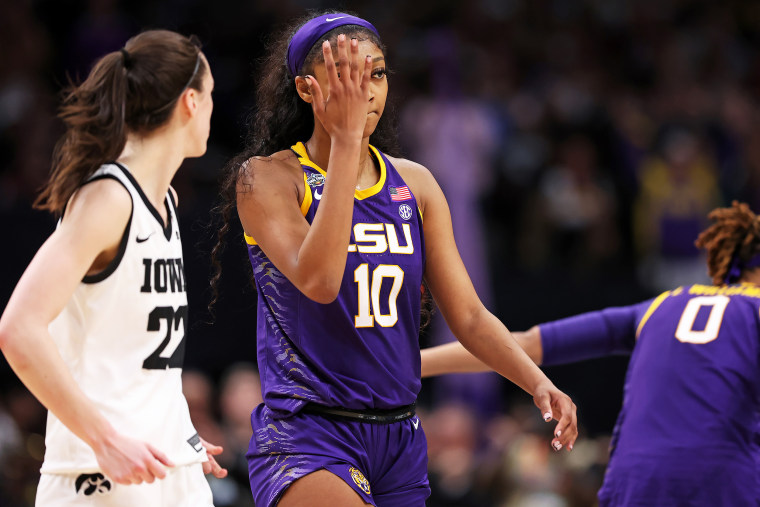 "Classless" trended on Twitter the morning of April 3, with more than 115,000 tweets mentioning the word. Clark's first name was also trending, with more than 24,000 tweets.
"Classless showing by Reese at the end towards Clark," someone tweeted with a video of Reese following Clark around and doing the gesture for at least eight seconds.
Someone tweeted a side-by-side of Clark doing the gesture against Louisville on March 26 next to Reese doing it in front of her.
"Competitive" was captioned above the first picture and "Classless" described the second picture, in reference to the discussions unfolding on Twitter.
Another tweet, from podcast host Anna Horford, said the difference in the language used to describe Clark and Reese indicates a larger issue.
"Why are white athletes given much longer leashes when it comes to what constitutes as over-the-line behavior?" she asked on Twitter. "Black athletes do it & they're 'thugs' or 'classless' while white athletes do it & they're 'competitive.'"
LSU's head coach, Kim Mulkey, defended Reese's actions on the 3rd hour of TODAY on April 3.
"She's not going to apologize for it," the four-time title-winning coach said.
"That child is a beast on the boards rebounding. That child just won a national championship. She's not afraid of social media. That is who Angel is. She trash-talks on the court, but she doesn't cross, really, the line of vulgarity," she said, adding that when Reese does, refs have assessed technical fouls on her this season.
Mulkey, who said she doesn't know what the gesture means, added, "If I ever have to get involved, she knows that. Don't misrepresent our university, don't make us look bad. But guys, social media is the world we live in, like it or not."
Reese did not get a technical foul when she did the gesture in front of Clark. Earlier in the game, Clark received a technical foul for throwing the ball out of bounds on a dead ball. It marked her fourth foul, which sent her to the bench during a close game.
In a postgame press conference, both players commented on what Reese did.
"All year, I was critiqued about who I was," Reese said. "I don't fit the narrative. I don't fit in a box that y'all want me to be in. I'm too hood. I'm too ghetto. Y'all told me that all year. But when other people do it, y'all say nothing."
She said what she did, and standing by it, taught people something she wants them to know.
"This was for the girls that look like me, that's going to speak up on what they believe in," she said. "It's unapologetically you. That's what I did it for tonight. It was bigger than me tonight. It was bigger than me. Twitter is going to go on a rage every time, and I'm happy. I feel like I've helped grow women's basketball this year."
Clark said she had "no idea" Reese was taunting her because she was too focused on getting into the postgame handshake line. She then congratulated LSU on the win.
"That's all you can do, is hold your head high," she said, "be proud of what you did. And all the credit in the world to LSU. They were tremendous. They deserve it. They had a tremendous season."
Related: