Caroline Wozniacki's comeback to professional tennis after three years away from the game began with a simple phone call to an old hitting partner.
The former top-ranked player in the world retired in 2020 to start a family with her husband, retired NBA All-Star David Lee. However, once she gave birth to her second child last year, she started to get the itch to play again.
"I was in the gym during both pregnancies, and after James was born, I was just kind of tired of going to the gym all the time," Wozniacki told Hoda Kotb on TODAY on Thursday.
"So I set up a couple of hits twice a week with my hitting partner that I used to hit with, and all of a sudden I just go, 'Wow, I can still hit it well. I've never hit it better.'"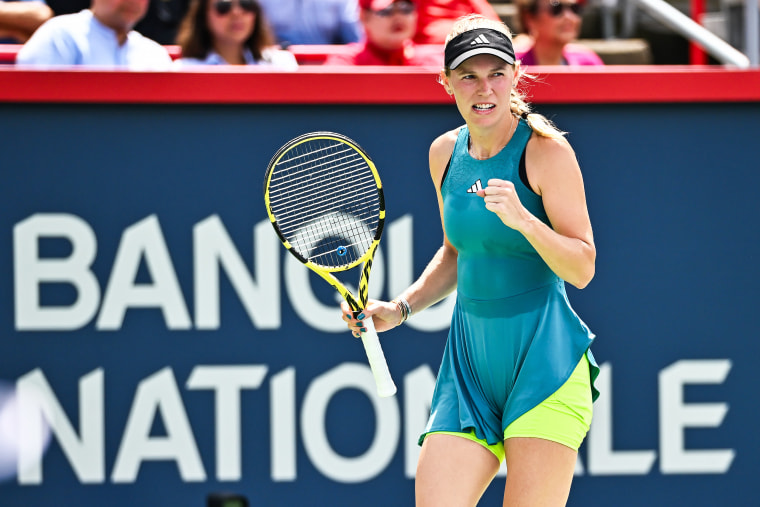 Wozniacki then went for a second opinion.
"And so I asked my dad to come on court and I said, 'Can you just have a look? Do you think I'm playing well?' And that's when kind of we thought about maybe I can come back."
Wozniacki, 33, was a fixture in professional women's tennis after debuting as a 15-year-old in 2005 and ascending to the No. 1 ranking in the world by 2010.
The Denmark native announced her retirement on Instagram in 2020 after winning 30 singles titles, playing in three Olympics and winning the 2018 Australian Open title. She was serenaded by fans with a rendition of "Sweet Caroline" at her last match at the Australian Open in 2020.
"I was sure I was done in 2020 when I played my last match in Australia, and I wanted to have a family," Wozniacki told Hoda. "After two kids, I decided you know what, I'm going to get back on the court, just get back into shape, realize I can still play on a high level.
"Why not? It's now or never. We only live once. Me and my family decided, you know what, we can still do this."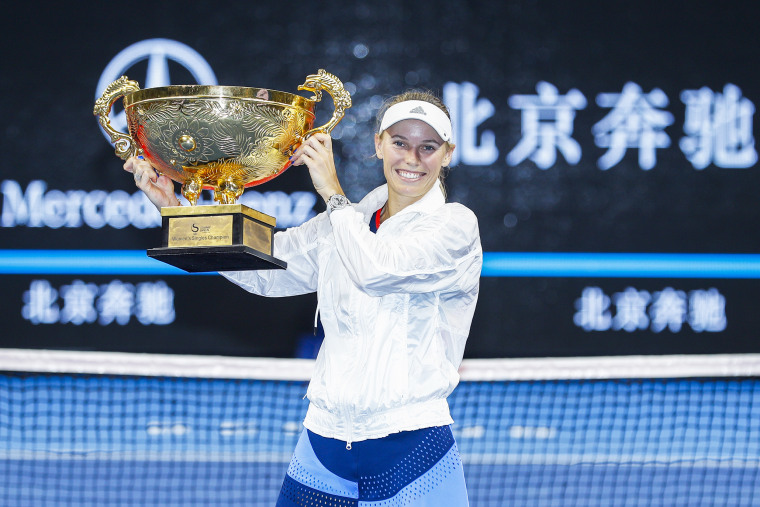 After three years and eight months away from the game, Wozniacki made her return to the court at the National Bank Open in Montreal earlier this month. She walked out to warm applause from the crowd with "Sweet Caroline" playing over the loudspeaker.
She wasted no time getting back in the groove, winning her first match by beating Australian Kimberly Birrell in straight sets. She then lost 6-2, 7-5 to reigning Wimbledon champion Marketa Vondrousova in the second round.
Wozniacki followed by playing at a tournament in Cincinnati and has earned a wild card entry to play in the upcoming U.S. Open in New York City, which begins on Aug. 28 in Queens.
She said her daughter, Olivia, 2, is already taking to the sport. Wozniacki has embraced being a mother while also pursuing what she loves.
"I think the first two tournaments I've played, just seeing all the moms out there supporting me," she said. "I think a lot of women obviously have jobs that they want to do and careers and passions, and not to feel guilty for living your dream.
"And still obviously being an amazing mom, and taking care of the family at home. It's not easy, but we all wear many hats. It's just a great feeling to be able to live out my dreams."
Wozniacki also has gotten support from another famous tennis mom, the legendary Serena Williams. The retired superstar, who announced on Aug. 22 that she gave birth to her second child, served as a sounding board for Wozniacki.
"I had a full conversation with her (about returning)," Wozniacki said. "She was just like, 'I'm supporting you all the way, I think it's so cool you're coming back.' She texts me after the matches I've played just asking into how I'm feeling and encouraging me. It's been really great."