MyKayla Skinner is officially an Olympic silver medalist!
On Sunday, the 24-year-old gymnast won her first Olympic medal in the vault finals after teammate Simone Biles withdrew from the event, previously explaining she had a "case of the twisties."
Skinner scored a 15.033 on her first vault, higher than her mark during the qualifying round. For her second vault, she scored a 14.8, with an overall score of 14.916. She placed second behind Rebeca Andrade from Brazil. Team USA's Jade Carey also participated in the vault finals, finishing eighth.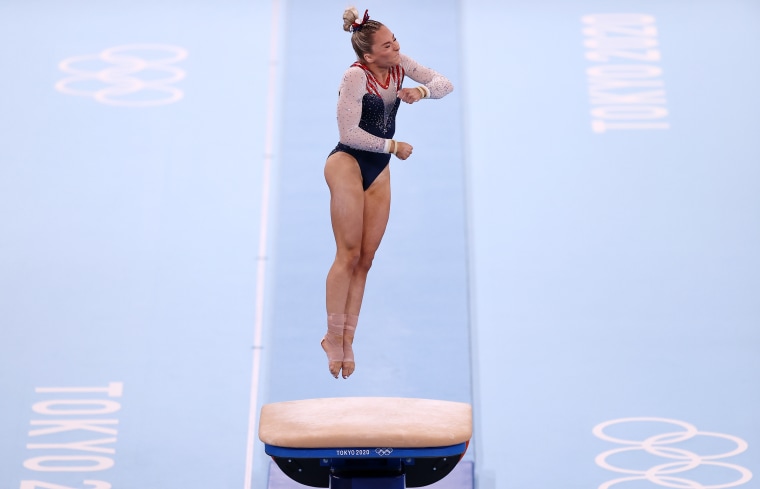 Skinner initially didn't qualify for the vault finals due to the event's limit of two athletes per country. In fact, she was planning to return to Arizona last week.
"I would have never thought," on Monday about her success. "I was supposed to be flying home, but here I am and just feeling super grateful."
Recalling how she found out she would have the chance to extend her Olympic career, she said: "We were watching team finals, and of course, things didn't go as planned, and I remember we got a text message."
"Simone was talking to (coach) Cecile (Canqueteau-Landi), saying, 'Mykayla can't go home. We might need to have her compete in case I can't figure it out in the next couple days.' So I decided to stay and train vault in case I needed to go in."
The gymnast celebrated her comeback on Instagram Saturday.
"Looks like I get to put a competition Leo on just one more time," she wrote in the caption. "Can't wait to compete in vault finals. Doing this for us @simonebiles ❤️ It's go time baby!"
Skinner explained to Hoda on Monday what she meant by "doing this for us."
"After everything that (Simone's) been through ... she's really been able to stay positive through it all, and so she's definitely inspired me," she reflected. "I said, 'You were supposed to have this opportunity, but I'm so grateful to be able to step in for you, and I want it to do this for us.'"
Biles' support ended up playing a role in Skinner's success.
"I was running for my second vault, and I'm like, 'Simone's cheering so loud. Oh my gosh.' I felt like I was going to be distracted almost. I could hear them up there. Even the guys team was just so loud, it was insane, so that definitely was much needed."
"I never would have thought this was going happen, even for me," Skinner added. "I thought I was maybe going to be the only (U.S. gymnast) walking home without (a medal), so that's really cool that I was able to place silver."
The gymnast received plenty of love and support from her teammates after she took home the silver. Biles retweeted Team USA's post about her win, which read, "Olympian *and* Olympic vault silver medalist @mykaylaskinner. #TokyoOlympics."
Sunisa Lee, 18, who won a gold medal last week in the women's individual all-around competition, also retweeted the same Team USA post, adding, "YESSS SO PROUD OF MY GRANDMA OMG."
The official USA Gymnastics Twitter account shared a celebratory post as well for Skinner.
"Vaulting into Olympic history!" it read. "If you just woke up and checked your timeline, SMILE, MyKayla Skinner (@mykaylaskinner) just took home 🥈! Your talent and determination is truly inspiring! #Tokyo2020."
The individual uneven bar finals also took place on Sunday. Lee snagged a bronze medal with a score of 14.5.
Team USA women's gymnastics has earned five medals so far at the 2020 Tokyo Olympics, including Lee's two solo medals, Skinner's silver, a silver medal for women's team final and Jade Carey's gold in the individual floor exercise. The individual balance beam finals will take place Tuesday, and Biles will compete after withdrawing from the team all-around, individual all-around, uneven bars, vault and floor competitions.
Skinner's triumph at this year's Olympic games comes after a nearly decade long journey. The gymnast didn't earn a spot on Team USA for the 2012 London Games and four years later, she became an alternate at the 2016 Olympics in Rio de Janeiro.
After being hospitalized with COVID-19 at the end of 2020 and being diagnosed with pneumonia weeks later, Skinner wasn't even sure if she'd be able to compete in the Tokyo Olympics. Ultimately, Skinner was able to qualify, citing her teammates as her support system.
"I feel like just having these girls, and my family having my back through it all, has really helped me get to where I am today," Skinner told TODAY's Hoda Kotb in late June after Olympic trials.