Carlee Russell, the 25-year-old Alabama nursing student who revealed her kidnapping was a hoax, has been charged with two misdemeanors, police said on July 28.
Hoover Police Chief Nicholas C. Derzis said in a press conference that detectives obtained an arrest warrant for Russell "related to faking her kidnapping and subsequently making false statements to detectives as they investigated this case."
Russell, who turned herself in that afternoon, was charged with false reporting to law enforcement authorities and falsely reporting an incident, Derzis said.
Each charge carries a $1,000 bond and carries up to a year in jail with a potential fine of $6,000 upon conviction. Russell was released from jail after posting bond, he said.
"Her decisions that night created panic and alarm for the citizens of our city and even across the nation as concern grew that a kidnapper was on the loose using a small child as bait," Derzis told reporters, adding that law enforcement agencies and citizens volunteered their time to look for "a potential kidnapping victim that we know now was never in any danger."
"The story opened wounds for families whose loved ones really were victims of kidnappings, some of which even helped organize searches and hopes they could find Carlee alive so her family would not experience the pain and suffering that they felt when their loved ones never returned," he added.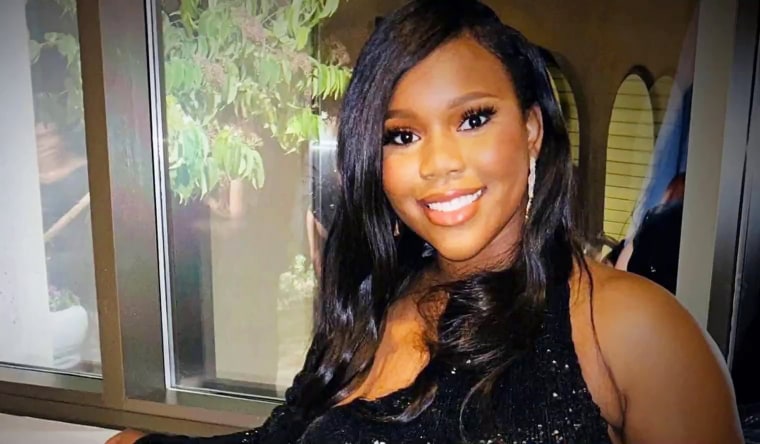 Alabama Attorney General Steve Marshall added in the press conference that they "intend to fully prosecute this case and look forward to working with every police department moving forward."
At this time, they have not concluded their investigation and do not know where Russell was during the 49 hours that she was gone.
On July 13, Russell called 911 and a family member saying that she saw a child walking along on a Hoover freeway. She was nowhere to be found when police arrived at the scene and found her car and some of her belongings, including her phone and Apple Watch.
She returned home by herself two days later on July 15, with Hoover Police confirming on July 18 that detectives had footage of her walking alone when she reunited with her family.
Russell's parents, Talitha and Carlos Russell, recalled having their daughter return home in an interview with TODAY that aired July 18. At the time, they called her "a fighter" but also said that she "was not in a good state."
The following day, police said they were "unable to verify" that a child was walking on the side of the interstate.
As the investigation continued, her lawyer, Emory Anthony, revealed during a July 24 press conference in a statement that her kidnapping was a hoax and said she acted alone.
"There was no kidnapping on Thursday, July 13, 2023," Derzis said, reading the statement. "My client did not see a baby on the side of the road. My client did not leave the Hoover area when she was identified as a missing person. My client did not have any help in this incident, but this was a single act done by herself."
In her lawyer's statement, she also apologized to everyone who had assisted in her search efforts.