Prince Harry and Meghan Markle caught a case of baby fever during their first official visit to Northern Ireland.
The pair traveled to Belfast on Friday, making a trip to a tech hub where entrepreneurs shared new innovative technology — from prosthetic limbs to baby products — with the royals.
Despite the couple's esteem for each shiny, scientific new invention, Markle took a special interest in an item by the baby product company Shnuggle, as seen in a video posted on Twitter.
Adam and Sinead Murphy, the husband and wife team behind Shnuggle, offered the royals a non-slip baby bath free of charge, to which Harry responded, "How many have you got?"
And Markle added, as she gestured to the baby-centered display, "I'm sure at some point we'll need the whole lot!"
The baby bath features a "bum-bump" to keep the baby's bottom safe from slips, according to the Murphy duo.
"No slip? That takes all the fun out of bath time!" Harry joked.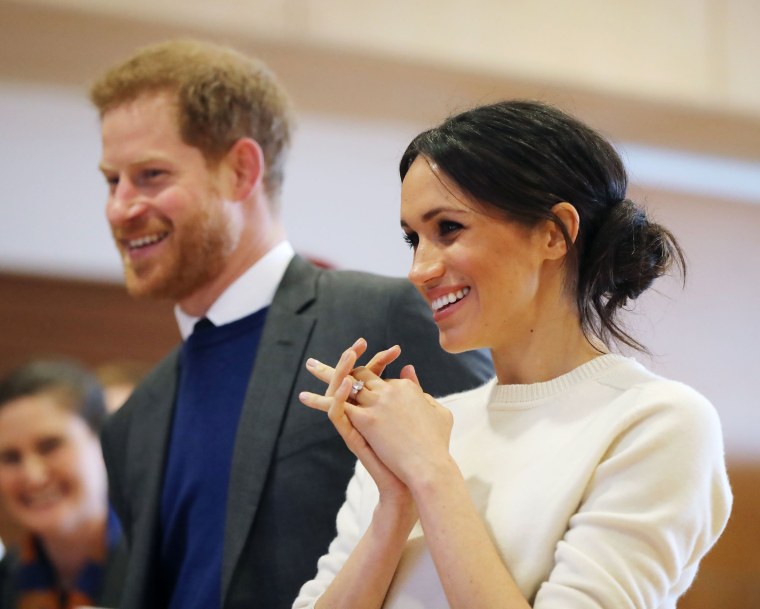 The fun-loving uncle to a royal niece and nephew (and another on the way) has always wanted kids of his own.
"Of course, I'd love to have kids right now," Prince Harry said in 2015. "But there's a process that one has to go through. … It would be great to have someone else next to me to share the pressure."
Three years later, Harry is one step closer to making that dream a reality with a royal-to-be by his side.
Between jokes and hopes for a future full of regal babies, the couple also made a stop at Belfast's Eikon Center for an event celebrating a youth-led peace-building initiative, as well as at a historic liquor saloon.
All the while, the couple shared smiles and excitement for their May 19 wedding.