You can tell Thanksgiving is almost here thanks to all the usual signs — pies are being prepped, there's a turkey thawing in the fridge and Wanda Dench and Jamal Hinton are together again.
That last hallmark of the season doesn't date back as far as the other traditions, but it's just as reliable.
Ever since 2016, when a mistaken text message connected the grandmother with the young man she'd never met before, they've spent the holiday together.
And this year, is no exception — but as they explained to TODAY, there is a twist!
"Thanksgiving dinner is at my house on November 24th at 3PM," read the text that started it all three years ago. When Hinton, then 17, asked who the message was from, Dench simply replied, "Your grandma."
After swapping photos to be sure, Hinton responded, "You not my grandma. Can I still get a plate tho?"
The grandmother from Mesa, Arizona, was only too happy to oblige in 2016, 2017 and 2018, too. And for 2019, her honorary grandson and his girlfriend are returning the favor, by having the 62-year-old and her husband join their family's celebration for the first time.
"Mikaela, his girlfriend, invited us over to her aunt's house for Thanksgiving, and I said yes before I even think she finished her sentence," Dench told TODAY. "So I am excited to go to her aunt's house and meet everybody and not have to cook."
And Hinton is just as excited, because Dench isn't just a seasonal friend anymore. Over the years, they've established a real bond.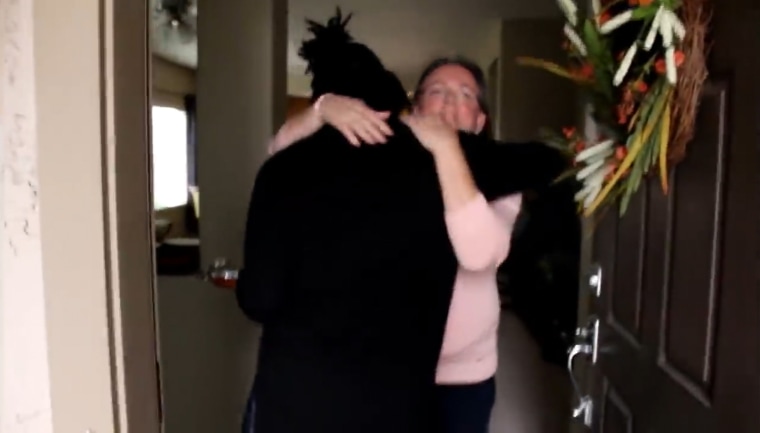 "The first dinner, I don't think we really got to talk that much, because it was so much going on at the moment," he recalled. "But after that, when we actually got to sit down and have dinner and get to know each other, it was actually pretty great."
Now Dench and her husband, Lonnie, even join Hinton and his partner for double dates on occasion.
This isn't the first time we've caught up with the accidental pals.
Back in 2017, Hinton told TODAY that he and Dench had kept in touch over more text messages. Hinton, who graduated from high school last year, wants to go to college and law school and become a sports agent, and Dench offers him career advice when she can.
They're both thrilled by all the positive attention their friendship has gotten.
"I love it," Hinton said. "I love how people are coming together and seeing the good in this story, and how much the world loves it. It's great vibes."