If there's one thing we love, it's pantry items that double as cleaning supplies. From using salt and lemon to clean a cutting board to bananas that double as shoe polish, we're obsessed with any hack that doesn't mean adding an extra item to purchase on our list.
That's why we're so into this easy toilet cleaning trick! Chances are you already have everything you need sitting in your fridge.
Check out our interactive guide to learn how to clean your home from top to bottom.
How to use Coke to clean a toilet
You're probably familiar with the refreshing taste of Coca-Cola already. The international soda brand comes in diet, caffeine-free and even coffee-flavored varieties. It also pairs well with a slice of pizza, a juicy burger and apparently ... toilet water? That's right. The fizzy soda can give your toilet a spotless clean in a pinch.
Want more great tips delivered straight to your inbox? Sign up for TODAY's Everyday Solutions newsletter!
Check out the hack in action here and follow the steps below for a clean bowl without all the scrubbing!
Pour Coca-Cola along the edges of the toilet bowl — the carbonation will take care of the heavy lifting for you!
Leave the soda in the toilet overnight.
The next morning, flush the fizz away and your toilet will look good as new.
Even more good news, after you're finished, you can kick back with a cold can of soda from your leftover supply!
Here are four other spring cleaning hacks, courtesy of Stephanie Sisco, the home editor of Real Simple magazine.
Clean the inside of the dishwasher using lemonade Kool-Aid, which helps remove lime deposits and iron stains.
Pour a packet of lemonade Kool-Aid (this is the only flavor that works) into the detergent cup and run the washer while empty.
The citric acid in the mix wipes out stains, so you don't have to.
Remove stains from teacups and coffee mugs.
Sprinkle salt on the white part of a lemon peel.
Gently rub the affected area till clean.
Get rid of stains on your suede.
It's so easy, you won't even believe it. Just get an emery board nail file.
Gently rub the nail file on the stains to remove them.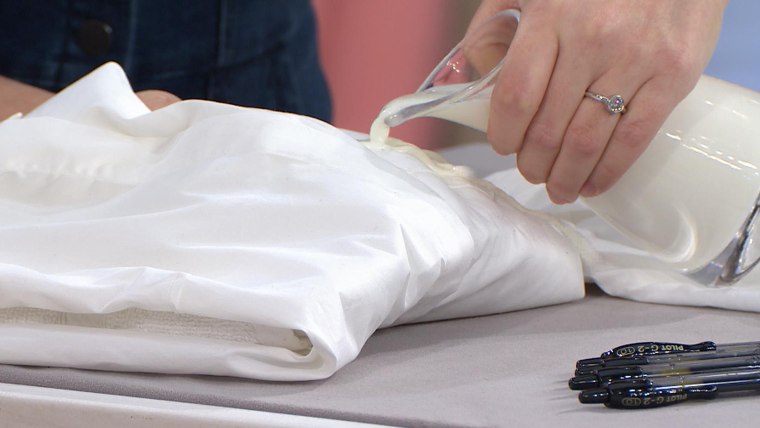 Use milk (yes, milk!) to zap ink stains on fabric.
Soak the garment overnight in the milk.
Wash it as normal the next day.
For smaller stains, pour a tablespoon of full-fat milk onto the stain and let it sit for 20 minutes.
Rub the fabric together until the stain fades. Launder as usual.
This story was originally published on TODAY.com on Nov. 30, 2017.