Sometimes, when the afternoon slump of the workday hits, we may crave a serious dose of caffeine — be it a mid-day cup of coffee or a can of soda.
Now, you can have both at the very same time ... without double-fisting beverages!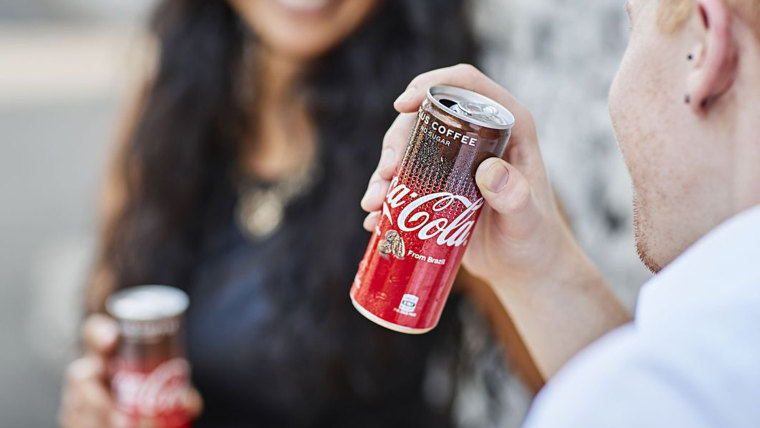 Coca-Cola has launched the perfect marriage of Diet Coke and coffee — but it's a mouthful to say. Coca-Cola Plus Coffee No Sugar has caffeine and coffee-flavoring but, as the name indicates, it's free of sugar. Unfortunately for Coke-loving Americans, the diet drink is not available in the United States at this time. It launched in Japan earlier this year and it will soon be launching in Australia as a limited-edition drink. The Japanese version, however, was not sugar-free.
But why coffee-flavored soda?
"Australians have a love-affair with coffee so we thought why not give them more of what they want," Coca-Cola Australia spokeswoman Lisa Winn told the UK's Independent. "We think it will be a great-tasting afternoon pick-me-up. Like a delicious antidote to the 3 p.m. slump."
And what does it taste like? According to a statement from Coca-Cola, it "combines the traditional taste [of the classic version] with "a dash of real coffee from Brazil" and "subtle caramel undertones." Sounds pretty delicious, actually.
Coca Cola Plus Coffee clocks in at 14 mg of caffeine per 100ml, which is more caffeine than regular Coca-Cola (9 mg) but actually less than a cappuccino (43 mg).
But it's certainly not the most caffeinated soda out there. Jolt Cola, the 1980s classic, is making a comeback, and it contains 160 mg of caffeine per can. Americans consume about 300 mg of caffeine per day, according to the FDA, so there may only be room for one of these highly-caffeinated choices if you find your day really does need a pick-me-up.
But is it worth seeking out, if you happen to be Down Under? Twitter seems rather mixed.
As it struggles to keep with bottled water's popularity, Coca-Cola is often making changes to their drink recipes and offerings — like the recent, and somewhat controversial, relaunch of Coke Zero as Coke Zero Sugar.