Selma Blair's multiple sclerosis may currently be in remission, but the actor knows all too well that relapses can happen, and she's ready to tackle them head-on if they do.
"I don't live in fear of this condition at all," she tells TODAY.com.
Blair, 50, first announced her MS diagnosis in 2018. Three years later, the star revealed that she was in remission after undergoing a stem cell transplant.
To be clear, life is hardly perfect for the star, and she's learned to live with a variety of lingering MS symptoms, including fatigue, speech glitches, and movement and balance challenges. But she's been able to find purpose in the pain and is determined to give a voice to anyone who may have a disability.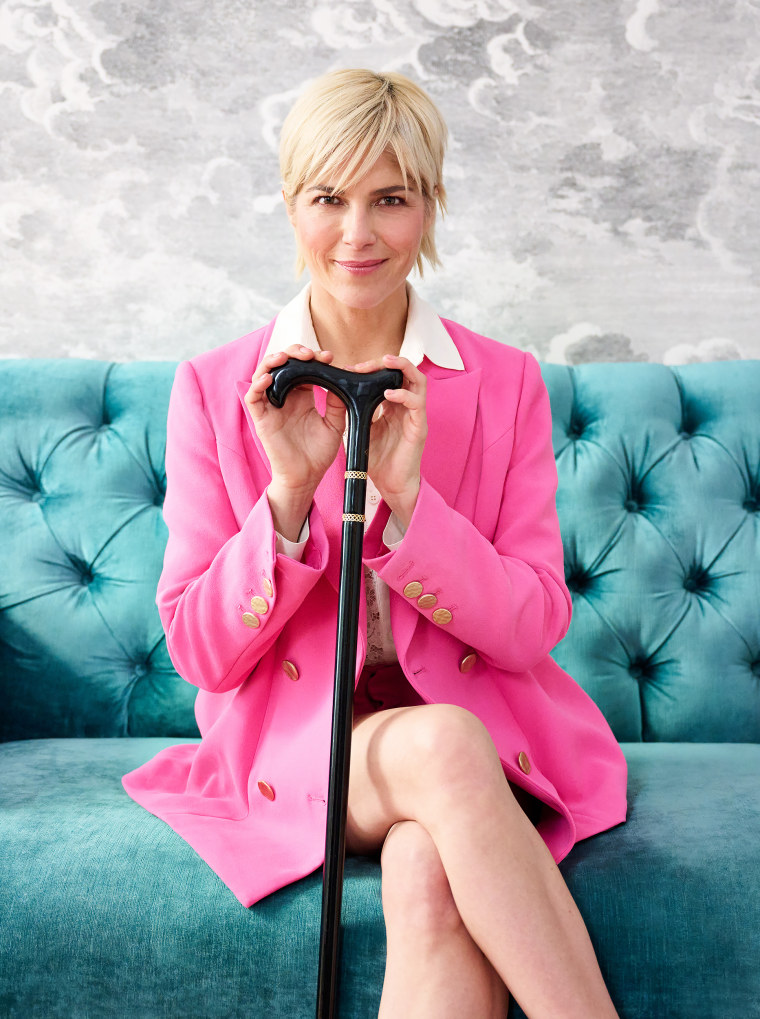 "I've really changed a lot of my own perceptions of disability and (now realize) what heroes so many people in the disabled community are," she explains.
Blair recently signed on as QVC's new brand ambassador for accessibility and will work with the company as it seeks to increase the assortment of accessible and adaptive products that it offers online and on air. She will also assist QVC in making the shopping experience more accessible.
Accessible and adaptive products make it possible for people with disabilities to live more independent lives, but if you ask Blair, it's a market that has a lot of untapped potential. And she's hoping to change that.
"You have to be a squeaky wheel to get what you want. ... There aren't a lot of allies in the disabled community that are lucky enough to be on the platform that I have to bring things out," she says.
Blair is taking her remission journey one day at a time and says she's doing "really well" these days. Of course, MS still affects her in various ways.
"I still have symptoms. I do not have the absolute weakness that I had for a long time, and if I focus on something really truly and I'm awake, I can correct it. But often, it just takes a lot of energy," she says.
For instance, Blair regularly has to normalize her gait while moving.
"Getting up, you would think I have a very difficult time walking the first few steps, but then I start to get in the rhythm and then if I'm uninterrupted for a while I can absolutely walk smoothly. And then as soon as I sit down again, it starts all over when I start moving again. So that is pretty standard all the time," she explains.
Proprioception, which WebMD defines as your body's "ability to sense movement, action, and location," is also a concern for Blair at times.
"I don't know where my body always is in space when I'm tired. When I'm tired, I become very spastic, and my speech is dystonic," she said.
Dystonia is a movement disorder that causes the muscles to contract involuntarily, according to the Mayo Clinic.
The star, who has an 11-year-old son named Arthur, explains that she doesn't have a long-term prognosis for how long her remission will last. But she has found ways to manage symptoms when they do arise.
"I can sit on the ground in a squat position and a lot can be relieved. That is also another reason why I personally enjoy my service dog. It makes me look like I'm not a middle-aged woman having a breakdown in the street squatting as passersby are there, and I'm crying," she says, adding that she has a condition that makes her prone to involuntary crying, which she takes medicine for.
The sun is also "kryptonite" for Blair, who says her speech becomes very dystonic when she's in the sun, even for a few minutes.
"It's like hiccups. I become very weak in the sun. That is something (that happens) whether I'm in a flare or not. That is an autoimmune issue. The sun causes inflammation and, (for) a lot of people, that's normal. It triggers autoimmune (issues)," she says. "Even though I'm not in an active flare and maybe won't be for a long time, I do feel it, and they're called pseudo flares. And that seems to never leave me."
Blair also regularly deals with a lack of appetite.
"I only can digest food once I'm relaxed or else I'm kind of dry heaving. I just have a faster running nervous system than some," she said.
Blair is the first to admit that she was lucky to have the resources to afford and access top-notch medical care, and she hopes to make that more accessible for everyone with MS.
"A lot of people aren't getting the help and attention that they could," she says.
By talking openly about her own life with MS, Blair hopes to help other people who are dealing with the condition feel seen.
"When I'm talking about one of my issues that's meant to cover a broader theme, not anyone else's disability, but a broader theme of what it can do to feel supported in your community," she says.