As 30 million people in the U.S. are living under heat alerts, the National Parks Service is facing one of its deadliest summers yet for extreme heat.
Since June, more people have died from extreme heat in national parks than normally would during an entire calendar year, the National Park Service told NBC News. So far, at least seven people have died in parks from possible heat-related causes.
"Sometimes people just get overheated. They get a little bit dehydrated. They can experience syncope, which is fainting," Dr. Greg Moran, chief of the emergency department at Olive View UCLA, told TODAY in a segment aired July 24. "That is definitely more common in the heat. We'll see a lot of people who maybe, if it wasn't so hot, might have had the physiological reserve not to get to that point."
Seven deaths at national parks amid extreme heat
The stories of those who died highlight the serious health impact that extreme heat can have on people of any age.
A 14-year-old boy died at the end of June after hiking in Big Bend National Park in Texas when temperatures reached at least 110 degrees, according to NBC News. When his 31-year-old stepfather drove to find help, he wrecked the car and also died.
In early July, a 57-year-old woman died hiking in Grand Canyon National Park in Arizona, where temperatures reached 100 degrees, NBC News said. A few weeks later, a 71-year-old man collapsed and died in California's Death Valley National Park, where temperatures peaked at 121 degrees, NBC News reported. In early July, a 65-year-old man died also at Death Valley, in another likely heat-related death.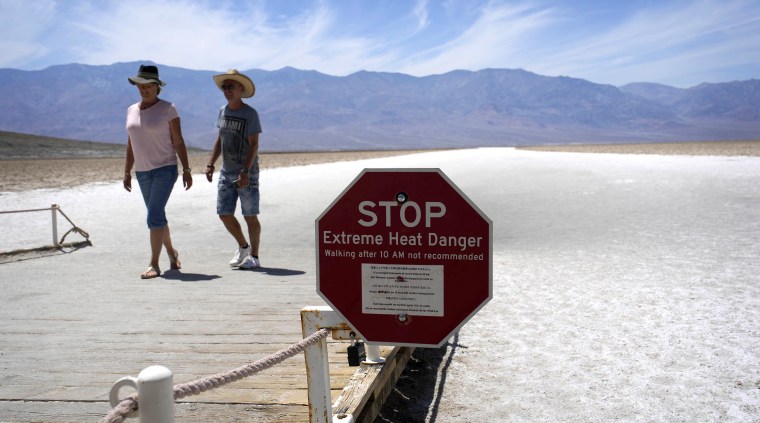 On Sunday, two female hikers were discovered dead in Valley of Fire State Park in Nevada, according to the Associated Press. Little is known about the women, but temperatures reached 114 degrees that day, the AP noted.
Deadly heat wave expands across U.S.
Since the spring, the Southwest U.S. has been facing a heat wave, which is expected to spread to the central and eastern parts of the country during the last week in July, NBC News reported.
According to NASA, June 2023 was the hottest June ever recorded. A NASA official said last week at a news conference that July is likely to be the hottest recorded month ever.
"For much of July, hot, dangerous conditions have been the normal in parts of the West, Texas and Florida," the National Weather Service said. "These summer conditions will build and expand across the Eastern two-thirds of the country this week, starting in the north-central states and Plains."
Heat advisories have been issued for parts of California, Utah, Nevada, Colorado, Oregon, Idaho, Wyoming, Nebraska, North and South Dakota, the desert Southwest and Texas, as well as the southern end of Florida.
Numerous cities around the U.S. have broken temperature records for this time of year. The Phoenix weather service said the city hit 114 degrees. Miami hit 98 degrees, and Salt Lake City hit 104.
The extreme heat is likely due to the effects of global climate change, scientists say.
How to stay safe exercising in the heat
The National Park Service has tips on how to avoid heat-related illnesses, which include:
Drinking plenty of water. (Aim for a cup every hour, and consume hydrating foods, like like watermelon and cucumbers.)
Wearing sun protection.
Wearing lightweight, light-colored clothes.
Eating salty snacks.
Resting frequently in the shade.
Scheduling activities for before 10 a.m. or after 4 p.m. to avoid hottest part of the day.
Splashing water on yourself to cool down.
Turning back if it feels too hot.
"Pay attention to what your body is telling you. This is less about feeling hot and sweating more than usual — that's a given! But telltale signs that you need to rest and take a break include feeling muscle cramps, nausea, dizziness or lightheadedness," TODAY fitness contributor Stephanie Mansour previously told TODAY.com. about exercising in heat.
"You don't have to stop but take a break, hydrate and find some shade to cool down. Then, listen to your body. If you're too fatigued to continue, that's OK."
Other important signs of heat-related illness to be aware of include: headache, fever, vomiting, increased thirst, weakness, confusion, red and dry skin, lack of sweating, organ failure and seizures. The color of your urine is also an effective way to tell if you're staying hydrated; dark yellow means you need more water.
If you're with someone you may be experiencing heat-related illness, move them into a cool environment, place cold water on them, give them cool water to drink, remove any tight or heavy clothing and call for emergency assistance if their condition doesn't improve.