Frustrated with your current workout routine? You don't have to add time or weight to your workout to get more out of it. You just have to make changes that challenge you beyond your current workout to start seeing results again.

This could mean picking up the pace, shortening the rest periods, doing more sets or a combination of these and more. Here's a few ways to kick your workout up a notch without adding any equipment or weights: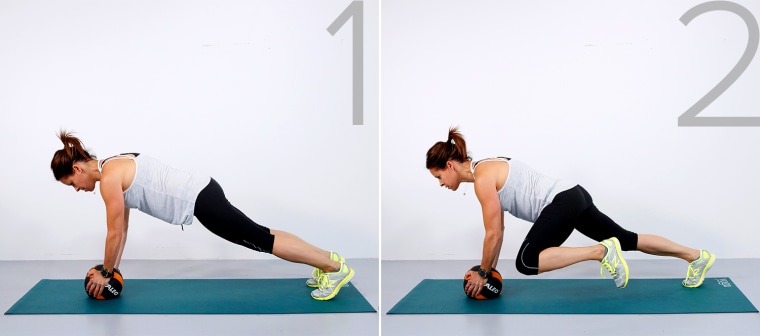 1. Pyramid
You can do pyramids in a few different ways: increase the reps, decrease the reps, build up and then build back down, and do as few or as many different exercises as you like. Here's one example:
50 jumping jacks

40 high knees

30 mountain climbers

20 push-ups

10 crunches

Rest and repeat.
Also, if you're looking for more, here's a full-body pyramid workout from this year that you can do at home!
2. Mini Circuits
Mix and match cardio with strength in these mini circuits. You simply pick 3 to 4 exercises and do them one right after the other without a rest period. Include at least one lower body, one upper body plus core with an optional cardio (if you do them fast enough the whole program becomes a cardio workout!).
Here's one idea:
Push-ups

Squats or lunges

Crunches or planks

High knees or jumping jacks
Do as many as you can of each and then rest. Repeat for 2 to 3 sets.

I also love this circuit from earlier this year to totally tone your glutes and butt.
3. Intervals
Take any cardio workout and add hard and easier "rest" bouts. For example, here's a walk/run interval routine you can adjust for the elliptical or even a bike workout. Increase the intensity by bumping up the faster pace and shortening the easier interval.
Walk 4 minutes

Jog/run 1 minute

Walk 2 minutes

Jog/run 1-1/2 minutes

Walk 1 minute

Jog/run 2 minutes

Walk 2 minutes

Jog/run 1-1/2 minute

Walk 1 minute

Jog/run 2 minutes

Repeat OR finish with a 2-minute steady walk and cool down.
It just takes a little creativity and a bit of effort to take your workout to the next level for 2015!
Want more of Jenna's Fit Tips? Sign up for my weekly newsletter!