Felimina Rotundo is 100 years old and still works 11 hours a day, six days a week at a Buffalo, New York, laundromat, and to her that seems perfectly normal.
"I don't believe in retirement,'' Rotundo told TODAY.com. "I believe 65 is too young. If I retired at 65, what would I have done all these years? I would've gone crazy! I work because I love people. I want to be around people."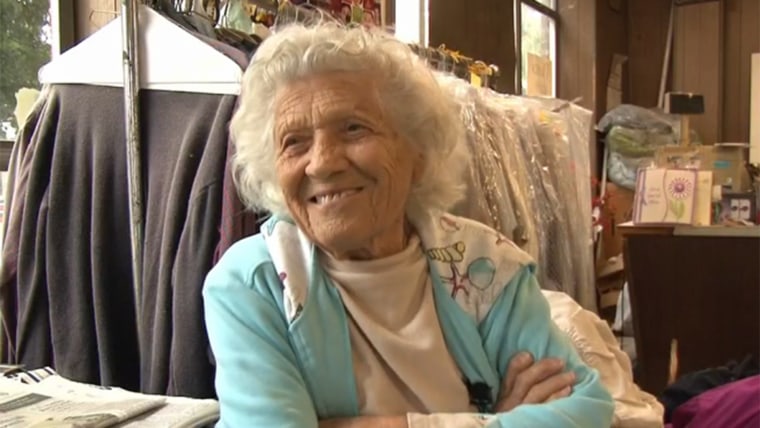 Rotundo works from 6 a.m. to 7 p.m. from Monday through Saturday at College Laundry Shoppe — washing and folding clothes — something she believes keeps her young.
"That's why you have sick people in the old folks home,'' she said. "They didn't have enough to do and their mind deteriorated."
RELATED: 101-year-old woman forges sweet bond with generations of candy lovers
Rotundo, who turned 100 in August, has been working for 85 years outside of the time she raised her two children with her late husband, who was a bartender.
"My first job was working at a shoe factory in Annville, Pennsylvania, when I was 15 years old,'' she said. "Talk about slave labor. I was making about $10 a week, but I worked my 40 hours and never complained. I was glad to have a job."
She was a teenager during the Great Depression, which made a strong impact on her work ethic. She has worked in the Buffalo area for nearly 40 years.
"You have to grow up during the Depression to know what it's like to have hard times,'' she said. "What are you going to do? You survive. That's what makes you grow up to work hard and make some money. It makes you independent and able to say you made it through the hard times."
RELATED: Woman who handed out resumes on street corner lands job
Rotundo lives three doors down from the laundromat and spends her time trying to stay busy.
"I think being around a lot of people keeps your mind busy,'' she said. "I have to take a walk on Sunday in the afternoon with my dog because I'm not working. I don't spend too much time watching TV except the news. I read the paper every day because you get so much more out of the paper."
She also hopes that her stamina at 100 years old can show others the value of the older population.
"I think they throw old people away and forget about them,'' she said. "Not me. I want to keep working. I think they should keep old people working as long as they can. If old people are working and independent, it makes them feel so much different."
Follow TODAY.com writer Scott Stump on Twitter.