Walter White and Jesse Pinkman, the masters of meth, have a new product on the market — and it's "air popped, not fried."
Bryan Cranston and Aaron Paul reprise their "Breaking Bad" characters in a new commercial for PopCorners that debuted Feb. 6 and will air during the Super Bowl. The cheeky, minutelong ad is filled with callbacks to the Emmy-winning drama, minus the drugs, of course.
The concept: Walter is cooking the crunchy snack — "It's just basic ingredients," he says — and introduces it to Jesse, who's instantly hooked. They bring their creation to distributor Tuco Salamanca (again played by Raymond Cruz), who responds enthusiastically and demands that they make him seven flavors.
In separate interviews with TODAY.com, Cranston and Paul use the same word to describe the commercial: "fun." They both embraced the opportunity to approach the "Breaking Bad" world from a lighter perspective.
"In the seven years that we were doing 'Breaking Bad' from the beginning of the pilot to the end, it was a very intense show," Cranston says. "So there wasn't a lot of room to just have fun and smile a lot and laugh a lot during shooting, because you're so intense on those characters, that this change was so welcomed to us.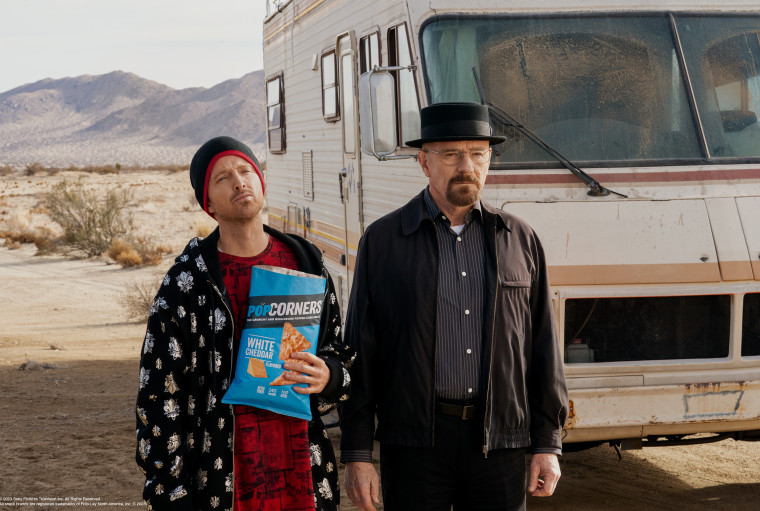 "We went into it saying, let's make the best commercial we possibly can make for PopCorners. At the same time, we wanted to have a fun, good experience."
Since "Breaking Bad," which recently celebrated its 15th anniversary, went off the air a decade ago, Cranston and Paul have revisited their characters a handful of times, from the 2019 Netflix movie "El Camino" to the final season of the spinoff "Better Call Saul" last year. (Cranston also revived Walter in 2015 for an Esurance Super Bowl ad.)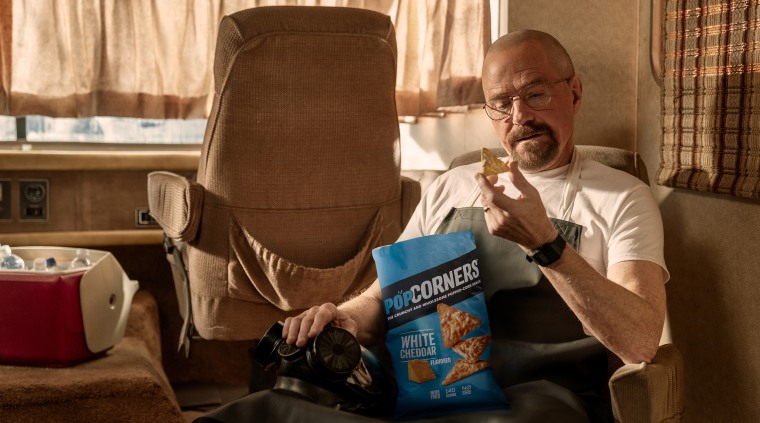 "I thought the little stint we did on 'Better Call Saul' was going to be the last time I was going to zip on that skin. And when (the PopCorners commercial) came our way, it was just so nice to kind of zip on the skin in a slightly more sort of innocent version, you know, playful version," Paul tells TODAY.com.
Still, the production of the commercial remained authentic to "Breaking Bad" in other ways. Series creator Vince Gilligan returned to direct the ad, and a number of crew members from the show were brought in, too. It even used the actual RV from "Breaking Bad."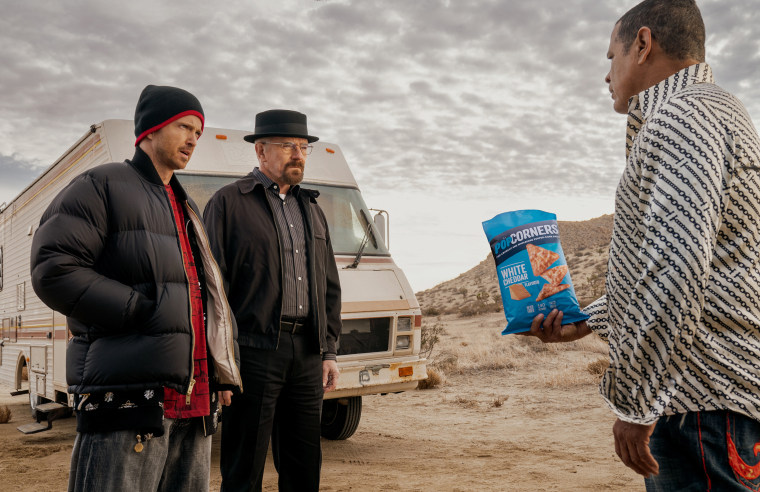 "We're grateful all around to be able to have had that remarkable show as part of our history. And then to be able to pull it out again, like an old, treasured sweater, and be able to put it on again and just smile throughout the days and just have a great experience — and so ... we were just like kids in a playground," Cranston says.
Cranston and Paul share a bond that extends well beyond their time spent in the "Breaking Bad" universe. They have their own mezcal brand, Dos Hombres, they've done charity work together, and Cranston is the godfather of Paul's infant son.
Cranston, 66, recalls that when he first met Paul, 43, he noticed an "exuberance and zest for life" that he appreciated.
"I was really attracted to his character as a human being — not the character of Jesse (laughs), that was a little intolerable at times — but him as a person and how gleeful he was when we were working despite the excessive heat or cold or the wind blowing sand in our faces," he adds. "You're still smiling and knowing and accepting the goodness of life. And so I love people like that and I want to be around people like that."
Paul calls Cranston a best friend and a mentor, saying, "I would take a bullet for the guy."
"We're very close. My kids are obsessed with him and Robin, his wife," he continues. "And I mean, we just went to Hawaii together, our families, for a little family vacation. We're very close. He means the world to me."
Paul then expresses his gratitude that he was able to work with Cranston on the PopCorners ad.
"To team up again — we don't take any of this for granted. We know how lucky we are. And the fact that we got approached to do a Super Bowl ad to reprise these roles is amazing," he says. "It's such a beautiful thing. We really appreciate it all."