With the summer heat reaching such highs that gas prices are climbing as a result, it's easy to look towards the cooling breezes of autumn for reprieve. Well, thanks to America's favorite alliteratively misspelled doughnut chain, you can imagine the leaves are turning a little early.
On Aug. 7, Krispy Kreme announced it was entering pumpkin spice season a wee bit early by releasing a collection of doughnuts that are "mixed, stuffed, sprinkled and topped" with pumpkin spice, inviting folks to imagine themselves out of their airy linens and into some warming corduroy. The news includes two all-new offerings by the chain: the Pumpkin Spice Cheesecake Swirl Doughnut and the Pumpkin Spice Maple Pecan Doughnut.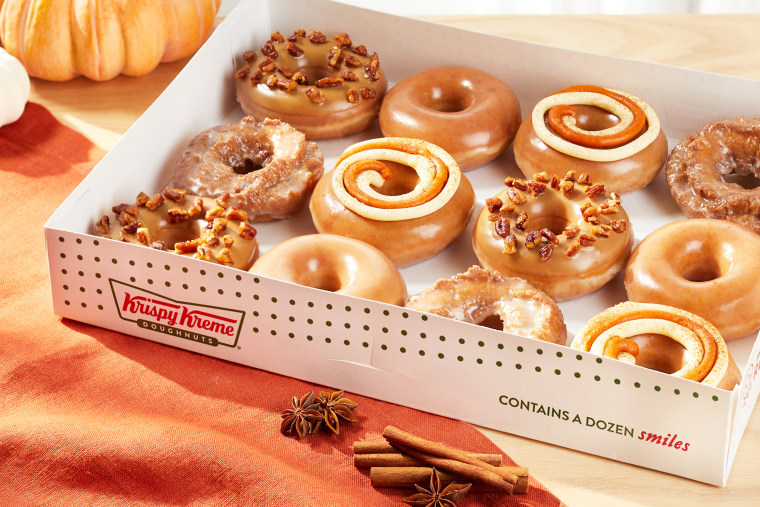 Available for a limited time at participating shops, Krispy Kreme is offering pumpkin spice fans a total of four different doughnuts, including:
Pumpkin Spice Original Glazed Doughnut: This returning flavor spin on the crisp and airy Original Glazed doughnut is transformed by the "perfect amount of pumpkin spice flavor" to create a bite akin to opening the window on a brisk evening to let a pumpkin pie cool on the sill. (I may be speaking from experience here.)
Pumpkin Spice Cake Doughnut: This seasonal fan-favorite, a glazed, old-fashioned pumpkin spice cake doughnut, is a nostalgic combination of crumbly cake and pumpkin spice flavor.
Pumpkin Spice Cheesecake Swirl Doughnut: This new offering features a Pumpkin Spice Original Glazed doughnut with pumpkin buttercream icing swirled with cream cheese icing and topped with a gentle dusting of cinnamon sugar.
Pumpkin Spice Maple Pecan Doughnut: This new offering features a Pumpkin Spice Original Glazed doughnut hand-dipped in maple icing and topped with crunchy candied pecan pieces.
In addition, pumpkin spice enthusiasts can wash down all that delectable dough with seasonal sips. Krispy Kreme has also welcomed back its Pumpkin Spice Latte, made hot, iced or frozen, as well as its Pumpkin Spice Coffee, which is available hot or iced.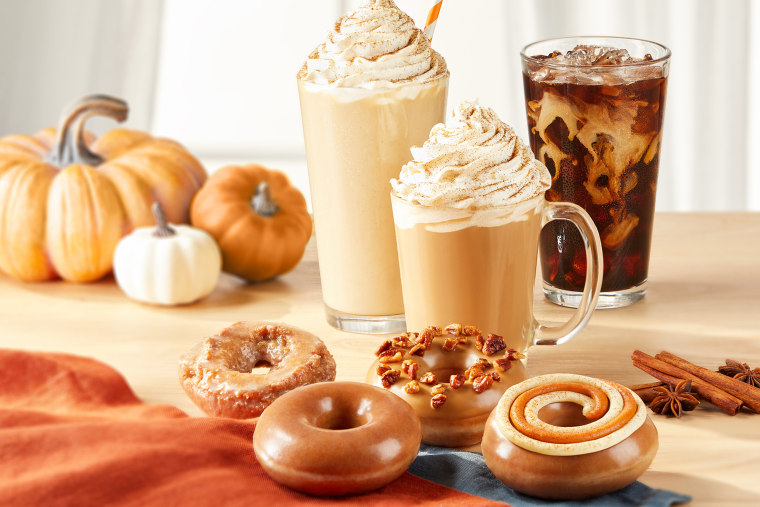 Krispy Kreme says these "barista quality coffees" are made from a limited-release pumpkin spice coffee blend, specially crafted with notes of pumpkin, nutmeg and cinnamon. Krispy Kreme's Pumpkin Spice Collection is now available in-shop and for pickup or delivery via Krispy Kreme's app and website at participating shops across the U.S., for a limited time.
"Year after year, we fall in love all over again with pumpkin spice-flavored treats, and this year pumpkin spice lovers will fall the hardest at Krispy Kreme," said Dave Skena, Krispy Kreme's global chief brand officer in a press release. "Combining two new pumpkin spice doughnuts with two fan favorites — we're saying to the spice AND our fans, 'P.S., we love you'!"
The last time Krispy Kreme offered pumpkin spice doughnuts was, suprisingly, not this time last year. On April Fools' Day, the brand delighted — and horrified — fans by announcing the return of its Pumpkin Spice Original Glazed doughnut 191 days before fall officially begins, for two days only, April 1 and 2.
Since it's early August, you might think Krispy Kreme would be the first to put out its pumpkin spiced menu, but you would be wrong. 7-Eleven actually holds the distinction as the first major chain to announce its autumn offerings, unleashing its suite of pumpkin-y beverages on Aug. 1.