Like Christmas decorations going on sale before Halloween, pumpkin spice creep is starting earlier and earlier. Now, America's largest convenience store chain has rung the cinnamon alarm, so to speak, so it's time to unpack our cardigans.
On Aug. 1, 7-Eleven announced it had beat every other fall flavor-furnishing chain by releasing its suite of pumpkin spice beverages a full month and 23 days before autumn officially begins. This is a full 30 days before Starbucks released its infamous Uggs-in-a-cup drink, the Pumpkin Spice Latte, last year.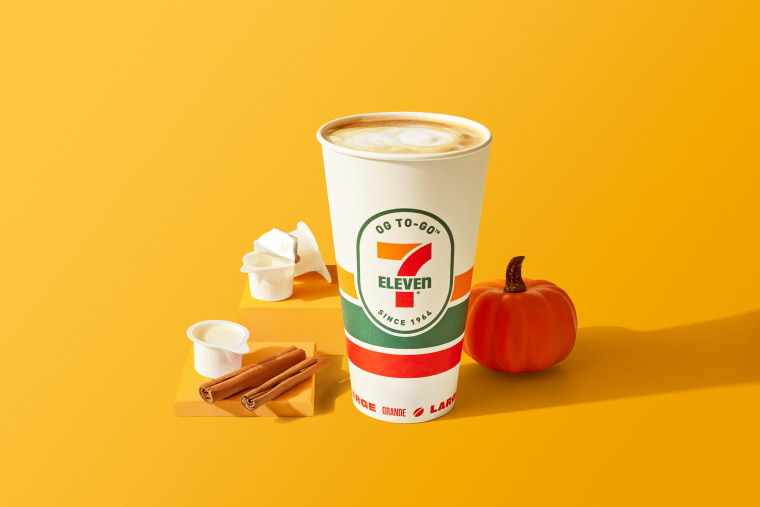 "Fall flavor fanatics rejoice! It may be the first day of August but the fall flavors are already here. 7-Eleven, Inc., is rolling out the seasonal favorites earlier than ever this year," wrote 7-Eleven in a press release, adding that customers can enjoy the chain's "beloved" Pumpkin Spice Lattes and more at participating 7-Eleven, Speedway and Stripes stores across the country — and with more than 10,000 of them across the country, that's a whole lotta pumpkin dust.
Additionally, the 7-Eleven homepage seems to acknowledge how early this is to be breaking out your fall playlist complete with tracks from Taylor Swift's "Folklore," Ella Fitzgerald and Ben Folds. "Too soon? Too late. We're taking the lead in manifesting cooler days. Sorry 'bout it," reads the site.
Available now through Oct. 31, the 59-year-old chain will make available:
Pumpkin Spice Latte: The chain invites customers to sip on seasonal cinnamon spice atop a "creamy pumpkin-flavored latte" for a limited time.
Pumpkin Coffee: 7-Eleven will allow customers to upgrade their traditional black coffee with a splash of pumpkin. "Pro tip: Try our Pumpkin Somethin' recipe hack by adding two pumpkin spice and two sweet and creamy creamers to any hot or iced coffee," reads the release.
Pumpkin Syrup: Customers can also double up on pumpkin flavor by mixing in pumpkin-flavored syrup to any coffee. According to 7-Eleven, customers have over 3,000 ways to customize their drink to their liking using flavored syrups, creamers, toppings and more.
"We know our customers wait all year long for their favorite fall flavors…so we decided to break out the pumpkin a little bit early this year," said Dennis Phelps, 7-Eleven's senior vice president, merchandising (vault & proprietary beverages) in the release. "It may not quite feel like fall outside yet, but it sure can taste like fall as we enjoy the first Pumpkin Spice Latte of the season."
To truly take your light turtleneck and infinity-scarved moment to the next level, the chain suggests you pair your preferred pumpkin-flavored beverage with its Apple Cider Donut. The limited-time old-fashioned cake doughnut is glazed and coated with an apple cider sauce. 
In addition, there are other fall flavors outside of pumpkinland: The Apple Snack Pie and Apple Danish are available for $1 each to 7Rewards and Speedy Rewards members.
And if you really need a pumpkin snack to pair with your pumpkin drink, 7-Eleven says to hold tight: More fall surprises are on the way, including its pumpkin muffin, which is coming to stores later in August.