Lovers of Spam might want to take a think twice before they bite into their next slice of the popular processed meat.
A recall has been issued for 228,614 pounds of the canned meat because it may be contaminated with pieces of metal, according to a release by the U.S. Department of Agriculture.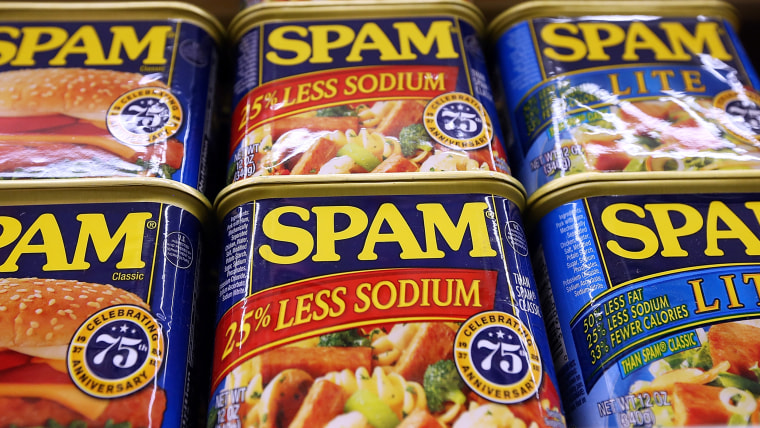 Hormel Food Corp., the maker of Spam since its introduction in 1937, "received four consumer complaints stating that metal objects were found in the canned products," with reports of only "minor oral injuries."
The recall applies to the 12-ounce "Spam Classic" cans in the U.S. and the Hormel Foods Black-Label Luncheon Loaf cans, which were only sent to Guam, a U.S. territory. Guam consumes more Spam per person per year than any country in the world, according to TIME. It's also very popular in Hawaii where some grocery stores were forced to keep the canned meat in locked cases due to theft.
So what should you do if you've got some Spam in the pantry right now? Here's what the Department of Agriculture says to look for on the label to determine whether to throw it out or return it to the place of purchase.
12-oz. metal cans containing "SPAM Classic" with a "Best By" February 2021 date and production codes: F020881, F020882, F020883, F020884, F020885, F020886, F020887, F020888 and F020889. These products were shipped throughout the United States.
12-oz. metal cans containing "Hormel Foods Black-Label Luncheon Loaf" with a "Best By" February 2021 date and production codes F02098 and F02108.
The products affected by the recall also have "EST. 199N" on the bottom of the can.
The Department of Agriculture's Food Safety and Inspection Service has not received any additional reports of injury or illness beyond the minor oral injuries, but anyone concerned or who may be affected has been urged to contact a healthcare provider.
Any consumers with questions may also contact Hormel Foods directly at 1-800-523-4635.
Follow TODAY.com writer Scott Stump on Twitter.