Drugs ruin everything: lives, relationships, getting the good cold medicine that actually works — and now, even buying Spam.
People across Hawaii may be stealing Spam and other canned meats in order to sell them on the black market, in return for what some suspect is drug money, reports Hawaii News Now. So grocers are taking matters into their owns and beginning to lock up their precious stock.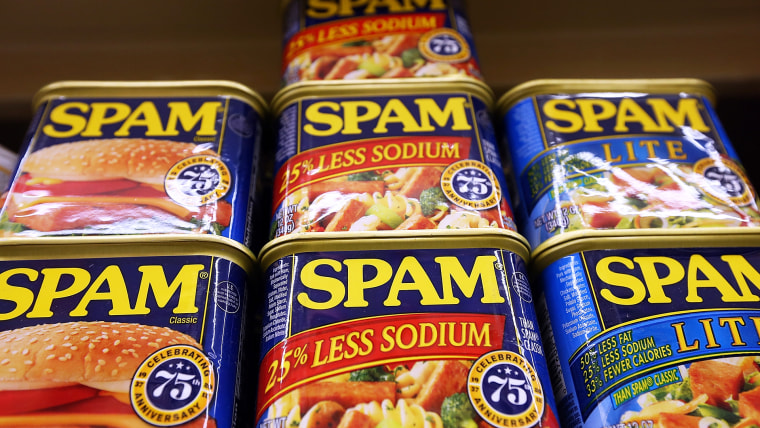 While Spam isn't really considered a delicacy on the U.S. mainland, in Hawaii it's a beloved staple that's used in many dishes like Spam fried rice or the super-popular Spam musubi (it's actually delicious, trust us!).
According to local authorities, there's recently been an uptick in the bulk pilfering of the canned pork-and-preservative blend. The Washington Post pointed to recent cases in which someone witnessed the theft of eight cases of Spam and another who intervened in an attempted heist of 18 cases of Spam.
"Since the shoplifters got the stolen goods for free, they are able to make a 100 percent profit reselling them," Tina Yamaki, executive director of Retail Merchants of Hawaii, explained to Honolulu Civil Beat.
"Every home has a can of Spam on its shelves. You can cook Spam 101 different ways. It keeps forever."
Now, Spam joins the ranks of razor blades, electronics and, in some places, tampons and condoms, among convenience and grocery store items that are kept behind locked cases ... because we just can't handle having nice things. Fine, not even nice things. Just things.
Some stores are reportedly requiring that customers request assistance from store associates to get their hands on Spam, while others are just keeping the cans up front where the cashier can keep an eye on them.
An assistant manager at Tamura's Market, a chain of supermarkets in Hawaii, confirmed to TODAY Food that they now keep all Spam and other canned meat in the front of the store because of a new rule from corporate, likely due to increased thefts — though she said she had not experienced a theft at her particular location.
Yamaki told the Washington Post that a recently enacted law that changes the definition of felony theft from $350 to $750 may be to blame for making cases of Spam a big target, because thieves could potentially steal up to 300 cans without being charged as felons if caught.
"It's organized retail crime," said Yamaki. "It's not like, 'I'm going in to steal Spam to feed my family.'"