Oatmeal — with its drab color and mushy consistency — might not be the first thing you associate with #foodporn, but believe it or not, combined with the right ingredients, it can actually be pretty sexy. Whether you crave something sweet or savory in the morning, we've got 21 dressed-up oatmeal recipes — including both fruits and vegetables — that'll get you right out of bed and give you the energy to get your day going.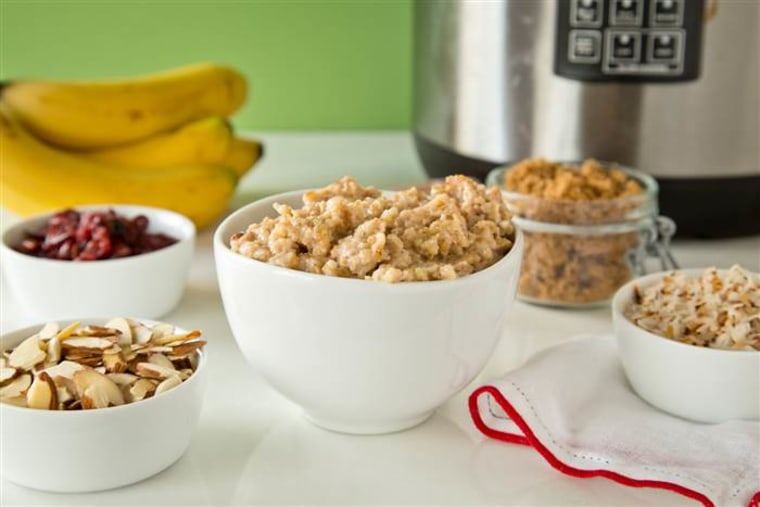 What? You've never made oatmeal in your slow cooker before? You're in for a real treat — especially with a house full of guests.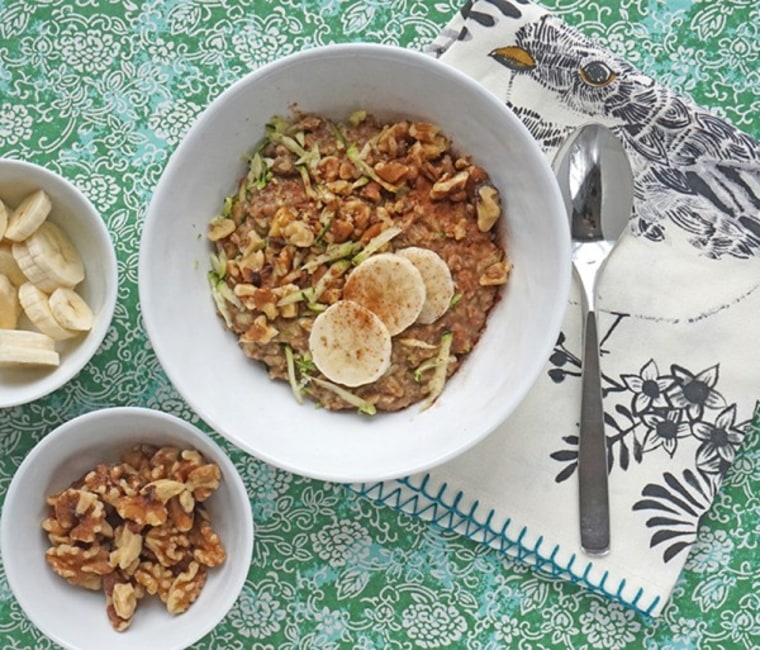 Not a morning-savory person but want to get more veggies into your morning routine? Grate some zucchini into your oatmeal. Seriously.
RELATED: 5 easy slow-cooker recipes to help you use up that zucchini
Cake for breakfast? It's made with oatmeal, so yeah, says Kelsey Nixon, star of Cooking Channel's "Kelsey's Homemade," why not?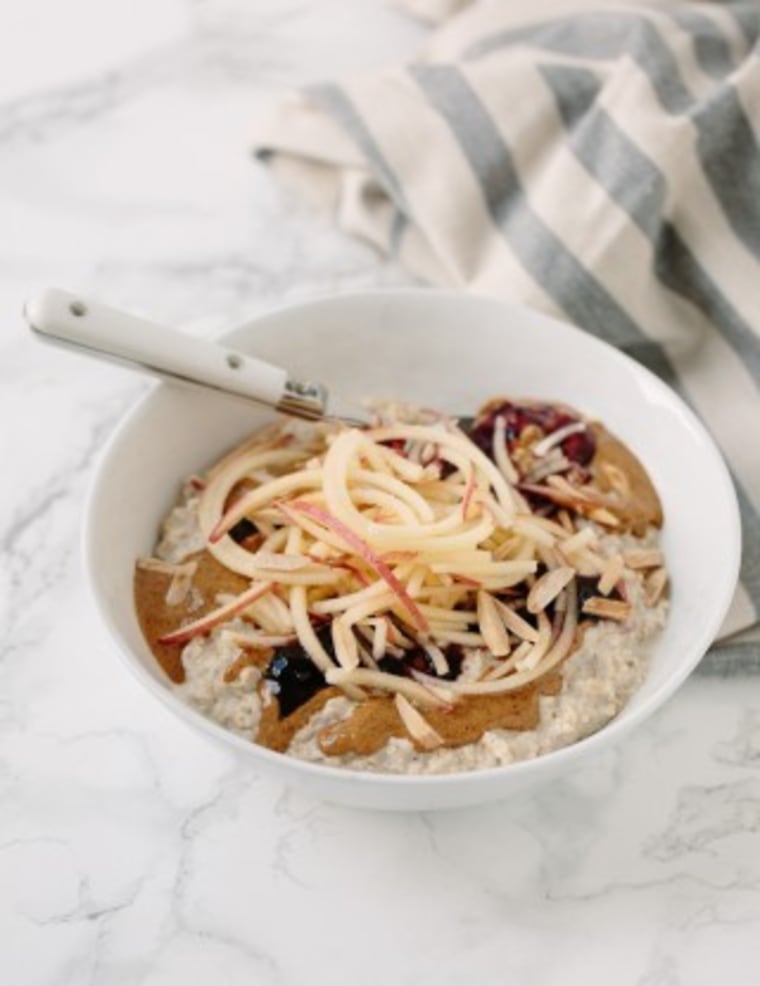 Oh, you didn't know? Jelly broke up with peanut butter and moved onto the trendier almond butter. This bowl is a testament to their successful marriage: it may be nutty but it's definitely comforting.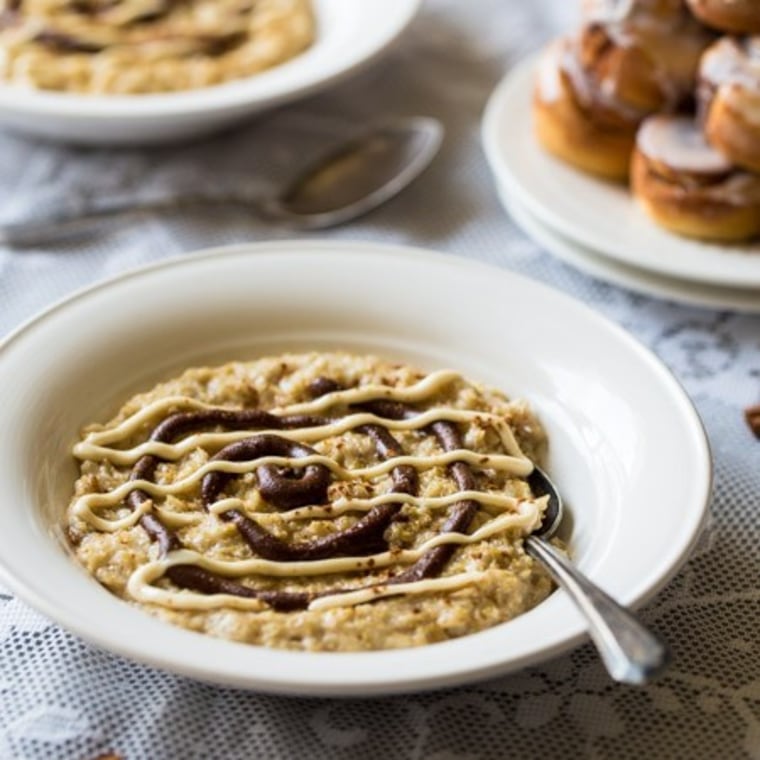 Satiate your inevitable morning cinnamon roll craving with this healthy, protein-packed take on the treat that, unlike its sugary inspiration, will keep you full — and awake — until lunch.
You'll never have an excuse to skip breakfast again if you pack it the night before in a mason jar. And with the dynamic duo of peaches and cream, you'll never forget it in the fridge.
Oatmeal is not just for the sweet-toothed, if TODAY Tastemaker Alejandra Ramos has anything to say about it. Take your oatmeal to another level by getting spicy and cheesy with it.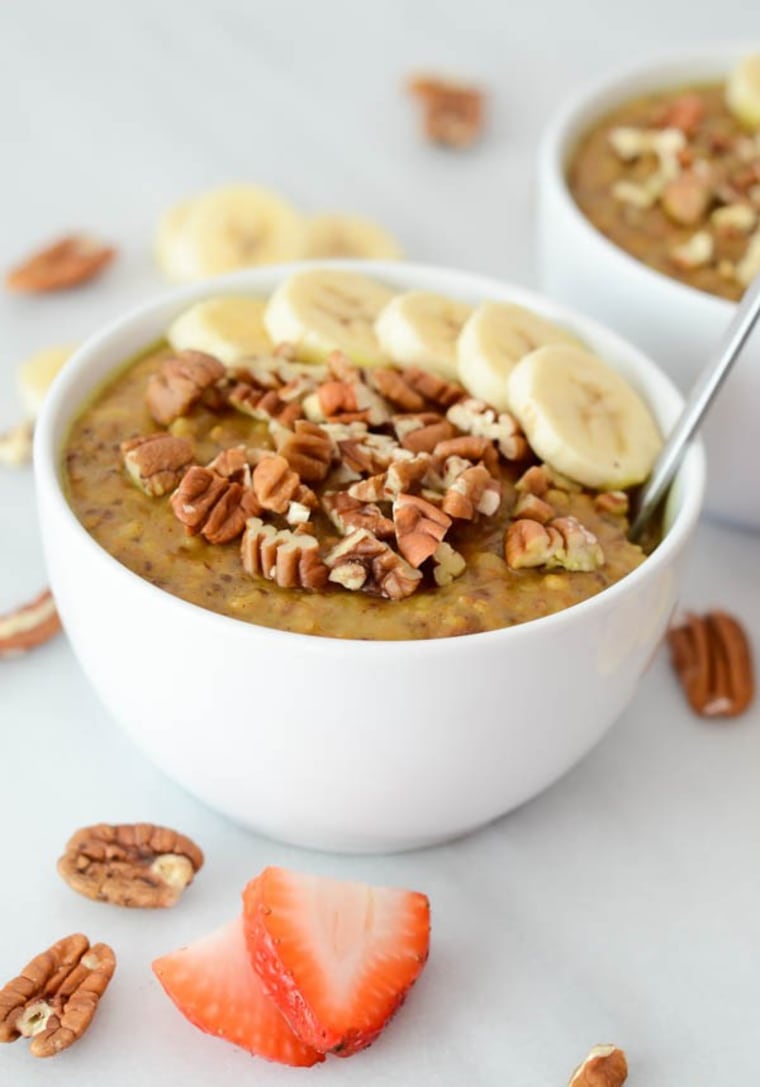 Combining the power of turmeric, maca powder, and chia seeds overnight, you'll feel invincible after eating this breakfast bowl.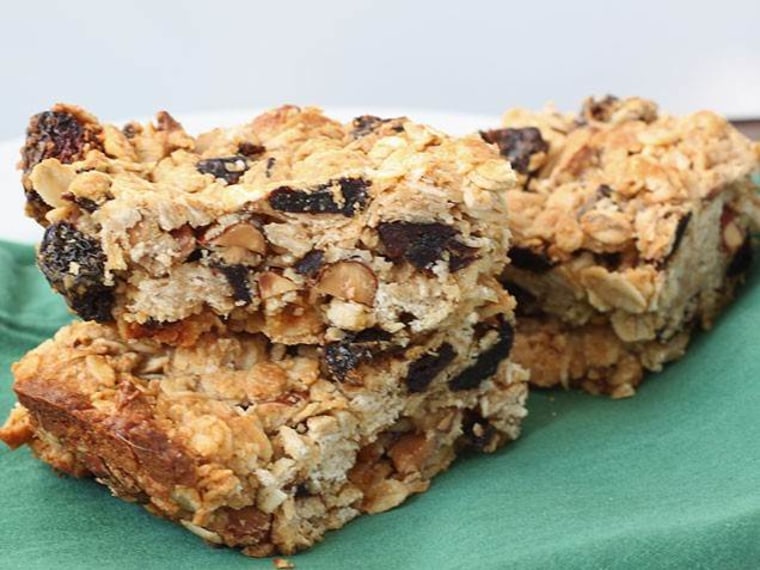 Bake a batch of these hearty, crunchy bars and you'll have breakfast to grab and go all week.
Who doesn't love dessert for breakfast? This dish is custardy, sweet, and boozy — a perfect cure for the Sunday blues.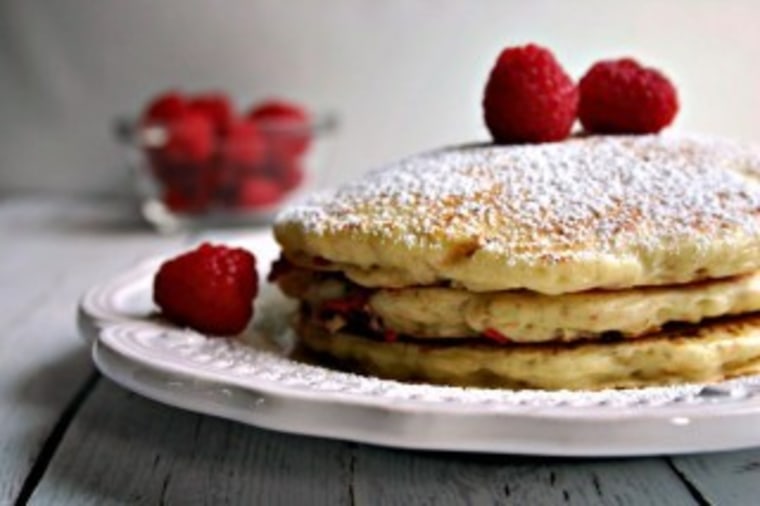 How to satisfy your pancake craving without any guilt: use Greek yogurt, oats, and berries. You won't be disappointed.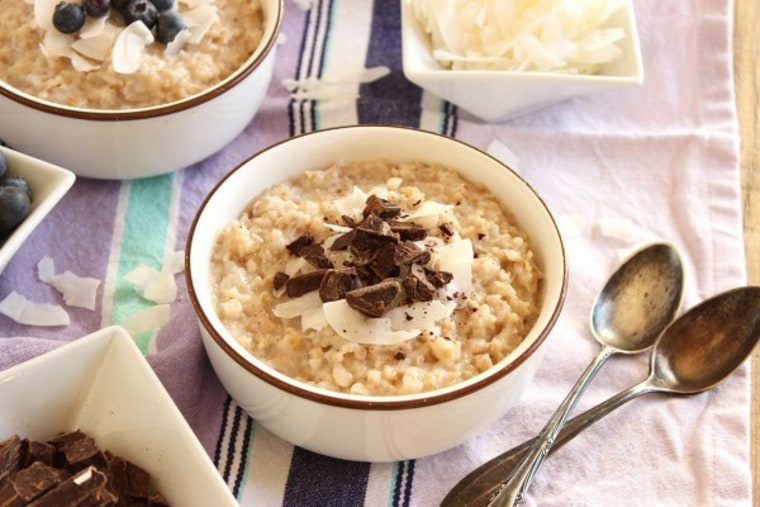 With coconut and cinnamon, this is the perfect, creamy, comforting bowl for curling up and getting cozy with.
Why are rice and pasta the go-to ingredients for an easy meal? What about oats? Chef Seamus Mullen shows Al Roker how to use oats as a base for savory breakfast favorites like eggs and bacon.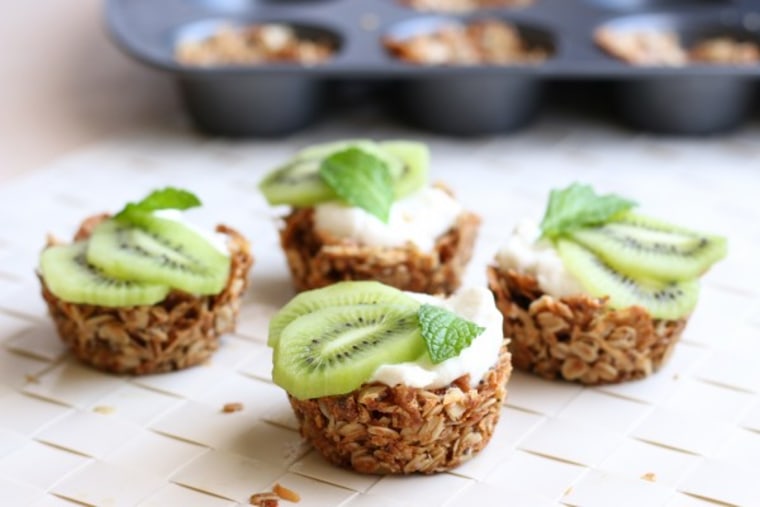 These crunchy cups are ready to be filled with all your breakfast favorites: yogurt, fruit, mint, nut butter – whatever your heart desires.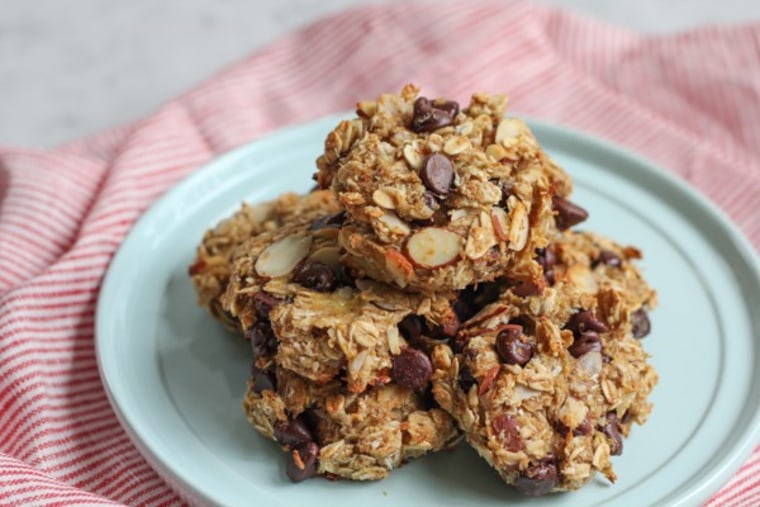 Make your kids cookies for breakfast now and they'll thank you now; make them with nutritious ingredients and they'll thank you later.
If you've got a morning sweet tooth but want to up your veggie intake, grab some carrots and make this guilt-free treat that tastes just like dessert.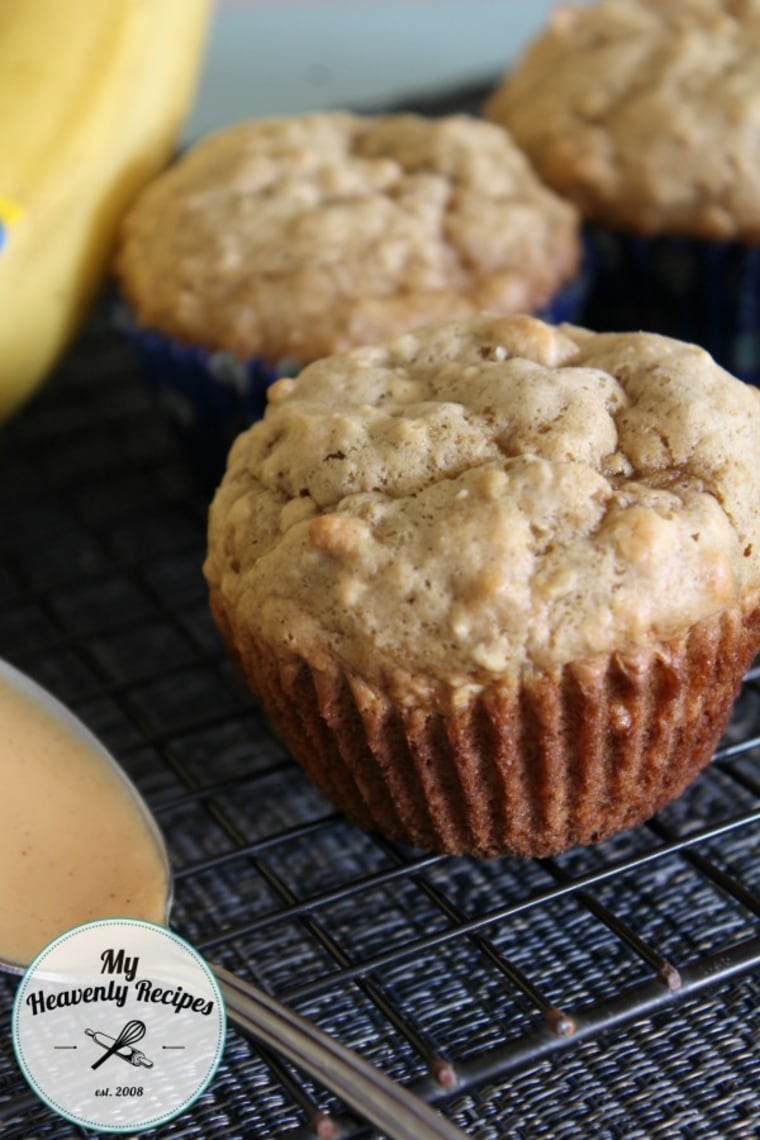 Love the taste of bananas and oatmeal but not their mushy texture? You should probably get to know the muffin man.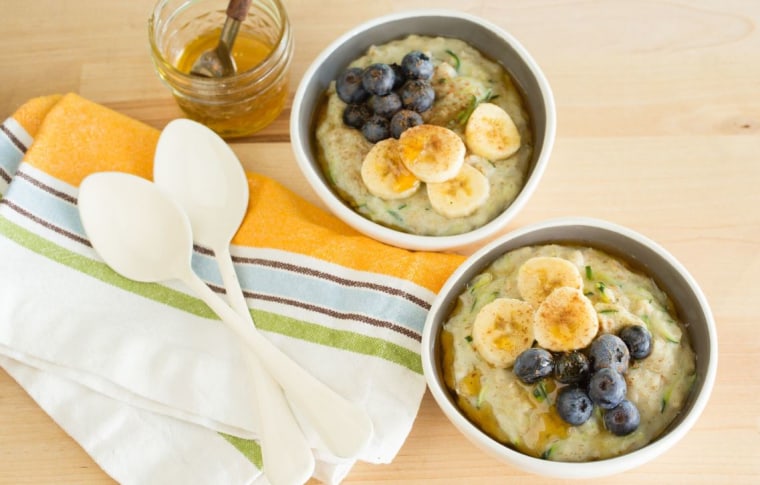 If you thought zucchini trend was limited to zoodles, think again. Meet zoats — oats, grated zucchini and egg whites. You'll be surprised how satisfying (and Instagrammable!) it is.
All you need is five minutes of prep time to make a crazily delicious, protein-rich breakfast for the next day. Needless to say, your kids will love it, too.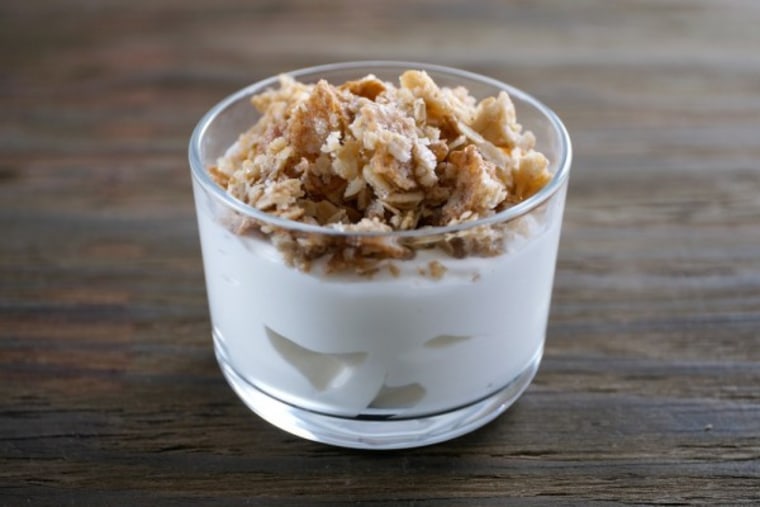 For half the cost of a standard box of granola at the grocery store, you can make granola at home that's twice as good.
Who doesn't love dessert for breakfast? This dish is custardy, sweet, and boozy — a perfect cure for the Sunday blues.