Expecting a baby? Expecting him or her on Sept. 9? Want a small down payment on the tot's future college tuition?
If so, KFC is here for you!
The fried chicken chain best known for its 11 herbs-and-spices recipe is offering $11,000 toward college tuition to the first family that has a baby on the 9th and names him or her ... Harland.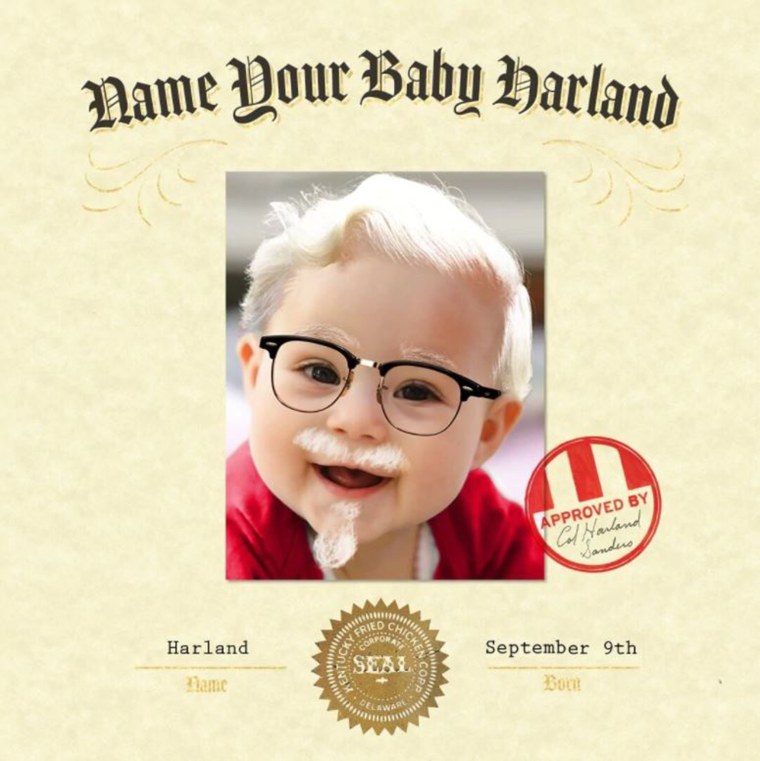 "Colonel" Harland Sanders was the founder of KFC, you see, and Harland is not exactly a beloved moniker — BabyCenter reported it was the 6,193 most popular baby name in 2018. So if you're OK with your child knowing you had fried chicken and college on your mind when you named him or her, this is just the competition for you.
Sanders was born on Sept. 9, 1890 and died in 1980. As KFC explains in a short video on Instagram, the name means "meadow of the hares" and adds that "old man names are cool again."
This isn't the first time a brand has run a child-naming competition; Reese's awarded $10,000 earlier this year to the Cupp family when they named their daughter after the peanut butter and chocolate confection (her name is Reese E. Cupp). And DisneyBaby published a list of brand names that are perfect for children.
Still, not everyone loves the idea. Eater said naming a child for a brand "is a temporary and profitable stunt for a company and a very permanent part of a small human's life."
In addition, $11,000 is hardly a drop in the (chicken) bucket toward modern-day college education. In 2017, the chain had a worldwide value of $13.5 billion, and was the 4th largest fast food brand in the world. Average debt for current American college graduates is $29,000.
Still, undoubtedly some family will take the chain up on its $11,000 offer. It may not cover much of a college education, but it sure ain't chicken feed.
Follow Randee Dawn on Twitter.