/ Source: TODAY Contributor
Maybe you think of yourself as a person who really, really loves candy. Maybe there is even a particular kind or brand of candy that stimulates your dopamine receptors most of all, throwing you into sheer sugared bliss and delight.
But is there a candy you love so much that you would name your child after it?
Eric and Renee Cupp of Elizabethtown, North Carolina, said that yes, in fact, there is.
With the last name "Cupp," Eric and Renee deliberately chose their daughter's name, Reese Eve, after their favorite peanut butter and chocolate treat. And now, the family has won $10,000 in the Reese's Outrageous Fan contest in tribute to that decision, officially naming them as the most "outrageous" fans of the candy.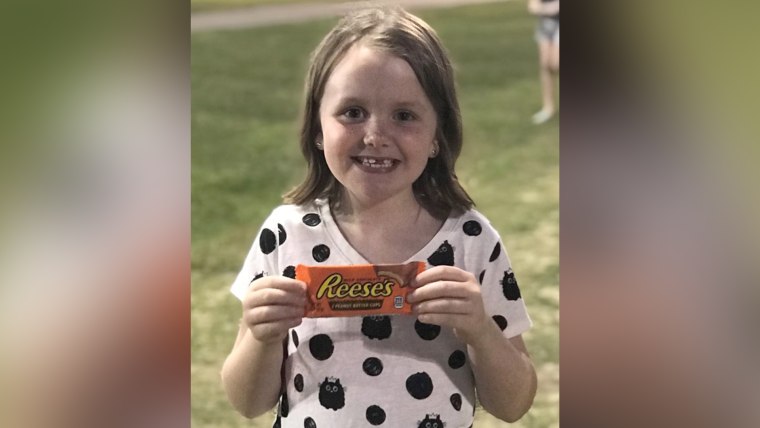 Renee Cupp freely admits that her family is somewhat addicted to Reese's candies. "Our family loves all Reese's products," she said. "We have the Big Cup in our freezer, the spread in our pantry, and a box of the new Outrageous bars in the cupboard. They have been a consistent favorite of both my husband and myself since we were kids."
The Cupps hadn't originally intended to name their daughter, now 8, after their favorite snack. During pregnanancy, Eric and Renee were thinking more along the lines of "Lily," or possibly "Eve."
Never miss a parenting story with the TODAY Parenting newsletter! Sign up here.
But since the couple had named their older daughter after Eric — her name is Erica — they decided to look for a name that more closely resembled Renee's, for fairness' and equity's sake.
The Cupps are sensitive to name-related issues, Renee said, since Eric Cupp had to deal with some bullying as a kid while growing up thanks to his last name. (Spell it out loud to see what the problem was!)
"So we wanted to embrace the humor, and have fun with Reese's name," Cupp said. "Plus, our oldest daughter was around two at the time, and when she would ask for a Reese's Cup in her little two-year-old lisp-y voice — that was what solidified that we should definitely stick with the name."
They stuck with "Eve" as a middle name — despite the idea that they should have chosen an "s" name, in order to more accurately reflect the candy inspiration as "Reese S. Cupp."
Cupp defended the couple's middle-naming decision as a manifestation of their own personalized relationship to the candy, and their nickname for it.
"Yes, we know that they are called Reese's, not "Reesie's", but my husband and I have always called them Reesie Cups, and will continue to do so," Cupp said.
The feedback from friends, neighbors and strangers, Cupp said, has always been "very positive."
"Everyone we've mentioned it to up until this point thinks that it is very cute," she said.
Fortunately, young Reese has no peanut allergies. Even better, she does actually love Reese's and "most anything chocolate," her mother says.
The family commitment to the candy clearly isn't a passing fancy. You could say it's permanent. Eric has the outline of a Reese's Cup, with Reese Eve in the middle, tattooed on his arm.
"Overall, I'd say that the name Reese fits our daughter very well," her mother said. "Just look at her bright and bubbly smile, she looks like a Reese…it suits her."