Does the scent of fried chicken make you or your partner hungry for romance?
If so, you're in luck! Beginning Monday, Feb. 12, participating locations of KFC are giving away scratch 'n' sniff Valentine's Day cards featuring the chicken chain's founder, Colonel Harland Sanders, and a slew of sappy sayings for your beloved.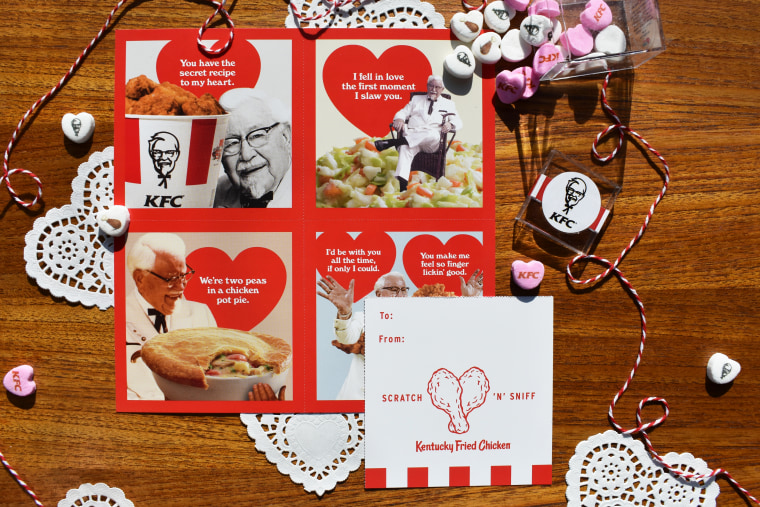 Each set of four chicken-scented cards comes free with an order of a $10 chicken share meal, which includes an option of six pieces of fried chicken, nine extra crispy tenders, 12 hot wings, or a mound of popcorn nuggets. With a bucket of crispy chicken classics in-hand, you can scratch and sniff KFC's 11 herbs and spices to show your honey and biscuits just how much you care.
Each Valentine's Day card includes a love note, such as "You have the secret recipe to my heart," or "We're two peas in a chicken pot pie."
The phrases are partnered with photos of the original Colonel Sanders — not to be confused with the brand's latest celebrity colonel, beloved country singer, Reba McEntire.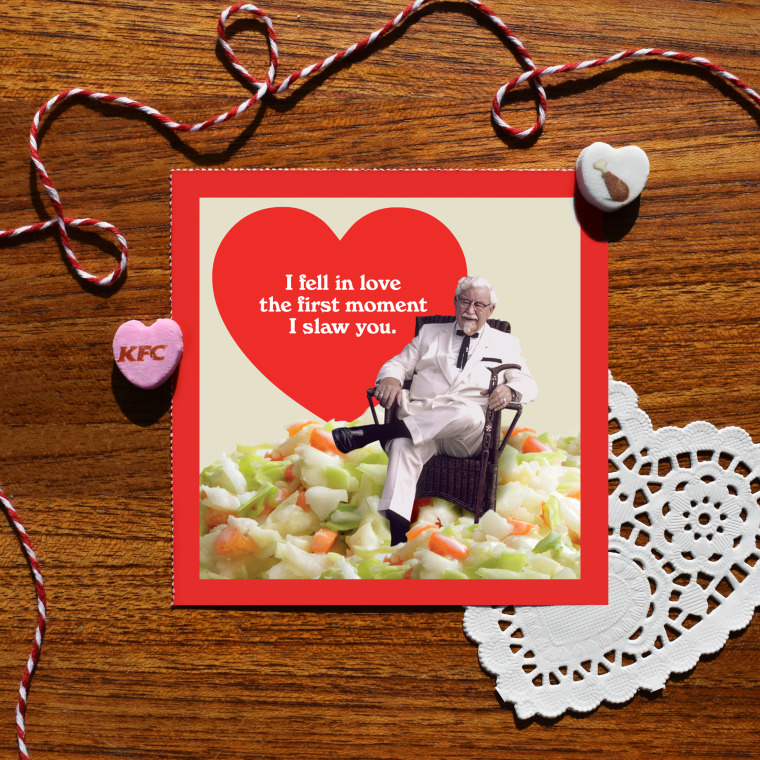 As fans of fried chicken, we just had to get a whiff of the wacky new offering.
The cards don't exactly smell like a bucket of the colonel's chicken, but there is definitely a pungent, slightly meaty aroma that is released upon scratching the cards. Like the chain's Extra Crispy sunscreen from 2016, these cards smell more like bouillon cubes than freshly fried chicken — which might still be a welcome scent after sniffing all the usual sweet smells floating around on Feb. 14.
Just like its double crunch chicken sandwich, KFC has been on a roll (yuk, yuk) with chicken-scented products. In December 2016, the chain launched a limited-edition fried-chicken-scented candle for the holidays.
If you're "love stricken with chicken" but don't have time to get to a KFC in the next few days, you can text your valentine with a chicken-themed image. KFC has partnered with mobile GIF search engine Tenor to spread a little digital love, so you can text your bird, buddy, and any other beloved a special animated greeting this week.