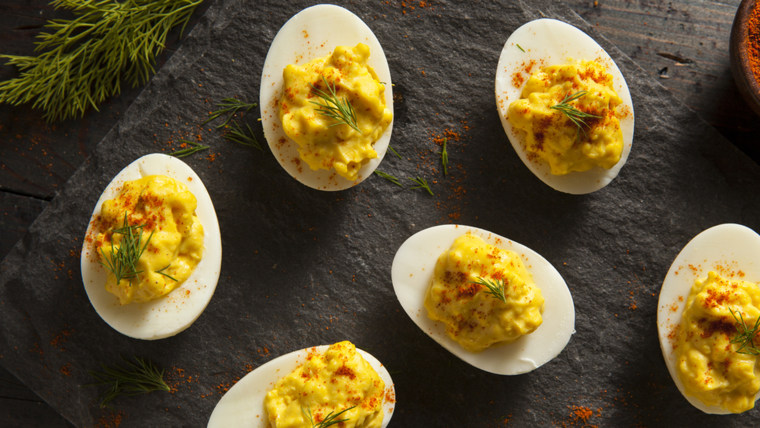 Whether it's an Easter brunch, a picnic, or a backyard barbecue, deviled eggs are de rigueur for entertaining. And why not? They're easy to make, yet lend themselves to almost endless customization. Below, Teri Lyn Fisher and Jenny Park, authors of The Perfect Egg and creators of the blog Spoon Fork Bacon, share their tips for foolproof deviled eggs.
RELATED: Don't be chicken! 5 easy ways to upgrade deviled eggs
1. Bigger is better
Park and Fisher advise choosing large or extra large eggs so you have plenty of yolk to make your filling.
2. Better with age
When shopping for eggs, find a package with the closest sell-by date possible, advises Park. Older eggs are much easier to peel, while with fresh ones, "you end up pulverizing the whites," she says.
3. Get ahead of the game
Boiled eggs will last in the fridge (stored in their shells) for up to five days, so feel free to get that step out of the way a few days before deviling.
4. Counter intelligence
On the day you're planning to boil the eggs, let them sit at room temperature for a few hours before cooking. This helps them cook evenly, explains Park. If you forget (which Park says she usually does), you can cheat it by placing the eggs in a bowl of warm tap water for five to seven minutes before boiling.
5. Easy peeling
After you've boiled the eggs, chill them in an ice bath, then roll them on a hard surface to lightly crack the shell all over to facilitate peeling.
6. Customize!
There are countless variations on "classic" deviled eggs (Park and Fisher's calls for mild white wine vinegar rather than distilled, plus a pinch of sugar to balance the acidity of the mustard and vinegar), so feel free to play with whatever recipe you use make it your own. Add a few drops of your favorite hot sauce, for example, or mix in herbs such as tarragon or chives. "You can make deviled eggs out of anything," so use your imagination, says Park. Variations in The Perfect Egg include pesto (simply add a little pesto to the classic mixture) and Buffalo (with wing favorite Frank's Red Hot Sauce and blue cheese).
7. Filling finesse
While Park and Fisher encourage experimentation, they caution to start with small amounts of seasonings, especially wet or strongly flavored ingredients. If you do go overboard and your filling ends up too liquidy, boil up any extra eggs you have on hand and use the yolk to thicken the mixture. No extra eggs? Pinch a couple of your cooked whites, finely mince them, and add them to the mix. Alternately, if the mixture is too thick, you can loosen it with a little lemon juice or by adding warm water a teaspoon at a time.
8. Piping perfection
While you can simply use a spoon to scoop the filling into the whites, a piping bag or a plastic zip-top bag with the corner snipped off makes for an easier, neater filling job. (Hint: If you're transporting the eggs, you can store the filling in the bag until you reach your destination, then snip the corner when you're ready to fill.)
9. Garnish
Once you've filled your eggs, jazz them up with a garnish. A sprinkle of paprika is classic, but Park and Fisher like to match the garnish to the filling—a dusting of chili powder if your filling has hot sauce in it, for example.
RELATED: 41 Easter recipes to try
This article was originally published on March 25, 2016.