Chef notes
While this recipe may be called "basic", there's really nothing boring or basic about these deviled eggs. Rather, we like to consider them timeless. The classic snack is always a hearty crowd pleaser at parties and really couldn't be easier to make. 
This straightforward recipe calls for just four ingredients: A dozen large eggs, mayonnaise, salt and freshly ground black pepper. To make these deviled eggs, boil the eggs until the yolks are completely set. After letting the eggs cool, peel them, slice them in half lengthwise and scoop out the yolks into a bowl. Mash the yolks with mayonnaise, season the mixture well with salt and pepper, then pipe this creamy yolk filling back into the empty egg white halves. 
Where the fun lies in this recipe is how you can make deviled eggs your own. Since the filling is so simple, these deviled eggs take very well to toppings. Try sprinkling smoked paprika, chili powder or everything bagel spice on top for added flavor. Or opt for thinly sliced scallions or chopped fresh herbs like chives, parsley, basil or tarragon. You can also add more intrigue to the yolk filling itself — stir in a spoonful of harissa or Sriracha for heat or fold in chopped cooked bacon or roasted red peppers. If you're feeling cheesy, shredded cheddar, crumbled blue cheese or feta are also great additions. No matter which direction you take these deviled eggs, they're sure to be a hit.
Ingredients
Ingredients
1

dozen large eggs

1/3

cup mayonnaise
1/4

teaspoon salt

1/4

teaspoon black pepper
Preparation
1.
Add the eggs to a large pot and fill with water. Bring the water to a boil, then immediately cover the pot with a lid and let the eggs rest for 10 minutes.
2.
Meanwhile, create an ice bath. Once the eggs are cooked, carefully transfer them to the ice bath to chill. Peel the eggs and discard the shells, then cut the eggs in half and gently scoop the yolks into a separate large mixing bowl.
3.
Mash the yolks with a fork, then stir in the mayonnaise, salt, and pepper. Transfer the yolk filling to a zip-top bag and seal.
4.
Snip a corner off the zip-top bag and pipe the yolk filling into the hollow egg whites. 
How to shop TODAY recipes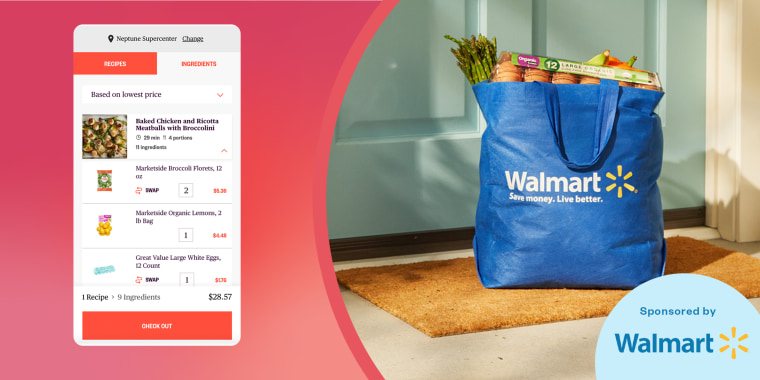 How to shop TODAY recipes
Here's everything you need to know about the cool new feature.
Learn More