Things got a little chilly on the plaza Sunday after four friends of Jenna Wolfe and Erica Hill participated in the "ice bucket challenge."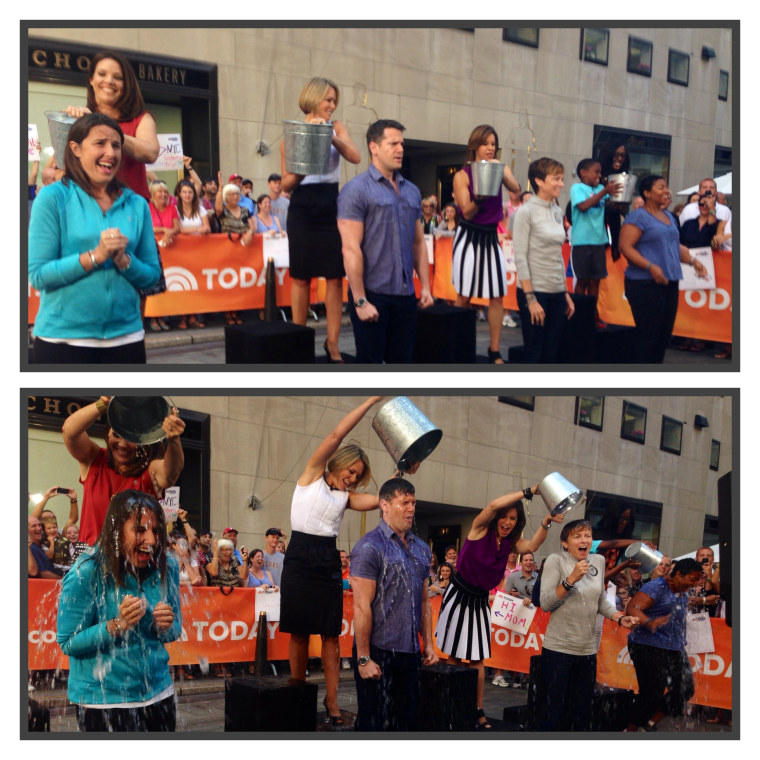 NBC News foreign correspondent and Jenna's partner Stephanie Gosk, Weekend TODAY's executive producer Dee Dee Thomas, MSNBC's "Way Too Early" host Thomas Robert and Erica Hill's cousin Dana Coffin all all got doused with icy buckets of water.

It had been a wet weekend already with Dylan Dreyer participating in the "ice bucket challenge" on Friday, followed by Erica Hill, Lester Holt and Jenna Wolfe on Saturday.
Matt Lauer was first challenged when Hall of Famer golfer Greg Norman issued it to him after participating it in himself.
The ice bucket challenge got started on social media as a way to raise awareness and money for ALS, a neurodegenerative condition also referred to as Lou Gherig's disease. On Thursday, reportedly more than 200 Bostonians took the challenge in Boston's Copley Square.
After Matt took the plunge on the plaza in July, he ended up passing the ice cold water bucket baton to Martha Stewart, who called out Ellen DeGeneres, Blake Lively and Gwyneth Paltrow. Still no word on which of those stars will be stepping up.
The TODAY "ice bucket challenge" hasn't melted away. After following through and getting dunked herself, Weekend TODAY executive producer Dee Dee Thomas has extended the challenge to three of her friends:
Comedian, actor, host of Gong Show Live Ray Ellin
Anchor, report for NBC Connecticut Shirley Chan
Dee Dee's brother Michael Thomas 

We can't wait to see if the challenge is accepted. We'll be waiting with ice cold buckets.