Forget the filters and "perfect" posts — TODAY Style is getting real! This week is all about being honest, authentic, transparent and, well, real about everything, from wrinkles and body image to dressing room anxiety and aging. Use the hashtag #RealWomenHave _____ to share the topic about which YOU want to get real.
I think TODAY's own Hoda Kotb put it best: "You're stronger in the broken places."
But with Photoshop, filters and perfectly happy social media posts flooding our feeds, it can sometimes feel like we're the only ones who don't measure up. That's why we've decided to get real and designate this week as a time to talk about all the taboo topics and how we really feel about them. Here's our philosophy: If we all start sharing our stories and insecurities, we'll find that we're not so alone after all.
Case in point: Nearly all of us feel frustrated by women's clothing sizes. In a survey of TODAY Style readers, 71 percent found clothing sizes to be inconsistent. Women of all shapes, sizes and body types say they own a size medium at home. How can that be?
And that's not even mentioning the frustration (as 63 percent of respondents reported) and disappointment we feel in the dressing room when items don't fit. So what can we do? We can change our perspective. If we're all having trouble finding a consistent size, then our bodies aren't the problem — it's the clothes! (Doesn't it feel good to talk it out?)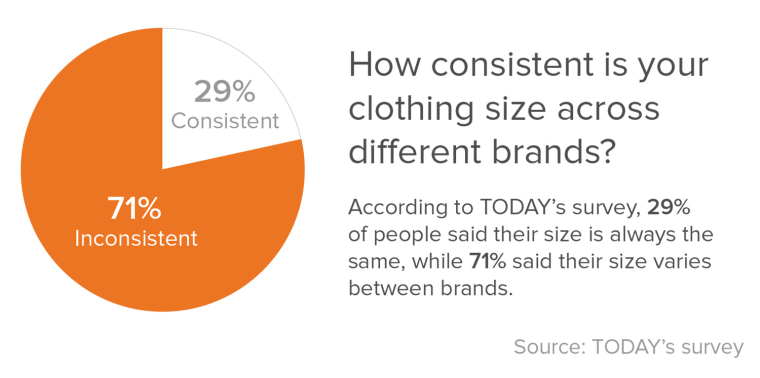 We'll be exploring the topics we don't normally discuss this week, whether it's hurtful comments about weight gain or loss ("Your body changing is not for anyone else to comment on it," as the lovely Beanie Feldstein told us), showing what actually goes into that perfect-seeming Instagram photo (as fitness expert Anna Victoria reveals) or feelings about aging and wrinkles ("They're from smiles and laughing, and those are the best kind of wrinkles," as TODAY's Savannah Guthrie put it).
I hope you'll stick around for more revelations this week and join the conversation using the hashtag #RealWomenHave _____ on Twitter, Instagram and Facebook with the topic YOU want to explore. Because we can't fix the problem until we talk about it.
Emily Sher, TODAY Style editor