Forget the filters and "perfect" posts — TODAY Style is getting real! This week is all about being honest, authentic, transparent and, well, real about everything from wrinkles and body image to dressing room anxiety and aging. Use the hashtag #RealWomenHave _____ to share the topic about which YOU want to get real.
TODAY Style surveyed close to 1,500 women to hear about the real issues they face when it comes to body confidence, dressing room anxiety and societal pressure. Here are the most interesting results.
In the age of social media, the pressure to look perfect at all times doesn't just come from glossy magazines. Edited photos of our own friends, family and acquaintances are interspersed with Photoshopped images of celebrities in our news feeds. It can give the impression that we're the only ones who don't look perfect all the time.
The negative effects are difficult to quantify, but when TODAY readers answered our survey, it became clear that the majority of us don't feel confident about our bodies.
Not only do we have general insecurities about body image, one of the most prominent hang-ups is around weight. Sixty-five percent of survey respondents said their life would be better if they lost weight. The same number of women admitted they own clothes in sizes that are too small in the hopes they'll fit into them someday.
Hang-ups around clothing size extend to the dressing room as well. Even if a person's weight and build hasn't fluctuated, a majority of respondents struggle to find the correct size when shopping for themselves.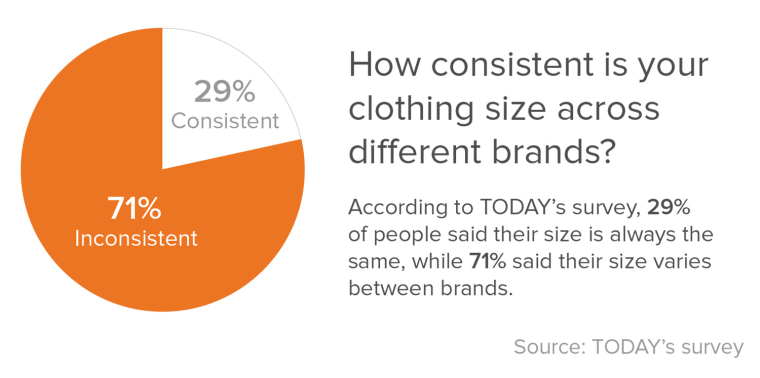 Clothing sizes are a big issue for the respondents with 71 percent agreeing that clothing sizes are inconsistent between brands, making shopping an unpleasant experience. Of those, 63 percent expressed feelings of frustration from inconsistent sizing.
Insecurities like these have long existed, but we were curious to see if the rise of social media has exacerbated the problem. When asked how they were affected by the pressure to look perfect on social media, and the results varied greatly by age.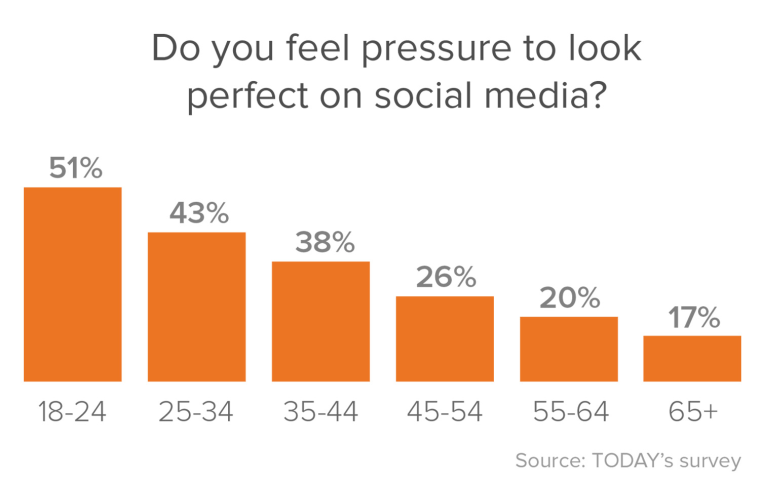 But it doesn't matter how old we are when it comes to posting photos of ourselves, with 60 percent of respondents from every age group admitted they wouldn't post a photo unless they loved the way they look.
This kind of attitude can create an endless cycle in which we don't feel comfortable sharing anything less than our best. So what we share ends up making others feel that way, too.
Above anything else, most respondents to our survey felt that we care too much about appearance. A whopping 94 percent said that society places too much emphasis on how people look.
At the very least, it's encouraging to know that we're not alone in feeling these insecurities. Perhaps if we get real and share all of ourselves — so-called "faults" and all — we can all feel more confident.
Methodology: This survey was run from Jan. 26 through Feb. 1 on TODAY.com with a total of 1443 respondents. The margin of error is +/- 3% and larger for subgroups.