This year's Winter Olympics has been one of the coldest in recent memory, with wind chill temperatures in Pyeongchang, South Korea, regularly dipping below zero.
One surprising effect of the frigid conditions? Makeup has literally been freezing on people's faces.
At least that's according to a recent tweet from Amy Williams, a BBC Olympics commentator who said her colleagues have been dealing with frozen cosmetics while on the job, especially during the bitterly cold first week of the games.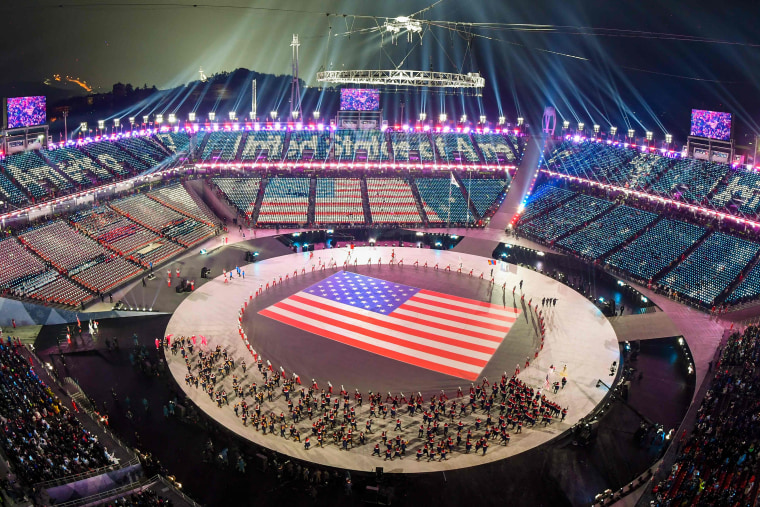 Just before she headed to Pyeongchang earlier this week, Williams put out a call for recommendations on Twitter for makeup that can withstand extreme cold.
"So anyone know of good makeup that is oil-based??" she wrote on Twitter. "Our latest update from other presenters in Pyeongchang, Korea … is that water-based makeup literally is freezing on your face it's that cold!!"
Her fans came through with plenty of possible solutions, suggesting different brands of oil- or powder-based primers and foundations.
After Williams arrived in Pyeongchang, temperatures actually warmed up a bit, so she hasn't experienced her own makeup freezing. That said, it's still pretty cold in South Korea, and Williams says she is taking every precaution to keep her skin safe.
"At night I've been using a face oil and a thick face cream to protect and repair the skin from the harsh weather during the day," she told TODAY Style in an email.
But is it true that makeup can actually freeze while you're wearing it?
If it's cold enough, absolutely, says Dr. Whitney Bowe, a dermatologist and author of "The Beauty of Dirty Skin."
"Many cosmetics are water-based, and water freezes at the freezing point," she told TODAY Style in an email. "So anything that is water-based can freeze if the temperature drops below that point."
Even oil-based cosmetics don't necessarily solve the problem because they often contain some amount of water.
"Cosmetics are usually comprised of a blend of different ingredients, including water, oils and waxes," she said. "These ingredients all freeze at different temperatures, but water expands as it freezes. As a result of the expansion of water upon freezing, it can make the skin feel very peculiar … Those ice crystals can feel as though your skin is 'cracking.'"
To truly protect your skin from extreme cold, Bowe recommends using a balm like Vaseline or Aquaphor on your cheeks, which she says "will create a seal and prevent the cold air from damaging the skin."
Your skin's own oils can also provide some of the best defense against freezing air, Bowe said.
"Making sure your skin has oils on its surface is key to keeping skin healthy all winter long," she said. "Don't use harsh cleansers that strip skin of its own natural oils! If your skin feels squeaky clean after you cleanse, it likely means that cleanser has removed a lot of your skin's own natural oils."
She also recommends layering on serums that contain hyaluronic acid, a kind of super-hydrating compound. And, she suggests adding a few drops of oil to your regular face creams to lock in extra moisture.
Diet can also have a huge effect on skin, especially during the winter.
"Equally as important as treating the skin from the outside in is providing it with the right nutrients from the inside out," Bowe said. "If you find yourself in a really cold, dry climate, be sure to load up on skin-healthy fats like avocados, chia seeds, salmon and nuts."
Finally, she said — and isn't this the solution to so many things? — "Drink plenty of water."