Gabrielle Union is one of our 2018 TODAY Style Heroes. Click here to see the full list!
With Gabrielle Union, what you see is exactly what you get. She's unflinchingly candid, and has an almost visceral disdain for sugarcoating anything. Take her stance on Botox and why she hasn't messed with her face.
"I'm afraid of needles. If I didn't have that, I would tell where I shot it, how I shot it," she told TODAY Style. "I just can't."
Union, 45, credits her oily skin for keeping those wrinkles at bay — or at least on hold. And drinking a gallon of water a day, using premiere skin care products and getting regular oxygen facials can't hurt. But most of all, she's embraced every aspect of her 40s.
"I used to be nervous about getting older because I thought it meant less of everything. Less opportunity. Less love. Less attention. Less desirability," said Union. "I started realizing that once I started understanding and embracing my sense of self-worth, I have more. More opportunities. More brand partnerships. I'm creating opportunity. Part of that was realizing that I was worthy."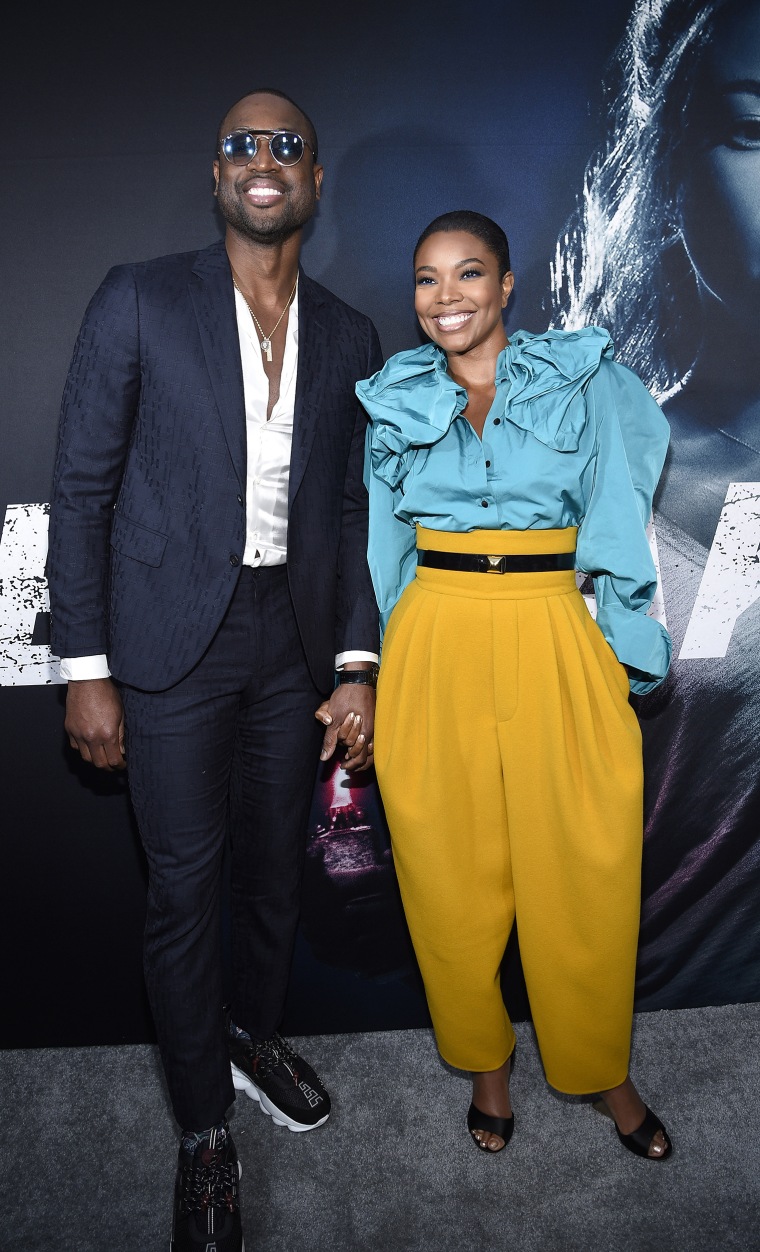 Indeed, you could say that Union has never been busier. In the thriller "Breaking In," she's an avenging mother trying to rescue her children who are held captive by thieves. Her BET series "Being Mary Jane" will end its run with a two-hour finale movie airing this fall, and she's got a pilot in the works with Jessica Alba. She's also got a clothing collection with New York & Company. And her 2017 memoir, "We're Going to Need More Wine: Stories That Are Funny, Complicated, and True," was a bestseller, detailing her personal stories such as her struggles with infertility.
"During the process of writing the book, I did intense therapy and we started getting to the root of my issues, which was a lack of self-worth. Not feeling worthy of love or opportunity," said Union. "The more I said I was worthy of love, of positive attention, I realized I was good and I deserved to be here and I'm worthy of what's coming my way."
Union has always exuded confidence. But she said it was — mostly — an act. Albeit a very convincing one.
"I would have moments of that, but it wasn't my consistent frame of mind," she said. "Especially with Hollywood, you're so trained to think that when your career is (hitting) a valley, it's an indication of your worth or your character. But it's just the nature of the business."
Now that she has validation from the inside, she doesn't care as much what people think. She doesn't post sexy selfies to get more likes or to bask in social media approval, which she considers empty and ephemeral.
"If I take a bikini shot, I'm like, 'Yeah!' I feel good. I like this suit. I feel just as dope on the inside," she said. "No matter what I wear, it is no indication of how I feel about myself or my body."
She's equally open about her road to motherhood, with NBA-star husband Dwyane Wade, a shooting guard with the Miami Heat. Opening up about her failed IVF treatments was freeing.
"There's this idea that you're less of a woman. Your road to motherhood is somehow not as valid," she said. "It's personal evolution that allows me to speak about it in an honest way. It's been very healing for me just to talk about it."
We're guessing (and hoping) she's got a lot more to say.