/ Source: TODAY Contributor
With the arrival of the holiday season, we'll soon be celebrating here, there and everywhere.
But don't fret if you can't stop home for a makeup update before the next party calls come evening time.
Makeup artist Trish McEvoy stopped by TODAY Friday to tell us that just four products are needed to take our look from day to evening: 24-hour eye shadow, eyeliner, a lip and cheek stick and concealer.
"This is it," she told Hoda Kotb and Meredith Vieira. "Put this in your bag, you're good to go."
She showed her four products at work on two models of different ages, and offered tips for looking our brightest and cheeriest for all those parties. Each model had a day look on one side of her face and the night look on the other.
The first model, Tina, is about to turn 30.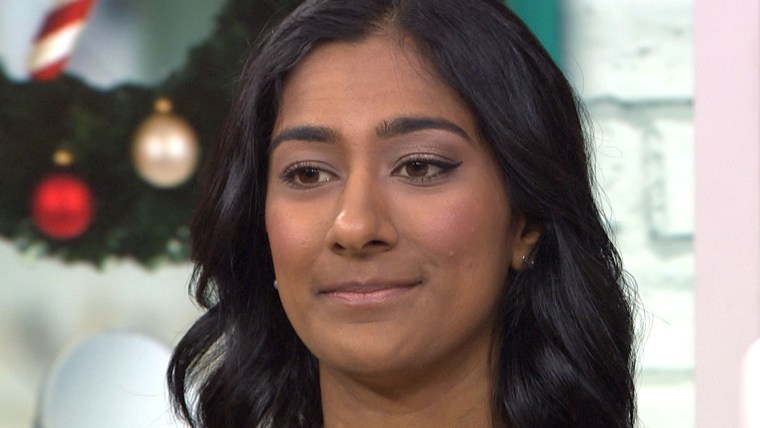 McEvoy explained the daytime look: "You see that everything is very light," she said. "Barely anything."
For evening, McEvoy extended the eyeliner out beyond the eyelid. "That's what's most important," she said. "Pop that liner up and extend it out."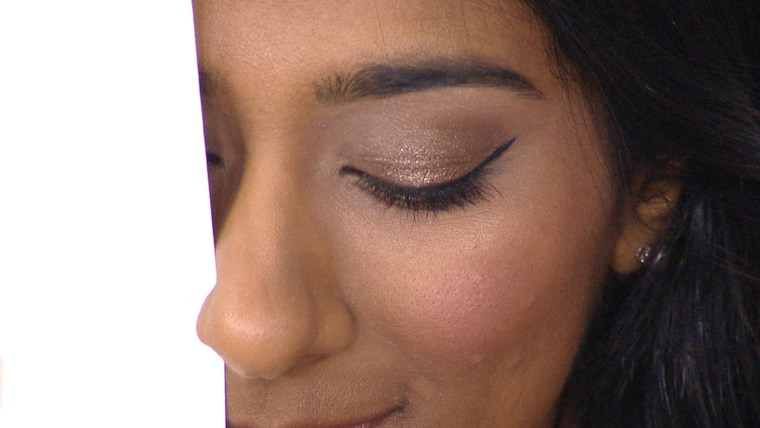 She had a shimmer shadow on her eyelid plus color on the upper cheek bone and lip color too.
On the issue of eyeliner, McEvoy offered this guidance on when and where to wear it.
Lining above the eye can give it "instant brightness," and lining below — if you're not sleep-deprived — can make the eye look bigger. But beware of the lower lash line if you're sleepy.
"If you are very, very tired, I never suggest that you line underneath," she said. "If you're not tired you can go underneath and apply a lot of darkness."
"If you're tired, you do not want to add darkness under the eye," she cautioned.
The second model, Lisa, is in her late 40s.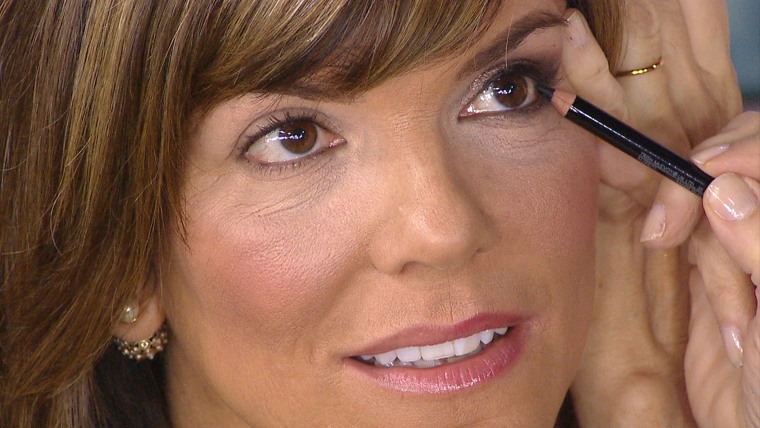 "Lisa has a very wonderful upper eyelid, but you don't see it a lot," McEvoy said. "To bring it from day to evening, we put more emphasis underneath, and we popped the cheek up. Again, the same four essentials. We added a touch more color to the lip, and it's that easy."
For an older woman, she recommended a lighter smoky eye. Young women can go deeper with the liner, she said.
And, McEvoy reminded us, the eye pencil has a smudge tip on the other end for a reason. Don't forget to use it when you're going for that sultry, smoky eye.
"Be sure you really get that smudge," she added.
With that, you're ready to hop to the next party with your best face forward.
TODAY.com contributor Lisa A. Flam is a news and lifestyles reporter in New York. Follow her on Twitter: @lisaflam