Fans cannot get over Kelly Clarkson's new bangs!
The "Because of You" singer debuted the look while hosting "The Kelly Clarkson Show" in a clip posted to YouTube Nov. 13.
The bangs came down to about eyelid length and fanned out to frame her face. She wore a black top with a gold, floor-length skirt.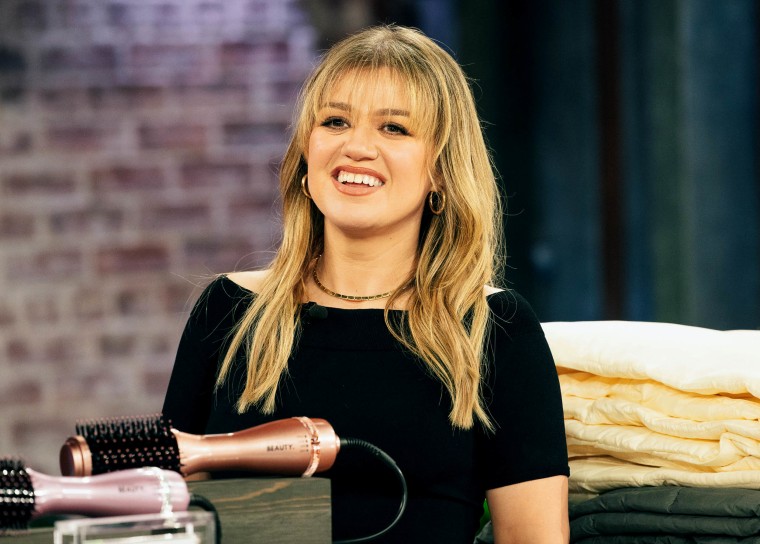 The new hairstyle and her overall look quickly became a fan favorite.
"Owh hello bangs ... So . Kelly in New York came out with the bang!!! She ain't playing..." someone commented on the video.
"Kelly looks so good wearing those bangs!" another said.
"OMG KELLY IS LOOKING MORE AND MORE GORGEOUS EVERYDAY!" a third person wrote.
While hosting her show and interviewing Leslie Jones, the "Breakaway" singer swiped her bangs with her hands a couple of times.
The first time occurred after Clarkson showed Jones a school newspaper article quoting the comedian when she was 19. Jones had described what being a good comic meant to her at the time, and while sitting with Clarkson, she got emotional upon seeing her quote from back in the day.
"Did I just Oprah you? I didn't even mean to," Clarkson said, adjusting her bangs.
Jones, who said she does not have a copy of the article, then shared that her makeup got messed up from crying, and Clarkson said they can get touched up during the commercial break, gesturing to her new bangs.
In 2012, Clarkson had bangs while on tour for her album "Stronger," which she released the previous year. Also, in the music video for "Dark Side," a song on the album, Clarkson is a brunette with thick bangs. One fan in the comments of the Jones interview clip made the connection, saying that they're getting "stronger album vibes" from her new look, specifically mentioning "Dark Side."
Clarkson frequently rocked bangs in the early 2010s, and she also wore bangs in 2018 when attending an event in Beverly Hills. A couple weeks before the event, she sported side bangs with a long ponytail.