From smartphones to laptops and tablets, screens are everywhere. You're currently reading this on a screen now. So when was the last time you cleaned any of them?
Admittedly, I'll give my phone a swipe with the inside of my shirt every now and then and consider the job done. But as far as the larger screens in my life, they typically go untouched. Actually, they go extremely touched and are coated with fingerprints and dust.
I never had a solid cleaning plan when it came to wiping those screens. I would do some research to see if it was safe to use, read mixed reviews, get nervous and then proceed to do nothing. But that all changed when I got the Amazon shopper-loved YTT Touchscreen Mist Cleaner.
It's easy to use
The YTT Touchscreen Mist Cleaner is a portable cleaning spray and a wipe all in one, so it's truly a game-changer. The refillable spray bottle comes in a microfiber sleeve that can be used to wipe away any dust, fingerprints and residue. It's small so fits in the palm of my hand (and can conveniently fit in your pocket or bag, if you want to bring it with you to the office).
One thing that I loved was how easy it was to use. I simply sprayed the solution on my tablet screen and wiped it off with one side of the tool, and it left it practically sparkling. It reminded me of using a squeegee — there's something so satisfying about getting that streak-free clean! After having initial success, I used it on my touchscreen laptop and electronic photo frame, and all produced the same sparkly result. (According to the brand, it can be used to clean all screens).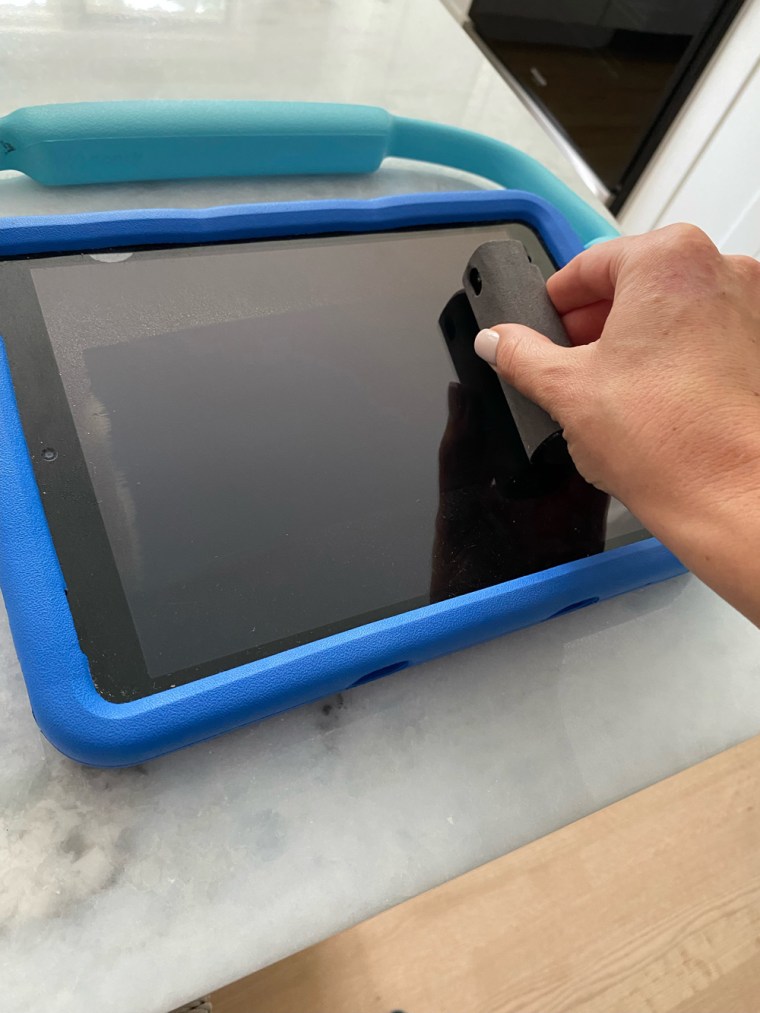 My tablet was by far the dirtiest screen I cleaned (likely because I share it with my two-year-old), so the microfiber sleeve picked up a fine layer of dust and grime. It was at that moment it dawned on me — how would I clean this microfiber sleeve? Thankfully, that part was a breeze, too. I used a damp paper towel to remove the dust and it came right off.
I suggest saving the box the cleaner comes in for portability purposes. I would think that if you threw the tool in your purse or backpack on its own, the microfiber might pick up some unwanted dust along the way.
Many reviewers also have raved about its portable size and how easy it is to use. In fact, it has an average 4.4-star rating from more than 3,700 ratings.
It helped me change my screen cleaning habits
While I have yet to make it through the first bottle, according to the manufacturer, it can be filled with any generic screen cleaner once the original formula runs out. I plan on doing just that — and it actually might happen pretty soon because I have totally done a 180 on my screen cleaning habits.
If you're an infrequent screen cleaner like me, this product will likely change that. It's not like my screens used to be caked with mud, but it's clear to me that that film of fingerprints actually affected visibility more than I thought. Now, I swear it's like the screens are brand new.