Keeping up with the latest trends is not only time consuming, but it's also hard work. Luckily for you, the team here at Shop TODAY just launched our first ever Beauty Awards that will tell you what products are worth the hype and frankly, worth your money, too.
To determine the winners, 74 of our staffers tried various beauty and hair tools consisting of curlers, straighteners, makeup brushes, face rollers and more. Our goal was to find the at-home tools and trendier products that actually work. After a rigorous review, we found the products that are so much more than just pretty packaging.
Shop TODAY editorial director Adrianna Brach stopped by Hoda & Jenna to reveal our award-winning tools and trending products — all of which are listed below. Once you see the lineup, you'll wonder how you ever lived without these products.
Best Shop TODAY Beauty Award winners seen on TODAY with Hoda & Jenna
Category: Hair | Award: Best Blow Dry Brush | Hair Type: All
Want to save time and money by getting a salon-worthy blowout at home? Look no further than the popular Revlon One-Step Volumizer. "I used to have to blow dry and then flat iron my hair every time I washed but when I started using the volumizer, it cut my hair styling time by 75% — not an exaggeration!" said custom productions unit producer, Lindsey Bomnin.
Category: Hair | Award: Best Hot Rollers | Hair Type: All
While you might be surprised to see hot rollers on this list, they have made quite the resurgence with younger generations wanting to take preventative steps to protect their hair from heat damage. Commerce coordinator Alexa Arena noted that she thinks these rollers are, "so much less damaging than a curling iron and they work!"
Category: Hair | Award: Best Heat Protectant | Hair Type: All
Be honest, how often are you using a heat protectant? If the answer is "never," we promise not to run and tell your hair stylist. That said, it's time to pick up this OGX spray. "I definitely noticed that my hair looked shinier after styling with this product. It had a gorgeous silky texture. I also appreciated that this product did not leave my hair feeling greasy or like it had product buildup," said branded commerce editor Francesca Cocchi Zabloudil.
Category: Skin Care | Award: Best Vitamin C Serum | Skin Type: All | Concern: Anti-Aging
PSA: Your skin probably needs vitamin C. "For those with oily, acne-prone skin, having a combination of vitamin C and salicylic acid is a fantastic way to combat blemishes while also addressing fine lines," says board-certified dermatologist Dr. Macrene Alexiades. "My recommendation is to use vitamin C in the morning as it doubles as an antioxidant throughout the day and apply your retinol before bed as it can make you sun sensitive."
Category: Skin Care | Award: Best Gua Sha | Concern: Lifting
"The gua sha tool is designed to help lift and smooth the skin by stimulating blood flow, reducing puffiness and promoting lymphatic drainage," says board-certified dermatologist Dr. Michelle Henry. "When the tool is used in a gentle, upward motion, it can help to improve circulation and reduce the appearance of fine lines and wrinkles."
However, Henry did want to note, "It is important to use the tool correctly and not overdo it to avoid any potential irritation or sensitivity."
Category: Makeup | Award: Best Full Coverage Foundation
It's no secret that Rihanna is slowly taking over the beauty industry with her Fenty makeup brand. Built on the principle of being for all skin types and tones, this foundation offers an impressive shade range. TODAY digital editorial intern Jordan Greene said it's "hands down the best foundation I've used. It didn't make my skin look "cakey" or clumpy. I also loved how full coverage and natural it looked."
Category: Makeup | Award: Best Plumping Gloss
While the price of this plumping gloss is on the higher side, so are the scores from our reviewers. Shop TODAY senior SEO writer Jess Bender said, "I loved the subtle tingle it produced almost instantly and gave my pucker a little extra definition. It also felt super silky to the touch and gave my lips a needed dose of hydration."
More Shop TODAY Beauty Award winners
Skin tools | Hair tools | Makeup tools | Trending products
Best skin tools
Category: Skin Care | Award: Best Dermaplaner | Skin Type: All | Concern: Uneven skin texture
These razors from Schick are a great skin exfoliator tool at an even better price. If you aren't sure how to correctly dermaplane your skin, board-certified dermatologist Dr. Dendy Engelman said to, "First prep your skin by cleansing it with a gentle face wash. While your skin is still damp, hold the tool at a 45-degree angle and, very gently and carefully, glide it across the surface of your skin. Moving the blade in an upward motion can be helpful when trying to target stubborn hairs. Be extra careful not to dermablade over acne breakouts or inflamed skin. Finish by applying a nourishing moisturizer."
Category: Skin Care | Award: Best Tool for De-Puffing | Skin Type: All | Concern: Puffiness
Early morning wakeup calls just got easier with these facial massagers from Aceology. While our reviewers noted the high price point, deputy editorial director Ali Deabler said, "They're very cooling and relaxing. It's nice to do in the morning to wake you up, or as part of your nighttime routine to relax and depuff."
Category: Skin Care | Award: Best Budget Tool | Skin Type: All | Concern: Puffiness
Take a literal chill pill by using this reusable facial tool to de-puff, refresh and invigorate your skin. As an added bonus, it's perfect for traveling as editorial assistant Sierra Hoeger noted, "Traveling with this product was easy because it takes little to no set-up aside from filling it up and placing it in the freezer. Plus, it takes up little room in my toiletries bag."
Best hair tools
Category: Hair | Award: Best Waver | Hair Type: All
Beach waves are all the rave these days but with so many tools out, we had to see for ourselves which one would get the job done quickly. Lifestyle producer Sarah Clagett noted in her review that, "I was able to go from straight to waves in less than 10 minutes. I love the ease of this product."
Category: Hair | Award: Best Curling Iron | Hair Type: All
While this might look like a regular curling iron, don't be fooled. This curler from Beachwaver has an automatic feature that will rotate at the touch of a button. Editorial assistant Shannon Garlin said, "This product is so innovative and easy to use. I love that you can just simply wrap your ends in the clamp and press a button for a tight curl. Plus, since it doesn't have a full length clamp, it can easily be used as a wand for more of a beach wave.
Category: Hair | Award: Best Straightener | Hair Type: All
CHI straighteners have been a classic since the early 2000's — and for good reason. By using ceramic plates, this straightener is healthier for your hair, as noted by hair expert and stylist, Kevin Kelly. Senior social media editor Kate McCarthy even comedically noted, "The plates didn't feel like they were frying my hair like my hair straighteners from middle school did."
Category: Hair | Award: Best Multi-Use Hair Tool | Hair Type: All
We've all heard the hype around these multi-tools but our reviewers were left shocked by how amazing this tool from Shark was. For half the price as other similar models, this can dry, curl, smooth and volumize hair of all types and lengths — with just one tool. Commerce editor Vivien Moon said, "It feels durable, powerful and provides me with the look I want. I also love that it doesn't heat up and is easy to store after immediate use.
Category: Hair | Award: Best Hair Dryer | Hair Type: All
If you constantly find yourself running out the door with wet hair or spending too much time drying your thick hair, this hair dryer will be your saving grace. Take it straight from integrations producer Mirjam Lablans who said, "I have a LOT of hair and most hair dryers take a while to make my hair truly dry. This one it was like, 10 minutes max. Which is really a huge deal for me, because it's usually a 20-30 minute ordeal."
Best makeup tools
Category: Makeup | Award: Best Makeup Brush
This kabuki brush is specifically designed to not waste any product and to give your skin a perfect, poreless finish. Branded commerce editor Francesca Cocchi Zabloudil had been a religious sponge user until trying this brush. "This was my first time using a brush to apply foundation rather than a sponge, and I expected it to feel a bit rough on my skin especially around my eyes, but it felt very gentle and nice. After using this product and liking it so much, I'm planning to switch to using a brush instead of a sponge from now on," she said.
Category: Makeup | Award: Best Makeup Sponge
Just add water to this sponge and you have the perfect multi-use makeup tool. Associate social media editor Dani Musacchio highlighted the many purposes of this sponge saying, "As someone who used to apply products with just my hands, I'll probably never go back. I love using this tool to easily apply and blend products into my skin. I believe that it makes my foundation and concealer application so much better. I even love to use this with my liquid/cream blushes, bronzers and highlighters."
Category: Makeup | Award: Best Makeup Brush Set
This brush set is the definition of getting more bang for your buck. With 16 total pieces, "There's a brush for everything in this set. It's a great value for what you're getting," says commerce editor Danielle Murphy. It's easy to understand why this set has sold over 5 million units.
Best trending products
Category: Skin Care | Award: Best Anti-Aging Moisturizer | Concern: Anti-Aging & Dryness
Our reviewers (and their skin!) truly could not get enough of this cream from Drunk Elephant. Dr. Michelle Henry also had amazing things to say about the peptides in this product. "The combination of peptides and growth factors in this cream can provide a number of benefits for the skin," she said. "First and foremost, it can help to improve skin elasticity and firmness, reducing the appearance of fine lines and wrinkles. The cream can also help to improve skin texture and tone, leaving the skin looking smoother and more radiant."
Category: Skin Care | Award: Best Mineral Sunscreen | Concern: Sun Damage
If you hear mineral sunscreen and immediately think of the dreaded white chalk face, we're right there with you. Thankfully Supergoop! is on our side. The brand created a unique pink-hued formula to blend flawlessly into the skin. SEO manager Sarah Anderson says, "This product makes mineral sunscreen so easy to use. There was no weird tint or film. It soaked flawlessly into my skin and even provided a nice base for me to put makeup on top of."
Category: Skin Care | Award: Best Liquid Exfoliator | Concern: Uneven Skin Texture, Fine Lines & Wrinkles
Paula's Choice was one of our reviewers' favorites because the products do what they say and they do it well. This 2% BHA exfoliant not only helped clear our reviewers' acne but also scarring. Production associate Jill Ortiz said in her review, "I have some scarring from acne and it helped to lighten it, plus it practically zapped away any new zits that popped up throughout the day, once I applied at night. I also used it on my back to help get rid of some scarring and it has helped a lot within a matter of days."
Category: Hair | Award: Best Overall Dry Shampoo | Hair Type: All
This dry shampoo is a miracle worker between wash days, according to our reviewers. Made with natural rice starch and a superfruit loaded with vitamin C, A and omega 7, you'll be able to extend time before hair wash days with this product. Market assistant Audrey Ekman noted in her review that this dry shampoo works great for dark hair shades as well. "I like that it absorbs oil without giving a grainy or ratty texture to the hair like some other dry shampoos do. It makes my locks feel surprisingly sleek. It has minimal white cast and leaves no real visible dandruff-y looking residue."
Category: Makeup | Award: Best Curling Mascara
Did you know that finding the perfect mascara all comes down to your lash type? We surely didn't until the team over at Rare Beauty created different mascara formulas for all different lash varieties. Perfect for customers looking for more lift and curl, this mascara is specifically designed to create a unique lusher look. "I have pretty straight lashes, but when I use this mascara it tends to hold a curl really well," said associate social media editor Dani Musacchio.
Category: Makeup | Award: Best Budget Concealer
This oil-free concealer from Maybelline was the perfect match for our reviewers — and its under $10! Recipe editor Kelly Vaughan noted the impressive shade range by saying, "It includes such a wide array of hues that I think most makeup wearers could find a match."
Category: Makeup | Award: Best Powder Blush
This iconic blush by Nars has been a fan favorite since the early 2000's and our reviewers completely understand why. Editorial assistant Shannon Garlin supports the hype by saying, "The color is gorgeous! I'm extremely pale and I love that this powder formula is buildable and allows you to control how deep you'd like the shade on your cheeks."
Category: Makeup | Award: Best Setting Spray
This 2-in-1 setting spray from MILK forms a weightless, invisible layer to grip and set makeup for up to 12 hours. Better yet, you can also use this product to prep your skin before going in with any products. Mist it throughout the day to give your makeup a dewy glow. SEO lifestyle editor Amanda Garrity couldn't get enough of this product and said, "It holds up to its claims and makes my makeup last all day. It gives a natural yet dewy finish, which is exactly what I'm after. I use it when I first apply my makeup, but also throughout the day if I need to liven things up."
Has your product been featured?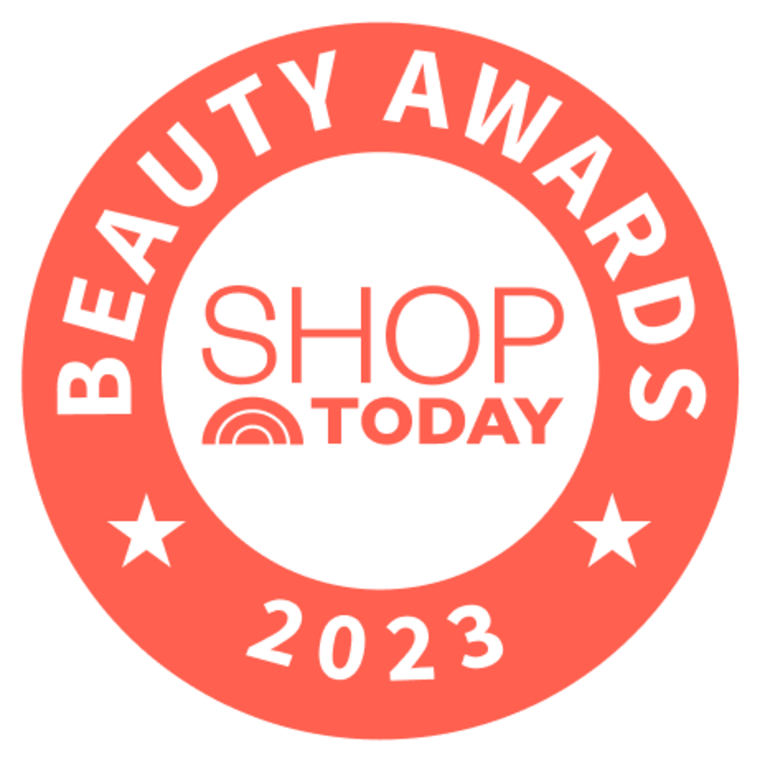 Shop TODAY is editorially independent and our team of editors and writers work hard to pick the best products to share with our readers and viewers. We may license our logo to brands or products that have been featured on Shop TODAY. Click here if you're interested in licensing your inclusion in Shop TODAY content or to learn more from our licensing partner, Wrights Media.