My skin care journey started a long time ago. I grew up seeing those ten-minute-long commercials for ProActiv and wiped my face with an Oxy Pad each night, hoping I wouldn't see new breakouts in the morning. Over the years, my acne concerns have dissipated, but now they've been replaced with discoloration and anti-aging.
After turning 30 and having a baby, I felt like the lines on my forehead were super noticeable. Stress and my expressive face were catching up with me. After discussing my skin concerns with my sister and her friends, I realized I should start incorporating anti-aging products into my routine. I said something along the lines of, "I'm considering getting Botox for my forehead lines," and I wasn't met with, "Oh, stop!" or "You don't need that!". The silence was telling — I needed to start combating these fine lines ASAP.
Although I was curious about Botox, I ultimately decided to pass because I was concerned about a bad reaction (I have seen images of people with droopy foreheads or evil stepmother eyebrows and worried it would happen to me). I turned to YouTube to see which drugstore over-the-counter product would be best for me because while I'm concerned about my skin, I'm on a teacher's budget. 
I decided to try L'Oreal Paris Revitalift Night Serum since L'Oreal is a reputable and affordable brand. Plus the brand boasts that "100% of women showed reduction in wrinkles, even deep ones." Even shoppers are raving about this serum; there are over 11,000 ratings with nearly five stars.
Since the product contains retinol, the directions say to slowly add the serum to your nighttime routine. Start with one to two days in the first week, every other day the second week, and then apply as tolerated in the third week. Experts previously told Shop TODAY to start with baby steps because retinol is known to cause redness, dryness, and sometimes even a burning sensation. I used the serum as the last step of my skin care routine after cleansing and exfoliating. I only applied the serum to my forehead where I felt the fine lines were noticeable and luckily for me, I didn't experience any adverse side effects.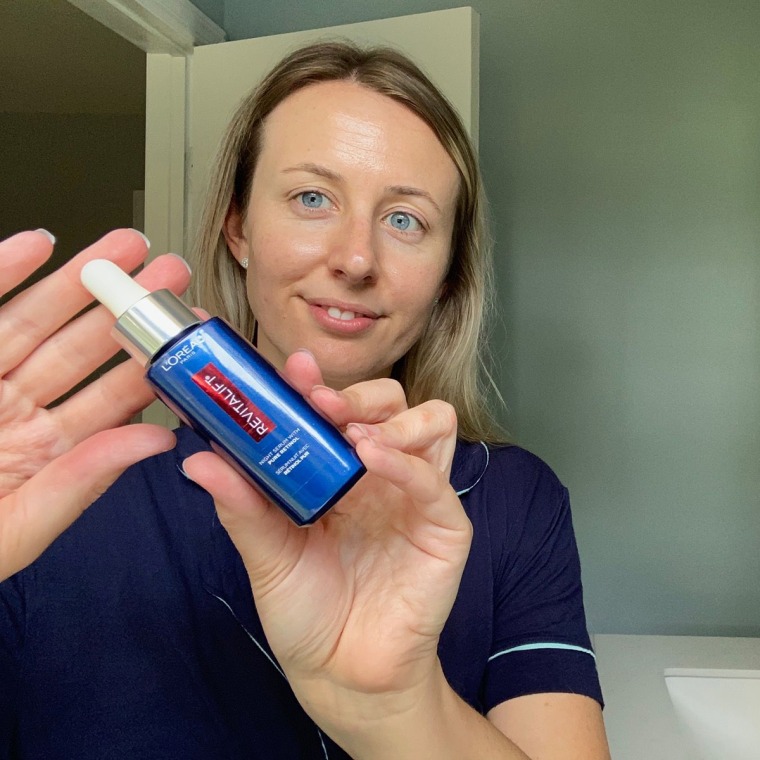 After the third week of using the serum, I began applying it all over my face and still didn't suffer from burning or redness. However, I take some precautions. For example, I won't use the serum the night before I get my eyebrows waxed, and I cut back to every other day during the cold winter months when I'm prone to dry skin. The serum is fragrance-free and leaves my skin feeling and looking dewy. It dries fast, so I don't worry about any of it transferring onto my pillow.
I've been using the product for 15 months and have been pleasantly surprised with my skin results more than I anticipated. Besides keeping the fine lines at bay, the retinol helps to unclog the pores on my nose and has helped with uneven skin tone. I don't feel pressure to put on makeup if I'm running out to do errands. I think my skin looks even, bright, and youthful — and I have the serum to thank for that! It has a permanent spot in my nighttime skin care routine.