Americans are drinking more coffee now than ever before — and getting pickier about how it tastes.
Today, coffee fanatics have seriously stepped up their coffee game, with better beans and slower brewing methods, which offer more control (read: smoother and more delicious joe). And now that we're used to drinking artisanal brew from specialty coffee shops, we want it at home, too.
The exploding popularity in craft coffee is, in part, what prompted Consumer Reports to take a deep dive into the world of home coffee brewers, with a lab report that appears in the October 2017 issue —and TODAY got a sneak peek at the results.
The magazine looked at several methods, including pour-over, French press and drip, tested various home brewers and tried plenty of beans to boot. That said, there's no one size-fits-all answer as to the absolute perfect brewing machine on the market. "There is no one best bet, and it's a personal preference," Elliot Weiler, Consumer Reports digital editor, told TODAY Food.
So, really, it comes down to figuring out your own personal taste and, once you have that down, check out the corresponding brewer that got the thumb's up from Consumer Reports' expert tasters.
For a clean, balanced cup:
Chemex 8-Cup Classic Series Coffeemaker, $43, Walmart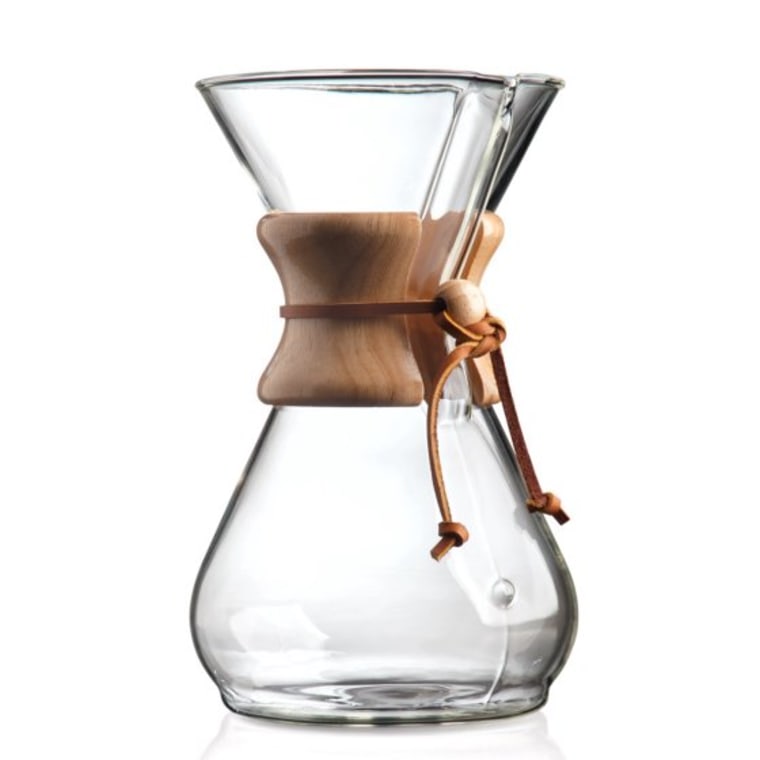 Pour-over is a manual style of making coffee in which you methodically pour hot water over grounds in the filter. Coffee then percolates down into the carafe. Chemex — with its iconic hour-glass shape and wood handle — set itself apart in tests, in large part due to its own brand of filters, made of a heavier-bonded paper, which keep sediment out and regulate the flow rate, Weller said. Enough science. The final brew? "If you like an aromatic, balanced brew with sweet, juicy undertones, this one's for you," tasters noted.
Editors note: The a 3-cup brewer and all-glass brewer with a handle is also available.
For a bold, full-bodied taste:
Bodum Chambord French Press Coffee Maker, $25, Walmart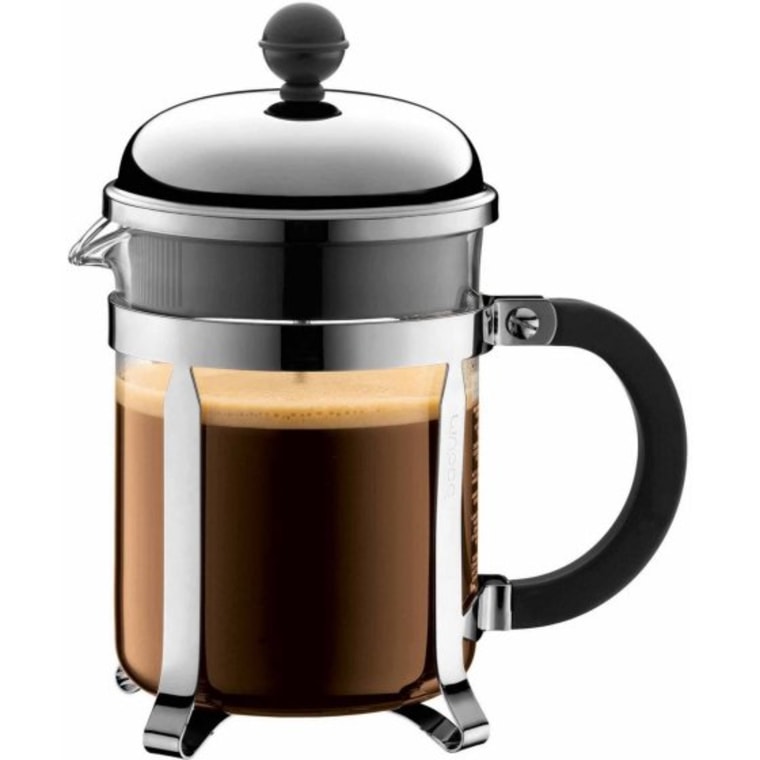 French presses brew a bit like tea: Coarsely ground coffee beans steep in hot water in the carafe, then you plunge the built-in filter down to contain the grounds, then pour. Bodum's 8-cup model got props for its fine-mesh filter and tight seal, which helped keep ground out of the coffee—"a common problem with cheaper models," the magazine noted.
For coffee lovers on-the-go:
Aeropress Coffee and Espresso Maker, $30, Amazon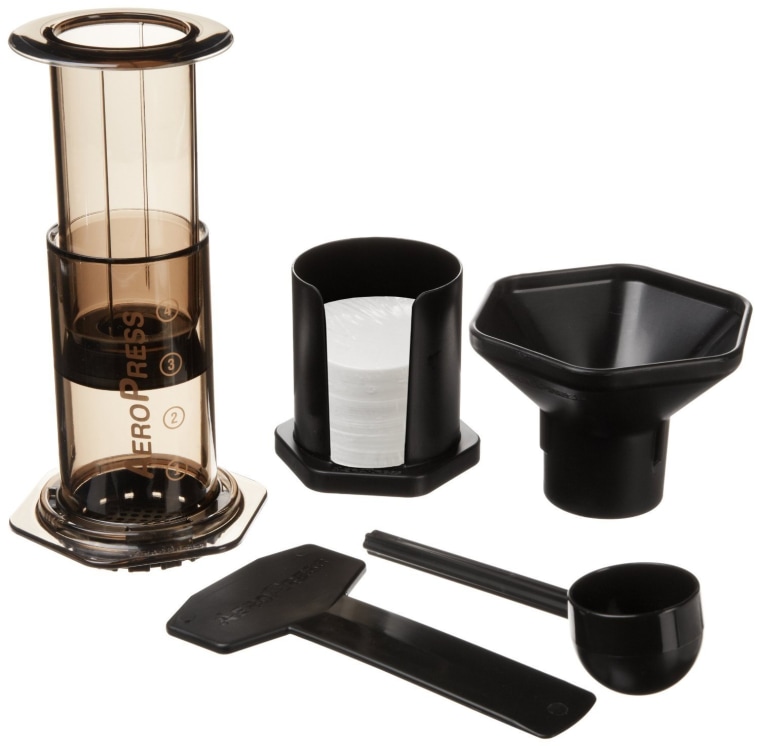 The AeroPress is kind of like a single-serve French press but with a filter. The "one-of-a-kind" mini coffee maker sits on top of a mug so you just mix the water and grounds it in, then press into the mug below. The filter catches even very fine particles, and the set-up is great for travelers.
For a simple, quality brew:
Melitta 6-cup Pour-Over Brewer, $14, Walmart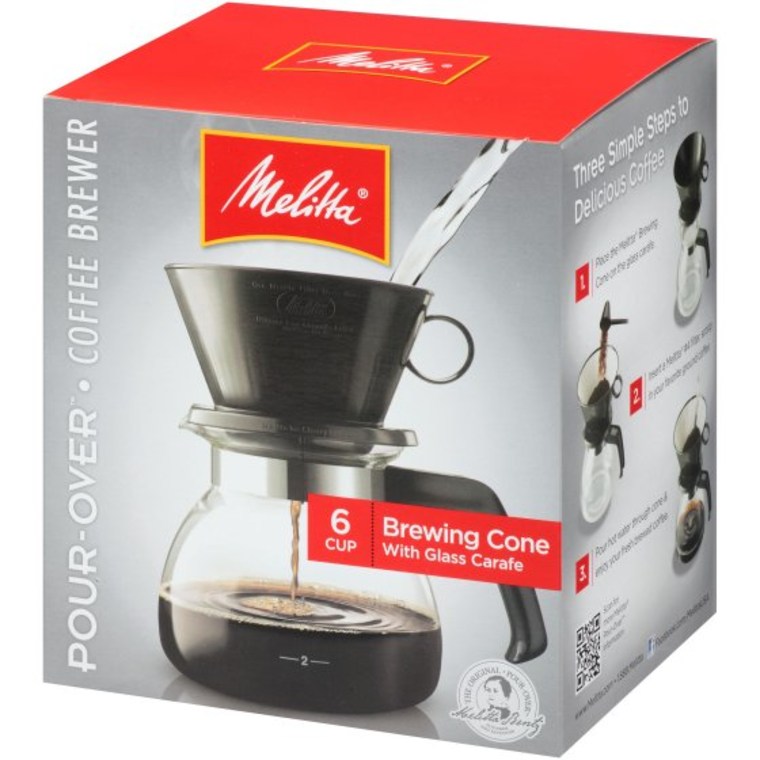 If you want to experiment with the pour-over method on the cheap, check out this model from Melitta. Tasters found the coffee had "full, juicy flavors that weren't too aggressive, with a smooth feel and sweet taste." Plus, the whole thing — carafe and brewing basket — is dishwasher safe.
For easy, no-nonsense joe:
Cuisinart PerfecTemp 14 Cup Programmable Coffeemaker, $75, Walmart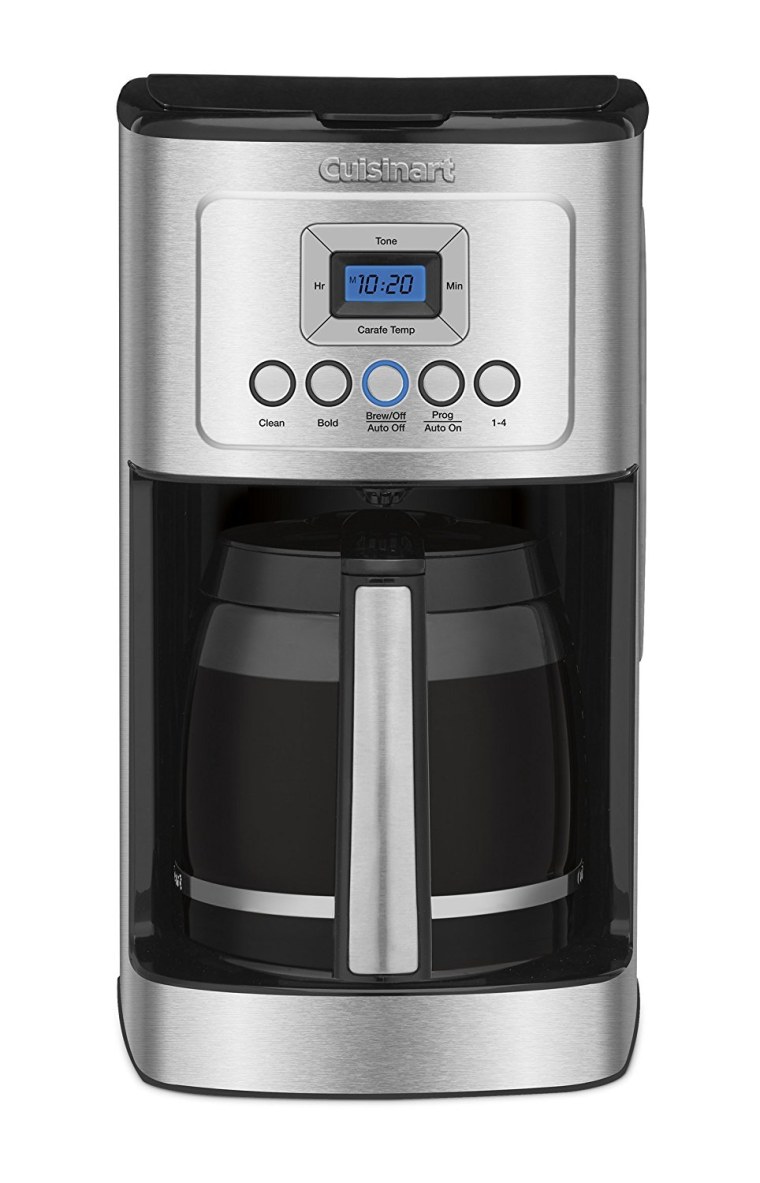 Sale alert!: This coffee maker is on sale right now on Walmart for 55 percent off!
Drip coffee scored slightly lower than the other methods in complexity and smoothness, experts noted, as you're giving up some control — and therefore, quality — with this kind of automatic coffeemaker. But this model from Cuisinart came out on top for brewing in the ideal temp zone of 195 to 205 degrees F and for its speed and convenience.
If you are looking for something a little bit more simplistic, we took to Amazon and Walmart to see which coffee makers were in top demand with their users. Below are the top best selling coffee pots on these retailer sites right now, with some top reviews to prove it.
Hamilton Beach 2 Way Brewer, $40, Walmart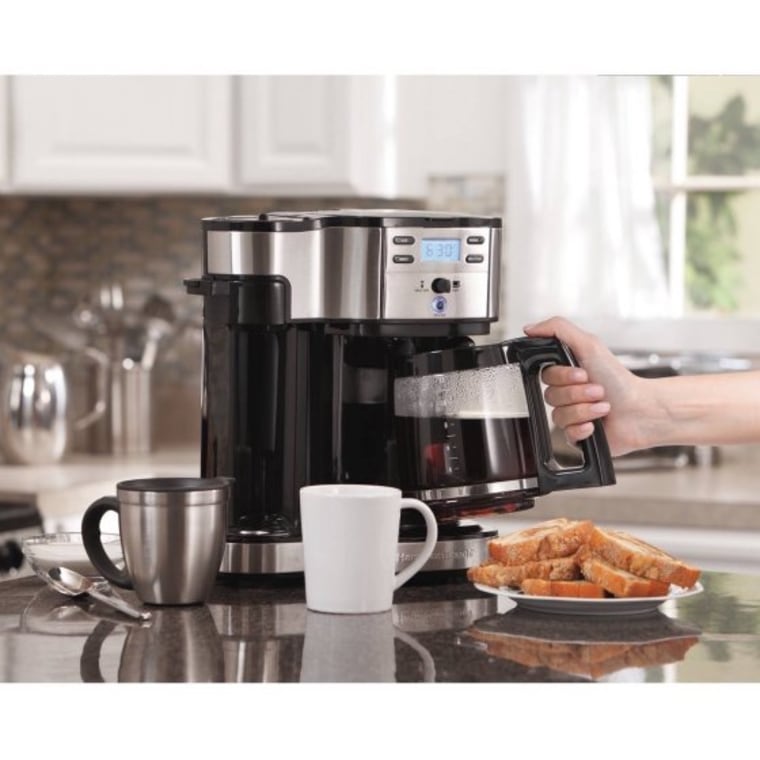 One Walmart reviewer commented, "I have to give it 5 stars, even though I just got it. New kitchen and it looks sleek on the counter. Cleaned it before use and it made perfect coffee on both carafe and single cup sides with hot and robust flavor. Only concern was my flip top to carafe broke from side but I used clear epoxy to fix. Nice machine with versatility of use. Having a cup right now!"
Mr. Coffee 12 Cup Switch Coffee Maker, $15, Walmart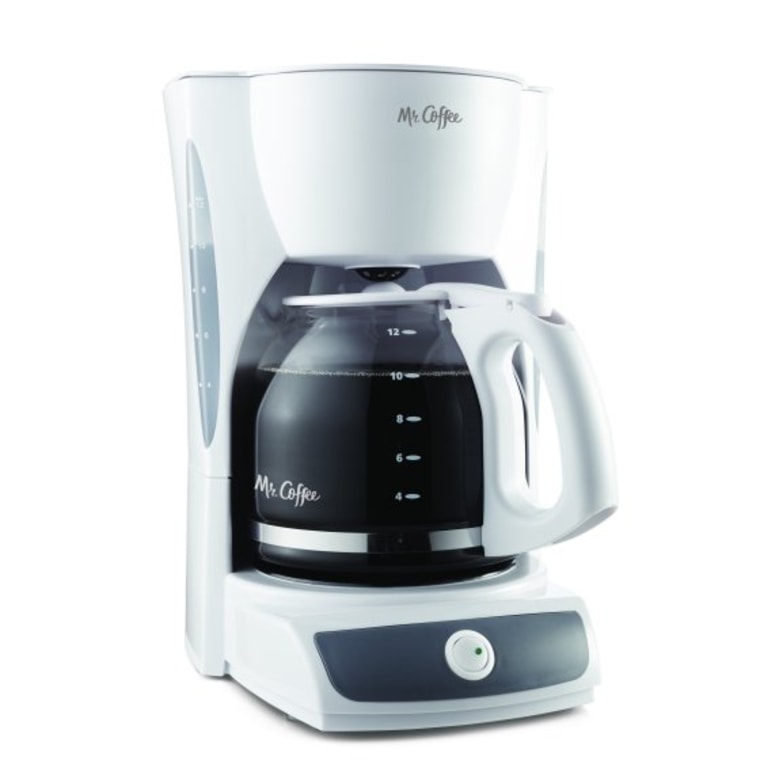 "After my 2nd $100 plus coffee maker in 2 years just died I bought this till I could do some on line research before I bought another. Well this thing is as good as any coffee maker I 've ever had. Not bitter, keeps good and hot. Think I'll buy a 1/2 dozen in case they stop making this model and my coffee pot problems are solved for the rest of my life." - Rich
Hamilton Beach 12-Cup Programmable Coffee Maker, $44, Amazon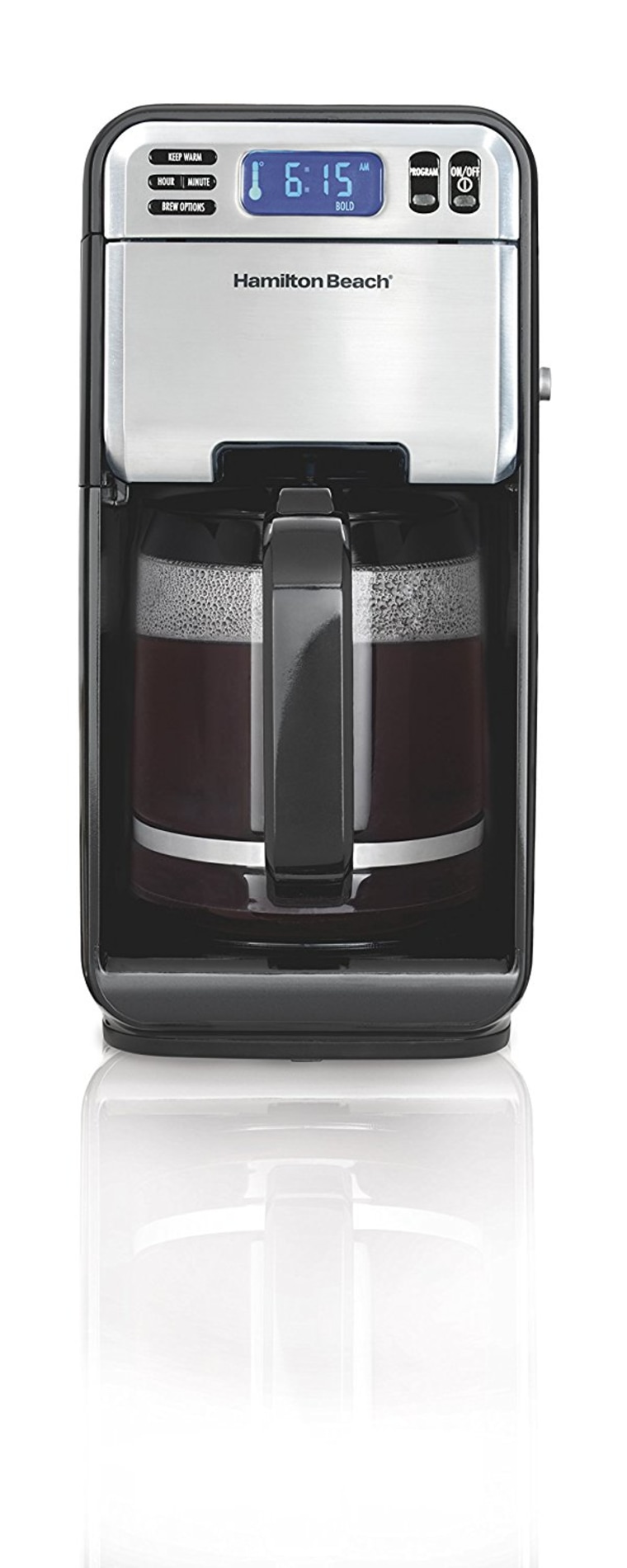 "I love this coffee brew! I love that it has a clock and auto timer to set the coffee to brew to whenever you'd like! Takes less space that I thought it would on the counter and looks for soft and elegant-- not too big!" - VANDANA C
Takeya Cold brew Iced Coffee Maker, $19, Amazon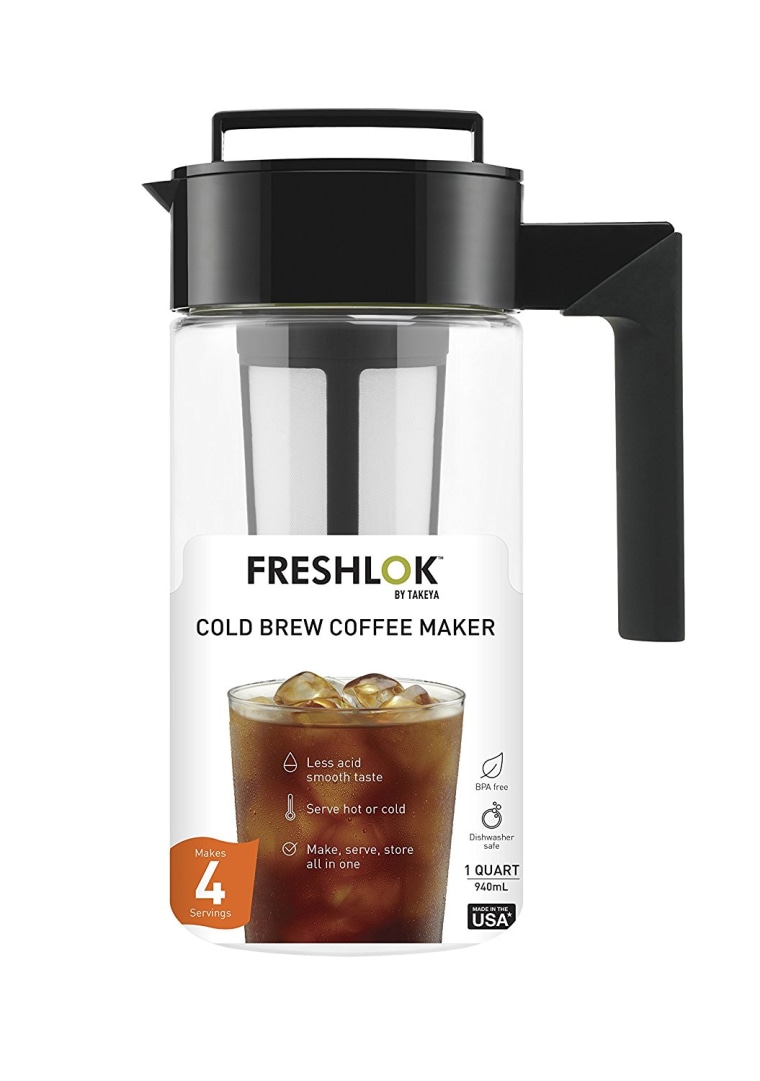 "This is one of my favorite buys recently! I have saved a ton of money making my cold brew at home rather than ordering it everyday at coffee shop. It fits perfectly in the door of the fridge and doesn't spill. (I've traveled with it in the car several times and even if it knocks over, I've not lost a single drop!)." - Kait
Want to read more kitchen appliances? Check out our articles on the best grills and best crock-pots next.