If there's one thing I miss from my childhood, it's not having to deal with seasonal allergies. Something happened in my mid-20s where almost every time the seasons change, my nose won't stop running and my eyes water at the most inconvenient times.
On top of that, I'm going to be honest with you: Dusting is not high on my list of favorite activities. While I try to keep up with it as much as possible, I simply don't do it enough for someone who is as sensitive to indoor allergies as I am.
About two months ago, my allergies really started to take a turn for the worse. I found myself with many more sniffles than usual, and my sinuses were causing frequent pressure-related headaches. I decided it was time to invest in an air purifier — and I'm so glad I finally did.
I opted for this model from Hamilton Beach since it had over 2,000 verified global ratings on Amazon, and it looked rather sleek and compact.
I was mostly intrigued by its permanent HEPA filter, which means it was designed to filter out 99% of dust mites, pollen, mildew spores and other air pollutants, according to the United States Environmental Protection Agency. Since the filter is permanent, you simply vacuum it clean every once in a while instead of spending money on a replacement.
The device can also be stored vertically or horizontally, making it easy to fit almost anywhere in your room.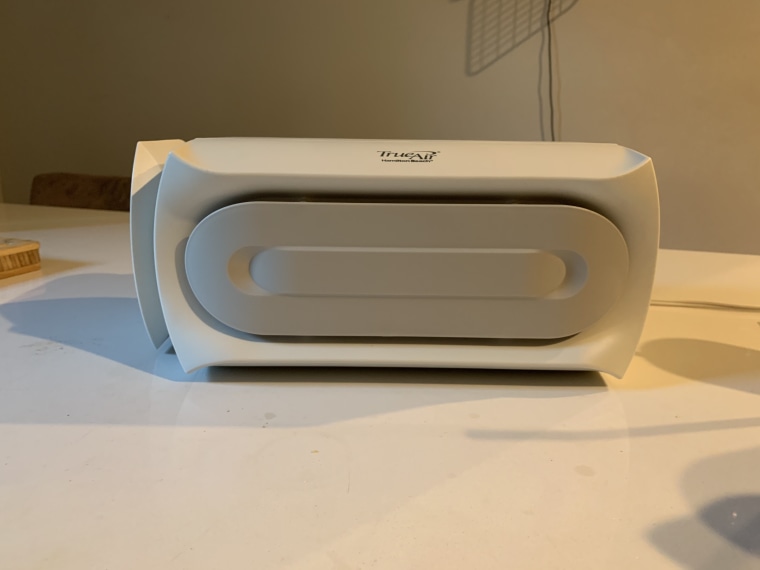 It has three different speed options: whisper clean, medium and quick clean. When I'm home, I typically keep it on quick clean since it's the most powerful setting, but I'll switch it over to medium when I step out for the day. I hardly ever use the whisper clean function, though it's certainly true to its name — it makes just a faint whirring noise that won't disturb even the lightest of sleepers.
Ever since making this a permanent addition to my bedroom, I've noticed I feel much less congested and the sinus pressure I was experiencing has reduced drastically. I don't sniffle nearly as much anymore, and I haven't had any problems with watery eyes since!
It's hard to say that all of this is 100% due to my new air purifier, but the peace of mind it's brought me has made it more than worth the cost.
This story was originally published on March 13, 2020.
For more stories like this, check out:
To discover more deals, shopping tips and budget-friendly product recommendations, download the new TODAY app and subscribe to our Stuff We Love newsletter!