My evening routine goes something like this: get home, change into my favorite loungewear and immediately light a candle. One could say that I have a healthy obsession with candles — and it can get expensive!
That's when I turned to Amazon to try and find a solution — it came in the form of a candle warmer. I discovered this model on Amazon around this time last year and immediately fell in love with how chic it was. It was a no-brainer purchase for me.
I've never had to change out the candle
Before finding this gadget, I was spending so much money on replacing my candles. Since buying this warmer, I haven't needed to replace the candle in over a year — and it's still going strong! After some time, I remember thinking the scent of the candle would deteriorate the longer I used it. Boy, was I wrong!
The candle still smells great and leaves my space with a nice aroma. Plus, I get to continue to enjoy one of my favorite scents without worrying about having to find a new one soon.
To use it, all you have to do is place your favorite candle on the wooden base under the light, plug it in and use the dimmer switch to choose your desired strength — it's really that easy!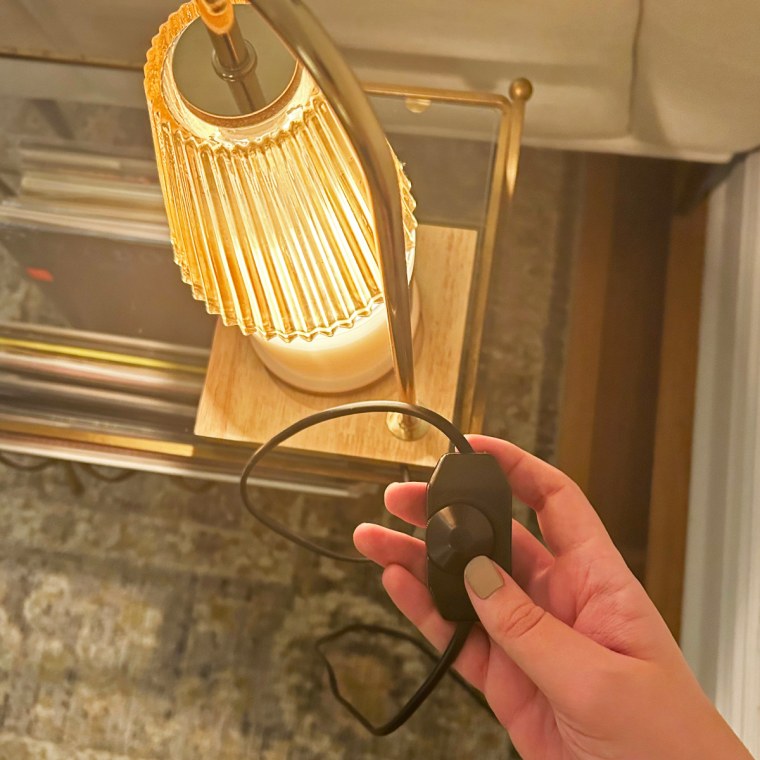 It puts my mind at ease
We've all had that sinking feeling as soon as we leave the house. Did I turn off the stove, unplug my hair curler, blow out the candle? While I've yet to find a solution to that horrible nagging feeling, at least my mind can rest easy about candles after I leave the house. I still make sure to turn it off at the end of each night, but I no longer have that overwhelming anxiety that I could burn down my apartment building.
This candle warmer would also be great if you have kids or pets since there is no open flame. I'd still suggest monitoring young children and our furry friends around it due to the hot wax, but overall it's better than the alternative.
One thing to note, though, is that the cord isn't super long. So, you'll need to keep that in mind when determining where you'll place it in your home.
I get so many compliments
If the style and functionality of this candle warmer wasn't enough to sell me on it, the compliments that pour in from my guests would be! I'm not kidding when I say it's one of the first things people remark on when they come over. I love that it's a trendy item (just look to your favorite influencers for proof) but also that it's something I think I'll have for a long time. Plus, it makes for the perfect gift!