Ever wonder how Kim Kardashian's hair stays so sleek, or who nudged Chrissy Teigen to try rocking some bangs?
Meet Jen Atkin, the hairstylist behind both A-listers' looks, along with a roster of other celebrity clients.
The Hollywood hair guru may qualify as one of the busiest women in the world.
When she's not traveling with model clients like Kendall Jenner and Gigi Hadid, or working out of one of her three salons — all in different cities — she's running her two companies, Mane Addicts and Ouai, and making sure to be on time to the set of "Keeping Up with the Kardashians."
"I'm never not working," Atkin told TODAY as part of our ongoing Morning Routine series.
RELATED: Skip the shower: The secret to Nasty Gal founder's morning routine
No one day is the same for the Utah native, who now calls Los Angeles home, but they usually start the same way: spending too much time on her hair and then doing everything else in the car on her way to work.
On average, she wakes up around 7 a.m. each morning, and if there's time, she likes to hit up Barry's Bootcamp. But since she doesn't consider herself a morning person, she often has trouble making it there.
"I'm getting better, but as a teenager I was the worst morning person," Atkin said. "I'd miss first period like every day."
Almost immediately after opening her eyes, she washes her face using Ayur Medic Orange Blossom Exfoliating Cleansing Milk.
The 36-year-old then moves on to her hair routine, which starts off with Ouai Shampoo — volume on roots and repair on her ends.
RELATED: Hilaria Baldwin shares her time-saving tricks — and this household rule for Alec
Right out of the shower, she uses Ouai Wave Spray and then drys her hair only 25 percent using a Dyson hair dryer to get natural waves. (She's also a spokesperson for the product.)
"I fell in love with hair from playing with Barbies," Atkin said. "Barbie was my first client, so I give all my credit to her."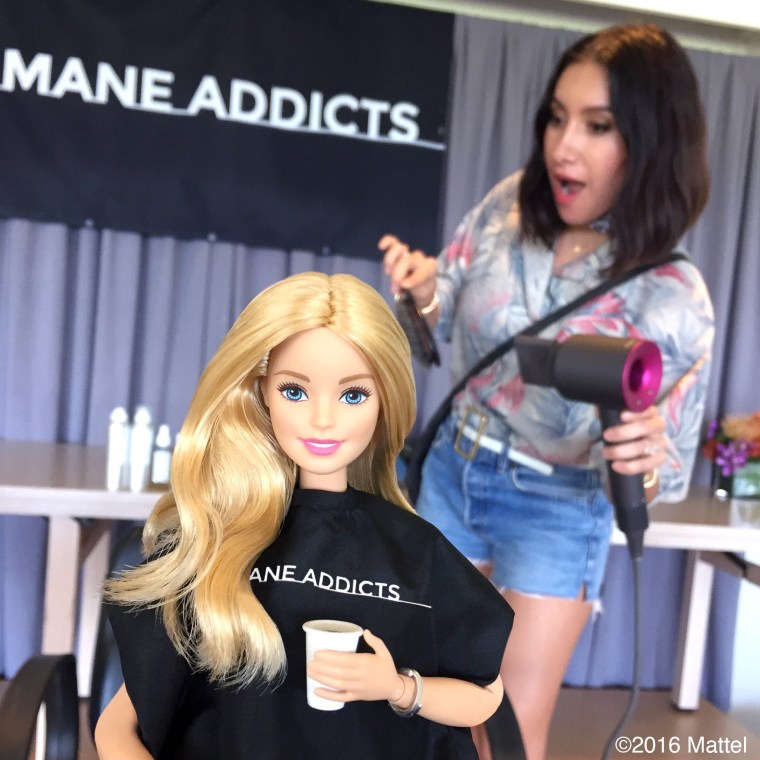 Her No. 1 piece of advice when it comes to hair is to take care of it the way you do your skin. She created the Ouai Treatment Mask in individual packets so people on the move can use it once a week no matter where they are.
"In American culture, we're so busy and the last thing we think about is taking care of our hair," Atkin said.
RELATED: Kim Kardashian reveals new hairstyle — and it's actually one you'll want
The ultimate girl on the go also has picking out an outfit down to a science. She's not fazed by the stylish celebrities she's constantly surrounded by and instead relies on Instagram to help her decide what to wear each morning.
When coming across an outfit she likes while scrolling through the photo-sharing platform, she'll take a screen grab and add it to the folder she has on her phone titled "clothing."
"I refer to that folder when getting dressed to give me some inspiration," Atkin said. "Usually I don't have the expensive version of what they're wearing, but can do a little knockoff of it."
Everything else is left for the car ride. While on a call with a client, she either eats instant oatmeal or Traders Point Creamery Yogurt — which Chrissy Teigen got her addicted to — and some English breakfast tea she makes herself.
Since her workdays are long, her car serves as an extension of her closet, filled with heels and clutches in case she has to go to an event after work, and sweaters in case it's cold on the set of "Keeping Up with the Kardashians."
RELATED: Anne Wojcicki, 23andMe CEO, swears by this morning shortcut — for her kids
Atkin puts extra effort into finding time to be with her husband and photographer, Mike Rosenthal.
"We have a shared calendar and try to go two weeks ahead to find a day we both have off," Atkin said. "We also try to take a week off every six months to spend time together."
But she does feel grateful to have so much overlap in her work and social life, as she considers many of her clients good friends. She also says some of the best advice she's received has come from clients.
"It's an intimate environment, so we're always catching up and I get to watch the way they build their businesses and roll ideas and show them what I'm working on," Atkin said. "It's the most fun group to troubleshoot with, so I'm really lucky."