Danielle Brooks, star of the Netflix hit "Orange Is The New Black" and Broadway's "The Color Purple," never wanted to be one of those "actors who just acts" — she always had a bigger purpose in mind.
As a plus-size woman and recent star of a Lane Bryant lingerie campaign, she finally discovered what that mission is: to encourage all women to love and accept their bodies, no matter their shape or size.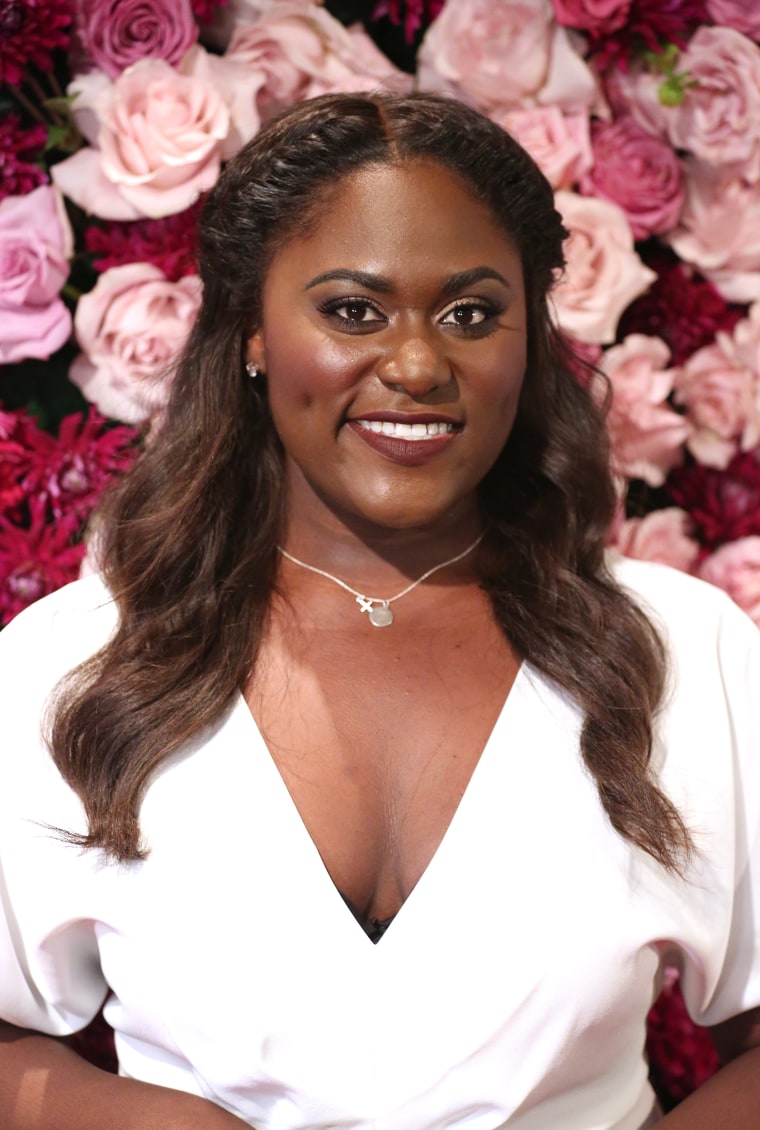 "I am so passionate about making sure women are being heard, and making sure I'm doing more than just collecting a paycheck," Brooks, 27, told TODAY Style.
"Being on 'Orange Is The New Black,' I discovered all these incredible women," she continued. "Diane Guerrero — her platform is immigration. And then you have Laverne Cox, who speaks up for the LGBT community. I really wanted to find a way to voice something that mattered to me, and it only made sense for me to take this platform."
RELATED: Christian Siriano sends 5 plus-size models down the runway
Brooks recently teamed up with Refinery29 for The 67% Project, the site's new initiative focusing on the reported 67 percent of U.S. women who are plus-size but starkly underrepresented in fashion and the media.
It's a natural pairing: "I am this girl that needs to be represented," Brooks said. "This is my mom, my aunt, my cousin, my best friend, my colleagues. So it means something to me because it is me."
The project also includes a collaboration with Getty to develop stock images featuring plus-size women to help encourage representation across the media.
For Brooks, the road to self-acceptance wasn't easy.
RELATED: What's 'average'? Size 16 is the new normal for US women
"Ever since I was a teenager, I've always been the chubby girl," she said. "When you're 13, 14, 15 ... kids are harsh! That is the hardest time in your life. I always tricked myself into acting confident, even though I wasn't. Even now, I'm really shy, but I act like I have all the confidence in the world!"
It helps to see women her size in magazines and on billboards, like last year when Lane Bryant featured Ashley Graham and other plus-size models in its "I'm No Angel" campaign.
"I can't tell you how empowering it was for me to see five plus-size women on a big double-decker bus!" Brooks said. "I was in awe."
So when she was invited to participate in a Lane Bryant campaign this year, alongside models Graham, Candice Huffine and Alessandra Garcia, as well as actress Gabourey Sidibe, she was quick to say yes.
"Gabby (Sidibe) is a really good friend of mine and she called me up and said, 'I'm not doing this unless you're doing it!' and I said, 'I'm doing it!'" Brooks recalled, laughing. "I enjoyed it so much. I love getting glam, having hair and makeup, and seeing myself that way because most of the year I'm playing an inmate, so I don't really get to do that."
RELATED: It's not you — women's clothing sizes don't make sense
Brooks, who spoke to TODAY by phone, while on the upstate New York set of "Orange Is The New Black," has long been an outspoken advocate for body positivity and diversity in fashion. Earlier this year, she started a social media movement with her hashtag, #voiceofthecurves. And this summer, she faced her own body fear and bared her belly, posting photos of her crop top looks on Instagram with captions such as, "Might not be small but I'm hot! Literally and figuratively."
"That's my mission — to allow freedom for women to love themselves, to give them permission to love themselves," she said. "I think it's important to add some goodness to the world."