Ingredients
3

ripe tomatoes

1

red bell pepper

2

cloves garlic

1/4

red onion

1

bunch basil

1

cucumber

4

ounces extra virgin olive oil

2

ounces orange juice

1

ounce sherry vinegar
1

slice dry, crusty bread

1

avocado

1

cup fresh crabmeat

1/2

lemon

½

cup sour cream

1

tablespoon prepared horseradish

1

tablespoon chives

1

cup watermelon
Preparation
Roughly chop the tomato, onion, garlic, cucumber, pepper and toss with the bread, orange juice and the basil minus 1 sprig. Place in an airtight container and marinate in the refrigerator overnight.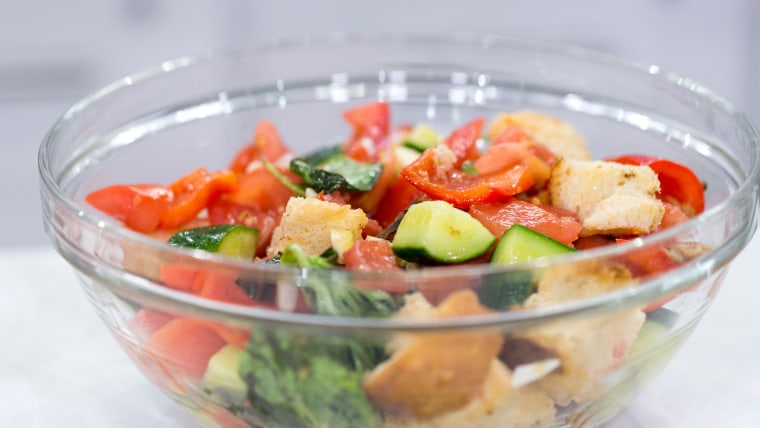 In batches, mix the ingredients in a high-speed blender. In the last batch, add the olive oil and sherry vinegar and then mix all together and adjust the seasoning.
Pick through the crabmeat and check for any leftover pieces of shell. Combine the sour cream, horseradish and season with salt and a little squeeze from the lemon.
In a small bowl add the crabmeat and season with lemon, salt and the chopped chives.
Cut the avocado into medium sized pieces and toss with the leaves from the remaining basil sprig that has been julienned. Place a small spoonful of crab a top of the diced avocado in the preferred serving bowl. Pour the soup over the top and drizzle with the horseradish-sour cream and EVOO.
Cut the watermelon the same size as the avocado and add with the avocado.