Warning: This post contains spoilers for Season Four of "Succession."
How the mighty have fallen.
For weeks, the cast and creators of "Succession" have been touting this as the fourth and final season of the hit HBO drama, which follows an uber-wealthy, uber-powerful New York family.
The April 9 episode of "Succession," "Connor's Wedding," showed why there's no room for flexibility in that decree. What is "Succession" without Logan Roy? And who are the Roys without Logan Roy? The remainder of Season Four will explore those questions.
That's right: In case you weren't on Twitter last night and didn't feel the internet seismic shockwaves, Logan Roy — the foul-mouthed Roy family patriarch played by Brian Cox — is dead.
For his four kids, Connor (Alan Ruck), Kendall (Jeremy Strong), Siobhan "Shiv" (Sarah Snook) and Roman (Kieran Culkin), who have been in turns tormented and built up by their dad, his passing is not a "ding-dong, the wicked dad is dead" moment, but rather something fragile and hard to accept, like grief, for any other family.
Speaking to The New York Times, Cox said the death "(changes) the stakes" of the show. "The main protagonist is gone. And the kids are having to deal with it, or not."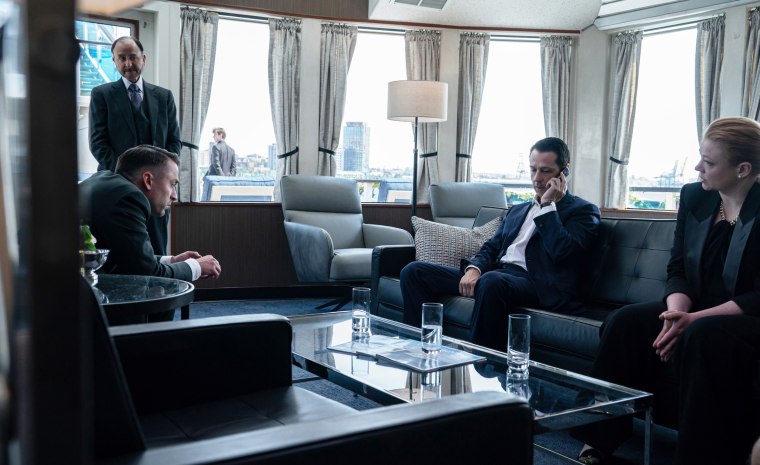 How does Logan Roy die?
Logan dies on a private jet while on his way to meet Lukas Matsson (Alexander Skarsgård) in Sweden to talk through the Waystar/GoJo deal.
At the time, Logan is separated from the rest of his family. The Roy kids have gathered at Connor's wedding to Willa Ferreyra (Justine Lupe) — which almost didn't happen, after Willa ran away during the rehearsal dinner.
Logan, before his death, is in true Logan form, making deals and planning betrayals — specifically, firing longtime employee Gerri Kellman (J. Smith-Cameron), who has been on Logan's radar ever since he caught Roman sending inappropriate photos to her. Logan asks Roman, who had repledged his loyalty to his dad, to carry out the deed.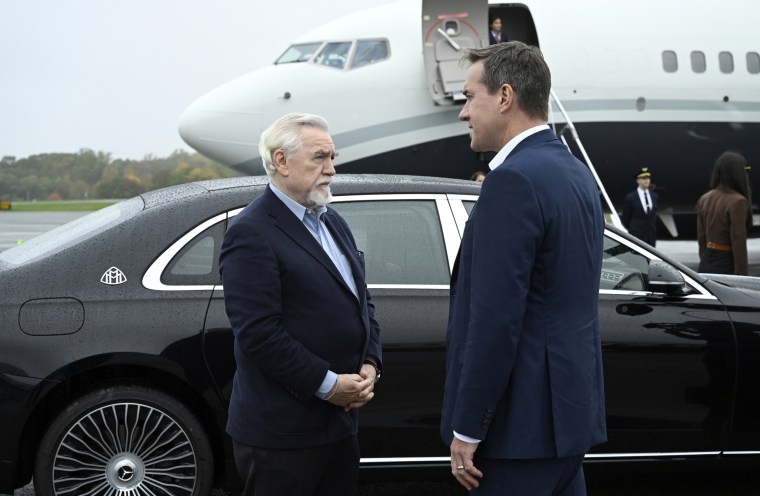 After that, we lose sight of Logan and focus instead on the siblings.
A majority of the episode takes place on the boat, where the Roy kiddos process the news. Shiv ignores calls from her husband, Tom Wambsgans (Matthew Macfadyen), and Tom eventually gets through to Roman with the news that Logan is "very, very sick," and the situation is "very, very bad." Crouched over the phone, Kendall tries to find someone "medically competent."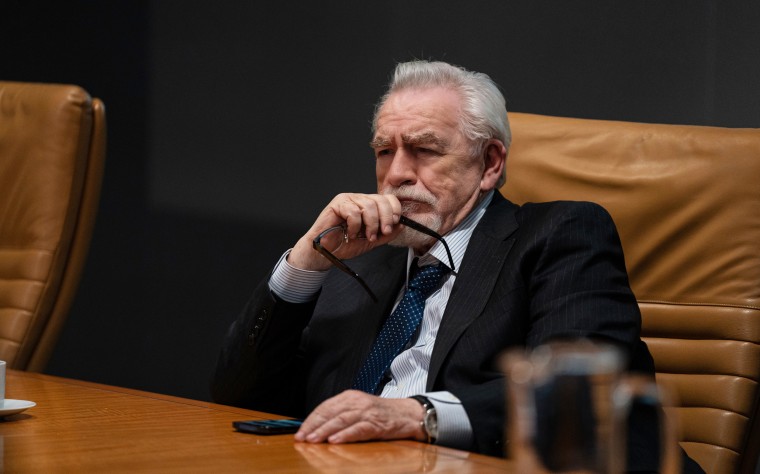 They listen through phone calls with advisers as chest compressions on Logan go nowhere. The family's advisers try to say Logan's dead without saying he's dead. The kids, minus Connor, get their own time with their dad on the phone when Tom holds the phone by Logan's ear as chest compressions continue to be administered.
Director Mark Mylod opened up about the decision for the death to happen off-screen on the show's official podcast. "Big events don't happen in a perfect way, do they? They happen sometimes in a hum-drum way. And this idea of taking away all the television clichés of the kind of perfect TV death I thought was really brilliant," he said.
"When we started shooting those sequences on the plane, I felt oddly kind of squeamish. … with showing the character at all," he said. "We made a choice to show him once quite specifically. And parts of his torso at certain points with the shock treatment. It felt oddly kind of disrespectful in some way."
What do the Roy siblings say to their dad?
Three of the Roy siblings get to speak to Logan one more time, as Connor opts not to, though they're not sure if Logan can hear.
Roman forgets to tell his dad he loves him, and later freaks out about the omission. Kendall tells his dad he loves him, but that he can't forgive him. Shiv tells her dad he is going to be OK.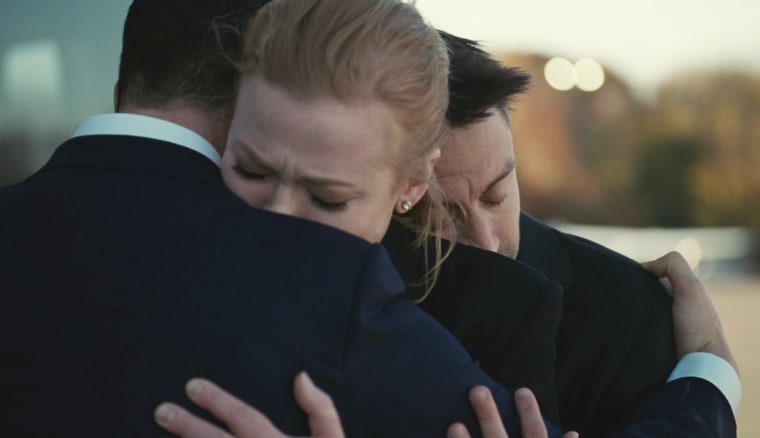 Since the episode seems to play out in real time, it takes the siblings over 15 minutes to tell Connor. His reaction? Dad never liked me anyway. (Connor goes on to marry Willa despite the day's funeral overtones).
Logan may not have considered his kids "serious people," but they eventually take this seriously.
What kills Logan Roy?
According to Tom's call, Logan was "short of breath" and "went in the bathroom." There, he collapsed. Logan received chest compressions but was nonresponsive.
Audiences and the fictional children alike were shocked by Logan's death — but maybe not so shocked. It's not like they couldn't see this coming. Logan nearly died in the very first episode of "Succession" after he had a stroke while riding in a helicopter.
And maybe the title gives it away. This has always been a show about succession — and the questions of who will inherit Logan's throne have never been more pressing than now.