Seven seasons in, Gizelle Bryant is still "the word on the street," and that street is filled with drama.
Season Seven of "The Real Housewives of Potomac" has taken viewers on a wild ride, uniting the ever-evolving cast for another season of fights, fashion and fun in the DMV.
Bryant stars alongside bestie and fellow green-eyed bandit Robyn Dixon, Karen Huger, Ashley Darby, Candiace Dillard-Bassett, Dr. Wendy Osefo and Mia Thornton, along with friends Charisse Jackson-Jordan (a "RHOP" OG!) and Jacqueline Blake. 
TODAY.com caught up with Bryant to hear her take on Season Seven drama, and what's to come.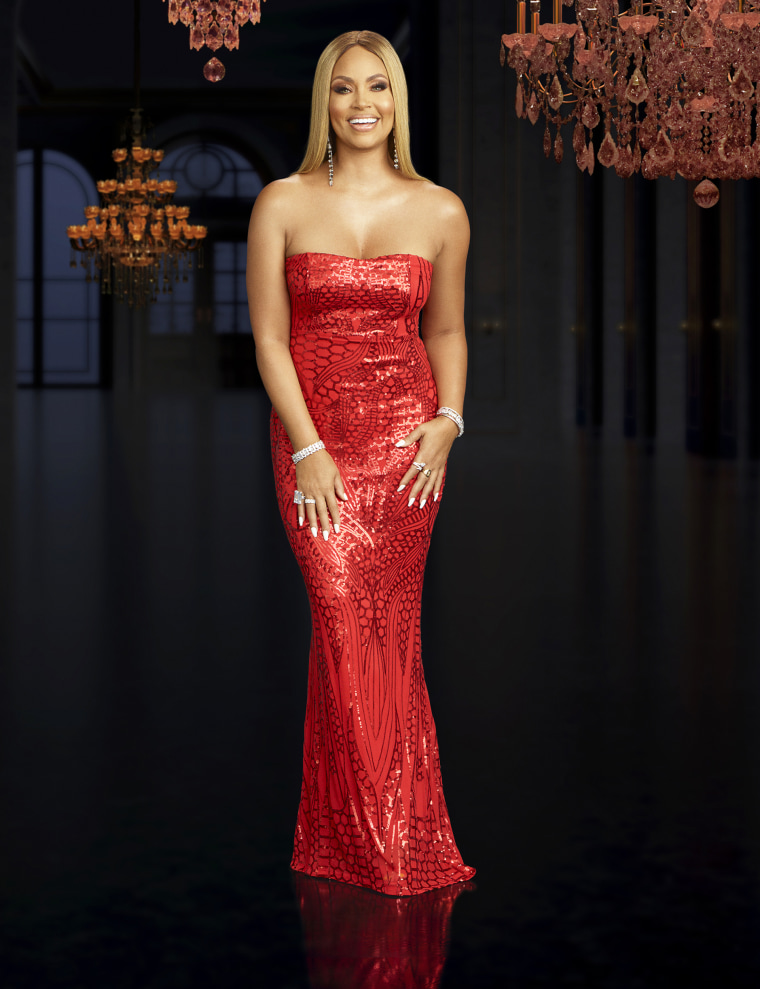 Bryant says she's 'no longer interested' in talking to Dr. Wendy Osefo
During Season Six, Bryant fell out with Osefo after Bryant brought rumors of Osefo's husband's alleged infidelity to the group. It's safe to say no love has been lost in Season Seven.
The Season Seven premiere saw Osefo trying to greet Bryant at Huger's spring fling party, to which Bryant responded, "Yeah, don't touch it, I'm good. Buh-bye."
In October 2022, while speaking with TODAY.com, Osefo said, "(Bryant) literally (has) gone down the list of everyone's marriage and has attacked them. I did not pay any attention to the allegations because the source in itself wasn't credible."
While speaking to TODAY.com, Bryant responds to Osefo's remarks, saying, "I don't find that to be true."
"When it came to Wendy and whatever happened in Season Six, Wendy and I talked and she was really upset about all the stuff that was said about her on social media having to do with her husband and other things. That's what that conversation was about," Bryant says.
"She took it and ran with it in the opposite direction. For me, it just speaks to just the kind of person she is. I always want to be able to have conversations with women, and she's just unable to do that. So I'm just no longer interested. That's why when she came to me, in the beginning of the season, I just was like, yeah, no, and goodbye," Bryant continues.
Bryant says Dillard Bassett 'always wants to be a victim'
Bryant found herself in hot water with Dillard Bassett this season, after Bryant told Dillard Bassett that her husband, Chris Bassett, made her uncomfortable in a conversation after the Season Six reunion taping. 
Dillard Bassett and her husband have continually refuted Bryant's claims, causing a divide between the once-pals.
Bryant says she doesn't regret anything she said to Dillard Bassett about her husband. She continues, "Because I know Candiace is very sensitive, and she can be a bit dramatic, I was very careful to choose my words carefully with her. At that time, she and I were friends. So I wasn't going to say anything that was going to be super inflammatory and hurt her, but she took it to a whole other level of nonsense."
"Candiace wants to always be a victim. We're no longer friends, so I don't feel like I need to hold back anything anymore. What happened happened, and it was unfortunate, and no one's going to tell me how to feel in a situation like that," Bryant concludes.
Since their conversation, Dillard Bassett has come hard for Bryant, making comments about Bryant's physical appearance. 
"I think that she has taken the position of, 'Oh, I'm just going to deflect, I'm going to speak about Gizelle and try to trash Gizelle,' as opposed to talking to your husband. Like why would your husband even do that? Let's start there," Bryant says.
"Of course, you know, she wants to create a story. This could have died because it was a simple conversation, but she wants to create a story. She wanted to carry this out throughout the season. She wanted to take all this to 'Girls Trip,' which she did. It's just exhausting to me a little bit."
Bryant says the pair "came to a good place at the end of the season for Potomac," but that changed when Dillard Bassett brought up the situation on the upcoming 'The Real Housewives: Ultimate Girls Trip,' Season Three, which Dillard Bassett and Bryant filmed in July 2022.
Bryant says, "Clearly she has nothing else going on. Girl, don't you need to sing a song, don't you need to make a record? Go do that."
Bryant's bestie, Dixon, has expressed her belief that Chris Bassett wasn't trying to make Bryant uncomfortable, signaling a possible break in alliance between Bryant and Dixon.
Bryant tells TODAY.com that she is "totally fine" with Dixon's perspective. 
"Robyn is entitled to her opinion. I never want anyone to just side with me because we're friends. I do that for people, but it's just not necessary. I am grown, and I am confident and secure enough and can speak for myself enough that I don't need that," Bryant continues.
Bryant addresses those comments about her confessional look 
Ahead of Season Seven, a promo was released that showed Bryant in a new confessional look, sporting chunky highlights. People on social media weighed in — and so did her cast mates.
Huger tweeted, "You've got to love her, Skunk hair design and all," to which Dillard Bassett responded, "No, we don't."
Separately, Dillard Bassett tweeted, "I think the network has a responsibility to step in when our looks are criminally offensive. Because, my God today."
While speaking to TODAY.com previously, Osefo said of Bryant's hair, "At this point, I think what makes it tragic is the fact that you can tell she's trying."
Bryant tells TODAY.com, "I don't give a damn (what people say). What I wear is what I wear. What my house looks like is what my house looks like, I don't care. As long as I'm happy with it, I'm going with it."
Bryant confirms she went on a date with Jason from 'Winter House'
If you know anything about the Bravo-verse, you know that Bravo fans are unmatched in their devotion to the channel … and sussing out out what the stars are up to.
On Jan. 7, 2023, Bravo fan account Bravo and Cocktails posted a video of Bryant on what seemed to be a date with "Winter House" star Jason Cameron … which Bryant confirms "was definitely a date" set up by "RHOP" co-star Darby and 'Winter House" star Luke Gulbranson, who recently split.
While speaking to TODAY.com, Bryant teases their romance, saying, "He's a great guy, and we have a lot of fun."
Someone else Bryant was rumored to be romantically involved with? Peter Thomas, ex-husband of former "RHOA" star Cynthia Bailey, who appeared on "RHOP" this season.
Bryant tells TODAY.com, "I've never dated Peter. I'm friends with Cynthia, I would never do that. So I'm texting Cynthia like 'Girl, this is not true.'"
Bryant says Thornton is in the wrong in her feud with Blake
The streets of Potomac have been full of chatter about the relationship between Thornton and Blake, and this week's episode saw the pair go to blows in a conversation that started with the pair disagreeing over how they mother their children, and ended with Thornton telling Blake to "keep your legs closed to married men."
When TODAY.com spoke to Dixon in November 2022, Dixon said she felt "one is really wrong, and it's not going to be good for her when people see it play out."
Thornton told TODAY.com in December, "Hopefully, I'm not going to be the one that doesn't look good, but hey, maybe we're going to continue on with this record."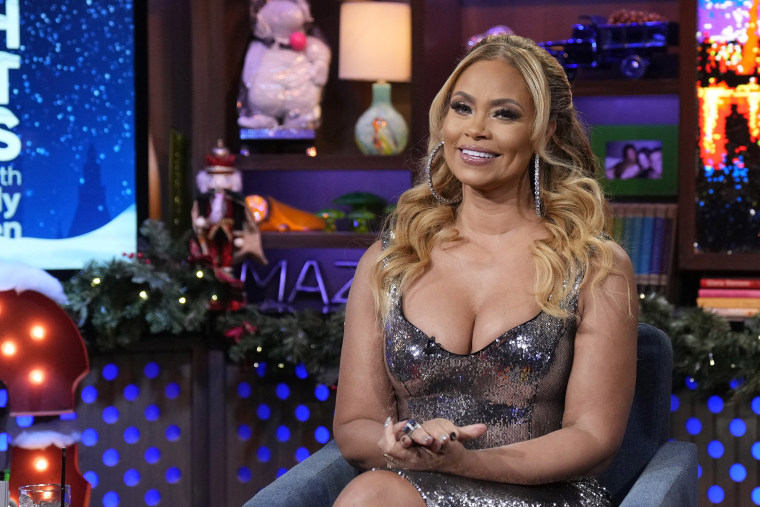 Bryant shares her take: "Obviously, it's Mia (that is really wrong), and only because Mia brought Jacqueline around the group.
"We all like Jacqueline, so for Mia to fall out with her, it was just kind of like, you brought her here, this is your girlfriend of 30 years. It was just kind of unfortunate. I at least wanted them to make it right on camera, because this looks really bad," Bryant continues.
"From what I understand, they're still not good to this day."
Bryant reflects on her 7 season tenure on the show
Bryant says she's learned a lot on the show — including that "a baseball hat and sunglasses will not make you unseen."
Bryant tells TODAY.com, "I've always thought of myself as a very strong, opinionated woman who is courageous and who can conquer all, do all and be all, and I feel like I am (that). I feel like I've gotten to live in the shoes that I think that I am. At the end of the day, for me, that is success. Living up to what you want to be is successful."
Bryant says that her favorite part of the show is "the sisterhood."
"I love that we try to protect each other, but throw each other under the bus," she says.
"It's a dysfunctional family for sure. I do love the fact that like Karen, Ashley and Robyn and myself have been here since day one. It's a refreshing feeling for sure, and I think it's the magic to Potomac," Bryant continues.
A large part of Bryant's storyline has been her relationship with her daughters, Grace, Angel and Adore.
Bryant calls daughters "such a blessing to my life," and adds that filming the show has created a way for her family to capture memories, which Bryant calls "unbelievable."
"On Peacock, you can get Season One, Episode One. Scene One is me and the girls. They were little and they were babies. They were just so cute. Now, they're running my life, telling me what to do and bossing me around. They're teenagers now, we're having a ball. We have so much fun."
Fans especially love scenes where Bryant's daughters remark on Bryant's life choices. Bryant says their candidness demonstarte that her daughters "feel comfortable in their own opinions and their personalities." 
"Sometimes I'm like, guys, it's three against one, stop!" Bryant jokes.
Bryant answers 'RHOP' rapid fire
With only a few episodes left in the season, Bryant gives her take on the cast and the drama.
What's to come in the remaining episodes: "It's fire, I think you're going to absolutely love it," Bryant says.
Who she thinks has the most to say to at the reunion: Huger. "Karen and I didn't have a tumultuous season where we were screaming at each other or anything like that. I just think she's got some 'splainin to do," Bryant says.
The feud she hopes resolves itself at the reunion: Blake and Thornton, Jackson-Jordan and Huger. "Charisse is an OG. She was day one with us and when Karen and her were getting along, they were great. It was great to hang out with them and all that. I would love for them to get back to that. I know that ship has probably sailed, but I would love to see them work it out," Bryant explains. 
The MVP of the season: Darby. "Ashley was a lot. She was all over the place. She was doing the most. It was a couple of things she was doing, I'm like, 'What are you doing girl? Sit down!" Bryant says.
The people on her ideal reunion couch: Dixon, Darby and Thornton
The cast member her opinions changed the most about this season: Dillard Bassett